Like Dino game by Hyun-joong Kim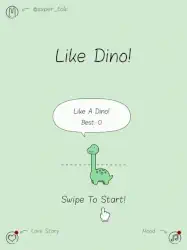 Game Description :
Simple, fun and clean! Like Dino!
Game Features :
Please note, the game information and data could be deleted and not be restored if you delete the application.
Game information and data cannot be transferred to other devices.
Find me on any of my social media (usually @super_toki, unless it's been taken)
Additional Information :
Age Rating 4+
Size 48.4 MB
Requires iOS 10.0 or later.
User Reviews :
Please for real, all you peeps, read.
So look. For one, if you can't hear the sound (this is stupid but it happened to me and I didn't even realise it..) you might have your phone either on silent mode or do not disturb, and that will turn off the sound for some games !  two, the other skins (animals) that is understandable but like—- it's c a l l e d "like a Dino!" I know the whole "giraffe ! Other skins ! Used to be called (this)" thing, but it's her game like—- cmon y'all. and finally, again it's an awesome game, super cute music good choice, love the "it's ok to not be ok" little messages and stuff. I just started playin and I will say, if you think this is frustrating, go into fortnite and be a noob then try and play a Tilted Zone Wars Alr, lemme see how many are stressed and smashing their devices against walls. Y'all it's just some game, an awesome btw great job developer. I definetally will subscribe because it's promoting the channel to a game they made and they're trying to say "hey if you like this, then maybe you'll like this" like they might get some stuff out of it but they're probably just trying to show you stuff you might, uh, idk E N J O Y. So shush it, be happy with it, and if you don't like it, then don't do it like, common sense that obviously ain't common no more peeps, come on. this game is almost 5 stars rated ! Let's keep it up !!!!!!!!! -me~ (anonymous)
This is literally the best game ever!
I really truly love this game. It's helped me be calmer and happier and the music is so so cute! I recommend this game to anyone and everyone. My boyfriend had it and told me to get it, so I did, and here I am obsessed with it. We've been competing with each other to see who can get a better score on some of the songs, or who can unlock them all first, and it's so much fun. I've read some of the more bad reviews, saying that they miss the giraffe, but I didn't have it when it was that, so I don't know about it. What I do know is that instead of getting all pissy and mad, people should have been more kind about it. Like "hey, I miss the other skins. I think you should add them back or have a wardrobe option so you can switch to them." Something like that, or just, get over it. Things change and you can't do anything about it. The developers obviously spent a lot of time to make the game the way the wanted it to be, and frankly, it seems to have gotten more popular with the dinos and the cute little love story. I can't wait to see what the "coming soon" option is, as part of me secretly hopes it's a baby dino or something. I really really truly adore this cute game. 5 stars all the way. It's so cute!!
I think we all need more
This game originally caught my eye whilst browsing through the App Store. I wanted to find a game for traveling 6 hours from one state to another, and nothing seemed appealing. The beautiful app icon excited me and looked like an aesthetic game. The download was quick and I was playing in only a couple minutes. When I opened the app, everything looked so welcoming and sweet. The dinosaur was so adorable and the font was perfect for the game. When I started, the music was so calming and happy. I really love the music, and often find myself humming the tunes of the song. I decided to introduce it to my mom because I thought she would like it, but boy, I didn't expect her to get so addicted! She's obsessed and really good. We both play it and compare scores. Within a couple weeks, my mom had unlocked all the songs and was pretty great. When the new update came, we were ecstatic! It's wholesome and you don't have to worry about your children getting ahold of profanity or inappropriate content. It's great for the entire family and really cute. My entire family would love to see more and see it flourish. I really love you, super_toki! Keep being amazing, and keep creating!!
Very Cute
This was recommended to me a couple months ago but I didn't look into it since it didn't look like my type of game. Skip to a couple months later, I was bored and scrolling through the app Store for some cute lil apps to check out when I stumbled upon this app again. I decided to download and check it since I had nothing better to do to waste my time and I did not regret it. This game is a very cute game, although the music is the type I don't normally listen to, I surprisingly really enjoyed it and it fits really well with the gameplay. Every time you unlock a costume, it unlocks a dialogue of Dino's love story which I love and the coins needed to purchase the songs and costumes are fairly easy to get, you just need to play the game. The gameplay itself wasn't that difficult and I was quickly able to get the hang of it and even if you aren't good at it, you get three lives per round. Overall, this game is a simplistic but very cute and fun game. (Honestly, I kind of enjoy the simplicity of the game since some games seem to give too many tasks and tend to overcomplicate things. This was a nice change of pace.)
Love It
I had literally bought this game today and instantly fell in love with it. The game is very well designed and user friendly. Along with the fact it doesn't need WiFi and does not have ads popping up everywhere. The game is absolutely fantastic. It deserves every 5/5 stars I'm giving it. Highly recommend. Fantastic app. But I do have one concern not about the game but the people playing it. So before I got the game of course I read the reviews and they were mostly great except the ones mentioning a giraffe. Now I didn't get the game til' after the update but it seems everyone who had wrote a bad review is over dramatic about the update. Yes I can understand that it would be a little upsetting for that to happen but why be soo upset about a game. Have any of the bad reviewers considered that fact that maybe the creator had to change it for a reason. Or maybe something came up that would cause him to change it. I'm just saying that it's not worth getting all worked up about. But that's my only complaint. So please everyone understand. Thank you for reading all of this even though it's long.
Get Like Dino from App Store
What is your opinion about Like Dino
Bitcoin
Ethereum
MetaMask (ETH)
Xrp
Polkadot
Binance coin
Stellar
Dogecoin
Tron
Elrond
Donate Bitcoin to this address
Scan the QR code or copy the address below into your wallet to send some Bitcoin
Donate Ethereum to this address
Scan the QR code or copy the address below into your wallet to send some Ethereum
Donate Xrp to this address
Scan the QR code or copy the address below into your wallet to send some Xrp
Donate Polkadot to this address
Scan the QR code or copy the address below into your wallet to send some Polkadot
Donate Binance coin to this address
Scan the QR code or copy the address below into your wallet to send some Binance coin
Donate Stellar to this address
Scan the QR code or copy the address below into your wallet to send some Stellar
Donate Dogecoin to this address
Scan the QR code or copy the address below into your wallet to send some Dogecoin
Donate Tron to this address
Scan the QR code or copy the address below into your wallet to send some Tron
Donate Elrond to this address
Scan the QR code or copy the address below into your wallet to send some Elrond