HappyLighting – Life with smart app by Hu xingkui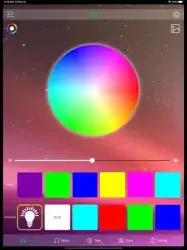 App Description :
1) Lights can recognize your usual color choices as you operate;
App Features :
2) Lights can change color with beautiful music rhythm;
3) With timers switch, can be setting lights turn on off on time;
4) Selection of scenario modes with multiple colors;
5) A shake of the mobile phone can change the color of the light;
6) The color change of light can be controlled by sound;
7) The distance of remote control without direction limitation can reach more than 15 meters;
8) Lights can be changed from the photo on the mobile.
Additional Information :
Age Rating 4+
Size 66.7 MB
Requires iOS 9.0 or later.
User Reviews :
Issues that I didn't anticipate
So this app is pretty good for what it is. I enjoy using it when I can't find my remote. However, there are some flaws with it that I haven't really seen in the comments. I bought these lights for myself and my brother. Our rooms are right next to each others. And while in theory it's nice that you can see both sets of lights on one app, in one place, it's also quite annoying. It automatically connects you to both systems. If I had these lights just for myself I'd be thrilled. But when I'm trying to turn on the light in my room and my brothers lights are going haywire- not so fun. It gets even more frustrating when I'm just minding my business and suddenly my room turns green because my brother is still connected to the wrong set. I think there should be a way to forget a set of lights from a device. Or at least make you choose what you want to be connected to every time you open the app. Also, the music feature is pretty bland. I don't mind it, I just think you need to include a speed bar like there is in the microphone section, so the extreme sensitivity doesn't give anyone seizures. Lastly, it wouldn't hurt to have some more features instead of the normal fades and flashing. But that's probably a big ask for a more future product. This app is good, it works well, I just hope the developers continue to improve it.
Good enough
I like the lights very much but I had some issues with the app. The app settings aren't very specific. For example when you ask for help it only gives you two options to choose from. The tape section of the app was very confusing. It says tape so you would think it records and saves the sound you tape. Like the other reviews mentioned the music feature doesn't really work. You are only allowed to play music you have purchased from the Apple store, not any music you have downloaded on your phone. Plus on my app it didn't have dream mode like the instructions said. The instructions just show you what the features are, not how to use them. Plus I think the app should also come with virtual instructions for the remote. The instructions on the app could be way more specific. The product is good enough for what you want it for but the extra features the app claims to have don't work. Other than those problems the app is ok. It would be awesome if the creator could find a way to fix these
Connecting rooms
A problem I experienced was that once you let this app access your Bluetooth, (if you have any other LED that is the exact same as yours nearby) then once you turn the power button on both LEDs turn on. I found a solution though,I just had to keep on working with the app to find out. Ok so once you hit the main menu(top left corner) you can see there are 2 or more connections that are not labeled; if you select one and go back to the main menu and play with the power button you can see which LED is which. Once you try this both LEDs will still turn on together but once you start changing the colors only one of them willchange colors. If your LEDs aren't changing colors just like I said earlier change to the other connection in the main menu. Last thing let's say in the next room your siblings or family are sleeping and you don't want to wake them up by turning on your LEDs, all you have to do is turn your LEDs on with YOUR remote and then select your connection on the app make sure it's yours; then you can connect them with any color you want without waking them up or turning their LEDs on. Finally if you would like to make it less confusing then you can tap on the connection and rename it! Good luck!!!!
Developer Response,
Sorry for any inconveniences caused. You can try to connect with the APP, and then long press the device to see if it responds. If a pop-up window appears, please manually change the initial password so that you can connect and control the device only after entering the correct password. If there is no pop-up window, you can only disconnect the power to connect or use the remote control to control the device.

if you have any questions, please contact us by Email :service[at]qh-tek.com
Get HappyLighting from App Store
What is your opinion about HappyLighting
Bitcoin
Ethereum
MetaMask (ETH)
Xrp
Polkadot
Binance coin
Stellar
Dogecoin
Tron
Elrond
Donate Bitcoin to this address
Scan the QR code or copy the address below into your wallet to send some Bitcoin
Donate Ethereum to this address
Scan the QR code or copy the address below into your wallet to send some Ethereum
Donate Xrp to this address
Scan the QR code or copy the address below into your wallet to send some Xrp
Donate Polkadot to this address
Scan the QR code or copy the address below into your wallet to send some Polkadot
Donate Binance coin to this address
Scan the QR code or copy the address below into your wallet to send some Binance coin
Donate Stellar to this address
Scan the QR code or copy the address below into your wallet to send some Stellar
Donate Dogecoin to this address
Scan the QR code or copy the address below into your wallet to send some Dogecoin
Donate Tron to this address
Scan the QR code or copy the address below into your wallet to send some Tron
Donate Elrond to this address
Scan the QR code or copy the address below into your wallet to send some Elrond