(App) Watch OWN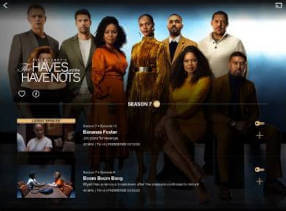 App Description :
Watch OWN anytime, anywhere. The WATCH OWN app is the best place to catch up on the most recent season of your favorite shows, watch live TV, and binge the entire OWN library of classics! Download the WATCH OWN app now to watch full episodes of original series from Oprah Winfrey, Tyler Perry and Ava DuVernay, plus your favorite OWN shows like Iyanla: Fix My Life, Love and Marriage: Huntsville, Love Goals, Home Made Simple and more!
Get started by signing in with your TV subscription. The WATCH OWN app supports most TV providers, including DirecTV, Xfinity, Spectrum, AT&T, and Verizon Fios. Don't have a cable subscription? The app also offers hundreds of full episodes to watch for FREE!
App Features :
 Watch the latest episodes of new OWN shows the same day they air on TV!
 Revisit and BINGE your favorite series from the OWN library, many available for FREE!
 Live stream and schedule available 24/7 when signed in with your TV provider.
 Chromecast and AirPlay compatible! Start episodes in the app and stream to your TV.
 Can't finish an episode in one sitting? The app saves your place so that you can resume watching later!
Please note: This app features Nielsen's proprietary measurement software which contributes to market research, like Nielsen's TV Ratings. Please see www.nielsen.com/digitalprivacy for more information.
For more information on your California Privacy Rights, go to: corporate.discovery.com/privacy-policy/#cappi
Additional Information :
Size 79.9 MB
Requires iOS 9.0 or later.
User Reviews :
The app no longer works on my device
Up until about a week ago the app worked great. I was able to catch up on missed episodes. The latest version of the app does. To play on older versions of the iPad. An update to an app should not block older versions of device from seeing its content. I am able to download the app, it then it forces me to get the update in the App Store. When I go to the App Store its aye that the newer version of the app only works on 10.0 iOS. My iPad does not update that high. And I'm not buying another one just for the OWN app. All other apps update without any issues or problems with the version iOS I have. I also have a smart tv that is Google and the own app is. To available for that device at all. I guess I won't be able to watch anymore of my OWN shows.
A bit frustrating
I love OWN, but I'm 50/50 with the app. I realized some time ago that I cannot watch my favorite OWN shows unless I'm connected to a wifi network. I have enabled the cellular data for the app in my settings but still, it won't allow. I have unlimited data and thought the purpose of downloading the app was to watch shows in an "on demand" type of way. I was told it is the app and not my provider. All of my other network apps don't give me a cellular over data issue when I try to connect to watch outside of a wifi connection. Other than that, its cool. I do wish you could watch uninterrupted though, with no commercials, but all of my network apps do that so its a fair call there.
Commercials! Too many
I fell asleep during the many commercials. When I went back to find my place I had to watch 6 commercials first before I could even see where I was in the show, 30 seconds ran of the show and another set of 6 commercials ran I couldn't even see enough of the show to see if I was where I wanted to be. I wasn't. I Had to move 2 more times each time watching 6 commercials before I could see where I was in the show. I almost couldn't be bothered to continue to watch thru all the commercials. In an hr show there were about 7 commercial breaks showing 6 commercials. If you want to back up or move forward you add a commercial brack for each move.
Love app!!
So glad U-verse was added as a service provider!! I could not keep up before due to my provider (U-verse) wasn't listed. However my sister could as she was Direct TV. I'm very busy and on the go every week night and would forget to set record time so I'd have to stay up late or record overnight to watch what was missed. The OWN app allows me opportunity to keep up with shows and watch them whenever I'm between practices and games so no late nights and staying up late to watch recordings! Thanks OWN!!!
Love OWN's App
I have nothing negative to say. This app is just fine to me. Once connected to the internet or a cable provider, everything works smoothly for me. I travel a great deal and it's always nice to watch my favorite shows live or the day after. Everything has a positive and a negative… it's about perspective. I choose to see the advantages of this App and all the good aspects of it. The negative will be there but that's not where I focus. Oprah, thank you for giving the world access to your amazing vision, to the many talents such as Ava, Tyler, Iyanla, and many more. I am and will continue to be inspired by you.
Get Watch OWN from App Store
What is your opinion about Watch OWN
Bitcoin
Ethereum
MetaMask (ETH)
Xrp
Polkadot
Binance coin
Stellar
Dogecoin
Tron
Elrond
Donate Bitcoin to this address
Scan the QR code or copy the address below into your wallet to send some Bitcoin
Donate Ethereum to this address
Scan the QR code or copy the address below into your wallet to send some Ethereum
Donate Xrp to this address
Scan the QR code or copy the address below into your wallet to send some Xrp
Donate Polkadot to this address
Scan the QR code or copy the address below into your wallet to send some Polkadot
Donate Binance coin to this address
Scan the QR code or copy the address below into your wallet to send some Binance coin
Donate Stellar to this address
Scan the QR code or copy the address below into your wallet to send some Stellar
Donate Dogecoin to this address
Scan the QR code or copy the address below into your wallet to send some Dogecoin
Donate Tron to this address
Scan the QR code or copy the address below into your wallet to send some Tron
Donate Elrond to this address
Scan the QR code or copy the address below into your wallet to send some Elrond