[App] How to Paint Anime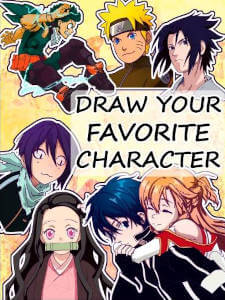 App Description :
Enjoy drawing and coloring anime heroes!
You may draw right on the screen of your device with your finger or draw with a pencil on a real paper.
App Features :
 Public Gallery of Anime images, you can share your art with other anime fans!
 step by step drawing instructions
 Anime Color Pages, you may color with solid or gradient color
 Pixel Art section, you can color anime images by numbers
 Comics section, we just prepared a few short stories
 fun anime videos
Have a good time improving your skills in drawing!
Additional Information :
Size 60.7 MB
Requires iOS 10.0 or later.
User Reviews :
I love it but it just needs a few changes…
I Love the app very much but I wish that there was more better gotcha life pictures and drawings I love the sub very much and it kind a teaches me how to draw it's good but it just needs Laura a better gotcha life pictures I don't know why everybody is saying that it's trash it's actually pretty good I'll give it a four stars for trying but I still love this app very much I have a downloaded still the step-by-step drawings are amazing they help me draw a lot
Nice job
No complaints at all from me. The app has excellent tutorials and it always gives me something to do when I am bored. Thank you for creating this app.
Its ok but…
I just got this app and its ok but there are a few things. First of all, the body tutorials are not amazing, for the standard anime body the proportions were off, also the step by step turorials were iffy, lots of them werent great quality except for the ones that cost money :/ over all its a pretty good app for new artists.
Amazing app
For me one thing that makes this app so much better than similar apps is the inclusion of a public gallery where you can share your drawings. Thanks a lot!
Like it a lot!
I'm a huge anime fan and that's what got me into drawing, so as soon I found this app I knew I had to install it. It's very useful and over time it'll improve your technique.
Great job
All I can say is that this is a very good app. If you're a beginner like myself you'll find it extremely helpful in developing your drawing skills.
Great
If you're an anime fan that loves to draw then this is the app for you. This is very good even if you're just a beginner, my experience has been great!
Amazing
This is a very good painting app. I really like that there are lots of very detailed pictures to choose from. Recommended to any anime fan.
Good job
This is a really good app. I've been using it for almost a year and I got much better at drawing manga thanks to this app.
Cool app
I recommend this app for both children and adults. Anyone who wants to learn how to draw anime can benefit from this app. Great job!
This app should have a A save button
This app should have a A save button for my drawings category because most of my work glitch & got erased from all my hard work, so like I said This app should have a A save button for my drawings category so this stuff doesn't happen again!
I LOVE IT SO MUCH!!!
So when I first got this I was like this is a scam BUT IT WORKS ask I thought hmmm I can write it on paper!! so I did AND I LOVED IT Make sure you download this!!!!
I love this app
I love this app! It runs great on my phone and it has great pictures to paint. It's easy, fun, fast and very addictive!
Its really good!
Its good because you can edit, draw anime, draw cartoon, draw real life, draw animals and even more!
Meh
I don't really like the app tbh but there are other things than just how to draw but there are only like 5 how to draw before you have to pay for them but it says watchman as and get it free but it doesn't work.
I like it but… A couple of problems.
Yes I like this app, but there's some things I want you to fix. First, no ads pass. Even tho there is like no ads. You can add a couple (Just like 1 – 2 ads per 3 drawings. No more.") Anyway, I want to draw the cute bear girl blushing, Oh no? It's locked? —— -clicks ad for free tutorial- It just takes me back to the drawing, It doesn't work. I need you to fix that or make it so none is locked. And also the only free ones are the ugliest ones. I only drew the cute dog because it was the only one that wasn't extremely weird and ugly. (I hope it won't offend anyone) That's probably all.
Get How to Paint Anime from App Store
What is your opinion about How to Paint Anime
Bitcoin
Ethereum
MetaMask (ETH)
Xrp
Polkadot
Binance coin
Stellar
Dogecoin
Tron
Elrond
Donate Bitcoin to this address
Scan the QR code or copy the address below into your wallet to send some Bitcoin
Donate Ethereum to this address
Scan the QR code or copy the address below into your wallet to send some Ethereum
Donate Xrp to this address
Scan the QR code or copy the address below into your wallet to send some Xrp
Donate Polkadot to this address
Scan the QR code or copy the address below into your wallet to send some Polkadot
Donate Binance coin to this address
Scan the QR code or copy the address below into your wallet to send some Binance coin
Donate Stellar to this address
Scan the QR code or copy the address below into your wallet to send some Stellar
Donate Dogecoin to this address
Scan the QR code or copy the address below into your wallet to send some Dogecoin
Donate Tron to this address
Scan the QR code or copy the address below into your wallet to send some Tron
Donate Elrond to this address
Scan the QR code or copy the address below into your wallet to send some Elrond