(Game) Touchdowners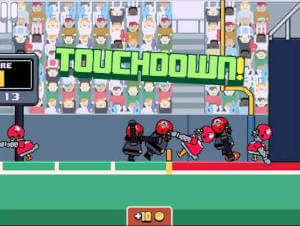 Game Description :
Touchdowners is a crazy physics based sports game where you need to grab the ball and touch it down in your opponents endzone!
Game Features :
You control a team of three highly trained Touchdowners. Pass, wrestle and jump your way to the end zone then slam the ball to the ground.
Play for glory in the career mode or top the global ranking table in arcade mode.
Go head to head with a friend on the same device in 2 player mode.
Can you become the greatest Touchdowner the universe has ever seen?
Additional Information :
Size 36.1 MB
Requires iOS 8 or later.
User Reviews :
Infuriating
This game is very fun in arcade mode, you are not completely tortured with adds, and many teams that be easily unlocked.

Cons: there are not many NFL based teams, but they are still fun

RNG can cause for the ball to go straight to your endzone and if you miss time your jump you will get in the endzone and 60 percent of the time you will let up a score or struggle for 20-30 sec trying to play defense

The ability to throw the ball is great, but it is extremely easy to throw the ball backwards because you can't control the players arms. Though this is intended, this makes it impossible to become "good" at the game.

Another thing is the game does not fill the full screen on my phone, causing me to miss the buttons

Therefor, just stick to arcade
My favorite game on my phone
I love this game so much it's so fun I've been playing this for so long I have won over 150+ Superbowls it's a blast and I would love if they made more updates for it or maybe even a part 2 but hey person reading this review I love this game and this is my opinion it's my favorite game on my phone my only problem is ads but I don't really mind it because I love this game that much and I know they need the revenue so my final review 10/10 ign
I don't see a problem
Most free games have a huge problem, ie waaaay too much premium currency usage too many adds or frustrating/confusing gameplay. Surprisingly this game has none of it. Just a decent overall game!
Hope you make another
I love the game so much that if you made a touchdowners 2 (like how you did with dunckers) then I would just loooooovvvveee it because to me it looks a bit old school because of the pixels so I think it would look really awesome if you make in not so pixelated anyway I really appreciate this game and will like to play this game over and over again
Another great game
All of the games this creator has made are amazing but this one is by far the best. I definitely enjoyed this one the most out of them all. This game is enjoyable and hilarious. I would like to see a 2 player mode that pairs you up with a friend or random person on the internet to go against! Would be great if that could be added in!
A game with this much control shouldn't have this much luck involved
All the other reviews say that the AI is cheating, and i agree. The AI never throws backwards, they always end up on top of you, and they fly to the end zone. The player has a 50/50 chance of a throw being successful, they just get thrown around by the AI, and their throws get intercepted instantly by the AI. Also, the AI can just smack the ball out of the air and it instantly darts to the end zone and there is always someone there. Long story short: you're lucky you won a single game
Warning: Perfect for fun and raging
This is a fun game. Career mode the way to go though. Though they should add more mini games. It would be fun to control one player and play online with people. Or like a Oklahoma Drill. Plus it's not one of those games that are super easy. Which leads to lots a raging obviously. Warned you.
THIS IS MY FAVORITE APP!!!!!!
This game is SO entertaining! I love watching the three stupid people playing around and doing flips like they are a gymnastics champion. I suggest this game to people that enjoy being silly and like games that don't require much use of your brain.

I LOVE THIS GAME!!! You should get it if I haven't convinced you already.
Get Touchdowners from App Store
What is your opinion about Touchdowners
Bitcoin
Ethereum
MetaMask (ETH)
Xrp
Polkadot
Binance coin
Stellar
Dogecoin
Tron
Elrond
Donate Bitcoin to this address
Scan the QR code or copy the address below into your wallet to send some Bitcoin
Donate Ethereum to this address
Scan the QR code or copy the address below into your wallet to send some Ethereum
Donate Xrp to this address
Scan the QR code or copy the address below into your wallet to send some Xrp
Donate Polkadot to this address
Scan the QR code or copy the address below into your wallet to send some Polkadot
Donate Binance coin to this address
Scan the QR code or copy the address below into your wallet to send some Binance coin
Donate Stellar to this address
Scan the QR code or copy the address below into your wallet to send some Stellar
Donate Dogecoin to this address
Scan the QR code or copy the address below into your wallet to send some Dogecoin
Donate Tron to this address
Scan the QR code or copy the address below into your wallet to send some Tron
Donate Elrond to this address
Scan the QR code or copy the address below into your wallet to send some Elrond