(App) 3D Spirit Board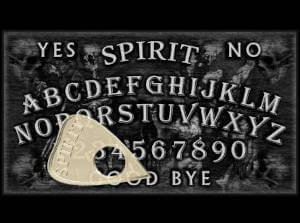 App Description :
Cross over into other worlds and interact with the supernatural by using the 3D Spirit Board app!
App Features :
Gather a group of friends into a circle around your mobile device and launch the 3D Spirit Board app. With the mobile device (the board) in the middle of your group, have all participants hold the mobile device off the ground and parallel to the floor.
Ask questions to the supernatural and any active spirits or entities in the area will influence the direction of the on-screen Planchette by subtly tilting your mobile device to spell out their responses.
Take heed, only ask the supernatural questions that you are prepared to hear answered. Not all spirits are friendly and not all entities are "human".
Additional Information :
Size 32.9 MB
Requires iOS 10.0 or later.
User Reviews :
Very sensitive
I was trying to find a good ouija board app and came across this.

I tried it out and I couldn't really do anything. I was by myself and my parents were upstairs so I could really talk either. I tried putting my finger on the.. uh.. the thing that's supposed to move. I forgot what it was called. but uh yeah I put my hands on the side and nothing happened so I just said goodbye. I'm sorry I could give this a fair rating so I just went with 3.
Good concept
Although I didn't get any communication, the opportunity for outside forces to influence this app to speak is there. Not 5 stars because it marks the letters/numbers too quickly. This app is too sensitive for the movements required to write words with the text box efficiently. Best to ignore the string of letters shown on the bottom of the screen and try to discern what it is spelling the old fashioned way. Anyone rating this 1 star because it doesn't move when placed flat, or because they can spell stuff themselves with it don't understand that it's supposed to be this way. The same can be said with a physical Ouija board. If there are no entities around or they don't want to communicate, nothing will happen. If you want to spell something yourself then of course you can. I'm not certain that this would work as well as the Ouija board since it is fundamentally different and no longer own one to compare the results.
I'm amazed!
I was playing this and asked to speak to my grandmother and it worked. She has been dead for about 4 years now. I also got in contact with my dog that I had to put down a couple months ago. I didn't think it would work but it did. She said," C u l8r" I was like why and then it started to spell ZoZo. We immediately said goodbye. We also spoke to a person named Aaron. He died when he was 6 years old. I don't know who he was, but he did say he was the one haunting my storage unit. I'm in love with this app!
Bug or spirit?
So while I was playing this, (for the first time), the thing that was shaped like a triangle (I forget what it was called), it LEGIT LIKE MOVED OFF THE SCREEN. I was so confused, and I said 'hello' but nothing happened! Then the board started to shake like CRAZY and it just stayed like that!! I was SO freaked out!!! I will edit this later when I get more experiences, but for now this is it…..
Supper fun with children
I met my new best friend Charlie (who claims to be famous?) who threw my child into the wall and made him fly around the room for a while! Would have given 5 stars but it also summoned a demon Ketalo, Kuthuwho, or Kuthulu who will cause the appacolyps but otherwise fantastic
Super fun and mysterious.
Me and my friends summoned a little boy who is 9 years old got abused and then murdered. We asked him to give us a sign he was real. My friends flowers on her chandelier started spinning ridiculously fast. He says he his friendly…
So cool and real
I'm surprised that this thing works

This is so real if u ever wanted to contact someone that passed away and recommended this app it's really accurate and real
I think I might have talked to my grandmother
Ok I asked what my name was and when it said my name I was scared. Then I asked if it was my grandma. Yes. I was scared and said goodbye. Either I was shaking or t was true. Idk.
Get 3D Spirit Board from App Store
What is your opinion about 3D Spirit Board
Bitcoin
Ethereum
MetaMask (ETH)
Xrp
Polkadot
Binance coin
Stellar
Dogecoin
Tron
Elrond
Donate Bitcoin to this address
Scan the QR code or copy the address below into your wallet to send some Bitcoin
Donate Ethereum to this address
Scan the QR code or copy the address below into your wallet to send some Ethereum
Donate Xrp to this address
Scan the QR code or copy the address below into your wallet to send some Xrp
Donate Polkadot to this address
Scan the QR code or copy the address below into your wallet to send some Polkadot
Donate Binance coin to this address
Scan the QR code or copy the address below into your wallet to send some Binance coin
Donate Stellar to this address
Scan the QR code or copy the address below into your wallet to send some Stellar
Donate Dogecoin to this address
Scan the QR code or copy the address below into your wallet to send some Dogecoin
Donate Tron to this address
Scan the QR code or copy the address below into your wallet to send some Tron
Donate Elrond to this address
Scan the QR code or copy the address below into your wallet to send some Elrond