(Game) Skiing Yeti Mountain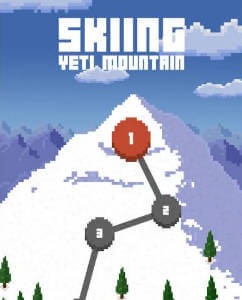 Game Description :
Carve your way through hundreds of levels as you search for the elusive Yeti. Weave through trees, skid over ice, launch off cliffs and get to know a cast of bizarre locals in this top-down extreme slalom adventure.
All handcrafted for your phone to create the ultimate skiing experience.
Game Features :
Touch controls designed for intuitive & precise carving
Hundreds of bite sized slalom tracks to complete
A mountain of challenge tracks to master
A cast of bizarre characters to meet
A Yeti to find?
Additional Information :
Size 88.9 MB
Requires iOS 8.0 or later.
User Reviews :
Cutest Mobile Indie Game Ever!!!
This game is definitely up there on one of my favorite mobile games ever. The controls feel great to play with and are really smooth. The graphics are so cute and colorful. The gamplay is amazing and so smooth without any lag. The storyline is so funny and makes you eager for the next time a new character is introduced. The 842 levels (I think) makes you feel like the game will never end. The levels start off easy but later on get harder to the point were your spending 10-20 minutes per level. When you progress through the levels you go up in experience levels which earn you clothing and new apparel to add to the fun Amazing game all-around except for that you have to pay to get rid of the adds
NEEDS A FREE SKI MODE!!!
To begin with, I absolutely LOVE this game! Mainly because I ski myself and I love doing it!!! Also it is just this cute little pixelated game that is just like skiing. I love it! It is an easy way to just ski! The way you turn and stuff with only using one finger! And it looks awesome! Like how you drift and there are cliffs to jump. It is awesome! But of course what is the point in writing a review if you don't have at least ONE pet peeve about SOMETHING. My only pet peeve about this game is the stupid post things you have to go around! I hate that! And I know that is the whole point of the game. And I'm not saying you should get RID of it because it isn't THAT bad but it would make the game so much more fun if we could just roam a mountain and ski where ever we want! Jump as big of cliffs as we want! Anything! But just PLEASE PLEASE PLEASE add a free ski mode! But of course the levels would still be there too. Because what's the point of a game if there is no challenge? The levels like challenge mountain and endless or just the normal levels could be the challenges of the game when we needed one. But anyway I would appreciate a big update with this! It would be so much fun to ski where ever and as fast and long as we want! I am sure there are many that also agree somewhat of the sorts. Please consider this! Thank you!

I love this game!
Awesome Skiing Game To Practice RL Skiing
Skiing Yeti does seem to be one of the coolest skiing indie games in the iOS market. I've been playing the beginner level for quite sometime and the challenge increases steadily as there are other modes of the game that challenge you even harder as you go down different mountains. Although, sometimes the game will lag on my iPhone 7 running iOS 11.2.6 but I'm not sure why it would all of the sudden do that. The game I'm playing is up to it's most updated version which could be why. The game isn't as fast and fluent as it used to be when I was playing it the first two weeks. Other than that, what a great game and story line!!
Truly Amazing
This game is so simple yet AMAZINGLY fun. It is addicting and a good game to play when you are waiting for something or when you just want to play a game. It is funny, it actually has a storyline to it, has a challenge mode, and it has and endless mode. This game is all around good and fun, but it has some small problems. One problem is that. The daylight cycle setting doesn't work, and game freezes occasionally. The game developers also have funny ways of putting adds in, but it can kind of be annoying. It might not be everyone's game, but I think the game is totally awesome and everyone should at least try it out.
Great game, maybe add..
This game is really great, the controls are smooth and the graphics are so cute. I don't even mind the adds, since the developers cleverly put billboards around the map to transition into adds. The many levels and modes are very fun, but I would really like if developers added a new mode. Some sort of free mode, where you don't worry about your time, and don't have to follow the specific paths with those red and blue posts. Of course, keep the obstacles. The cliff jumps and the trees, just so that it's not too much of a breeze. That suggestion aside, this game is great and really fun. Please keep making great games like these.
Get Skiing Yeti Mountain from App Store
What is your opinion about Skiing Yeti Mountain
Bitcoin
Ethereum
MetaMask (ETH)
Xrp
Polkadot
Binance coin
Stellar
Dogecoin
Tron
Elrond
Donate Bitcoin to this address
Scan the QR code or copy the address below into your wallet to send some Bitcoin
Donate Ethereum to this address
Scan the QR code or copy the address below into your wallet to send some Ethereum
Donate Xrp to this address
Scan the QR code or copy the address below into your wallet to send some Xrp
Donate Polkadot to this address
Scan the QR code or copy the address below into your wallet to send some Polkadot
Donate Binance coin to this address
Scan the QR code or copy the address below into your wallet to send some Binance coin
Donate Stellar to this address
Scan the QR code or copy the address below into your wallet to send some Stellar
Donate Dogecoin to this address
Scan the QR code or copy the address below into your wallet to send some Dogecoin
Donate Tron to this address
Scan the QR code or copy the address below into your wallet to send some Tron
Donate Elrond to this address
Scan the QR code or copy the address below into your wallet to send some Elrond