(App) Steam Mobile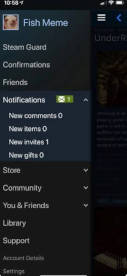 App Description :
With the free Steam app for iOS, you can participate in the Steam community wherever you go.
App Features :
With the Steam app for iOS, you can:
 Chat with your Steam friends.
 Secure your account with the Steam Guard Mobile Authenticator.
 Access your inventory, trades, and the Community Market on the go. With Trade and Market Confirmations, you can be sure that your items never leave your account without your approval.
 See the latest screenshots and posts from your friends and the most popular content from across the Steam Community.
 Keep up on the latest news and discussions from your favorite groups and games.
 Remotely download and install your games straight to your PC at home.
Additional Information :
Size 43 MB
Requires iOS 8.0 or later.
User Reviews :
Buggy but decent
To start there is a huge bug that always signs you out of your account each time you close the app or have it running in the back for a while. But I do like that you can buy games and chat with your friends on steam through the app or checking up on your library. I wish that they would implement activation of steam products instead of having to use the web or desktop application. Plus having the steam guard attached to the app is wonderful always a good thing to have extra security on your accounts to prevent unauthorized people to access your account. And having it go straight to the app instead of checking your email every time you log in makes it so much easier. But I did give it three stars due to the issues that is has like the signing you out, long load times, and random crashing. I would have given it 5 stars if they fix these issues but it seems like after a while they still haven't fixed it even though they have acknowledged that they have known about the specific signing out issue. I love the app and it use to work flawlessly not earlier this year. I just hope that they can return the app to its former glory.
Barely Functional
This app only just barely manages to do even the most basic functions. Some of the UI is extremely unstable and will frequently bug out and make navigating it impossible. The prime example being the steam points shop, where if you scroll too fast, it hard crashes the app. And if you even open some of the pages on that section it will start randomly opening previews of things like profile backgrounds out of nowhere. It's over sensitive, it considers every touch a full tap, so touching to scroll will open whatever you touch.

It's possible to drag your finger across some text that's supposed to be tappable and it will select it and highlight it like any other text. You cannot get this to go away either without moving to different pages.

Overall very displeased, I only download this every now and then to check prices on some games, and every time I'm reminded that really I should just use the mobile website through a web browser instead.

This is a good example of an app that's drastically inferior to the website, but for some reason some stuff requires the app. The steam guard mobile Authenticator is the only way to manage selling game items without having to wait 15 days while the item is on hold, and that would be fine if the app actually functioned.
15 day trade ban/hold is the most silliest thing ever
I recently changed into my new iPhone and I have also changed my old phone number to a new phone number ever since I moved to another state to live there. Since I can't confirm any trades on my new iPhone, they instructed me to disable the authenticator on my old iPhone and enable it on my new iPhone, which I did. HOWEVER, 1 big issue I have is that they never "warn you" what happens when you disable or enable a steam guard authenticator. They place a whopping fat 15 DAYS of not being able to trade with anyone and use the community market at all. During that time I had made great offers with a person on Discord and because of this I have to apologize to him due to the 15 days of trade ban. My BIG issue here is 15 days is waaaaay too long to not be able to do anything. If Valve's excuse is to prevent Hackers that accessed your steam account and start trading your items to theirs or something like that, shouldn't 1-3 days be more than sufficient for the actual owner of the steam account to respond, remove those trades, change password and security instead of 15 WHOPPING DAYS? As long as they don't change that 15 days hold/ban I am keeping this app at a 1 Star, I wish I could rate it a lot lower, and I HOPEFULLY WISH they read through the comments, criticism and reviews and improve on one of the major flaws of their trade/ authenticator system.
Great app for checking the Steam store..
This is a good functional app which I've been using since it's release. Once you get used to the somewhat clunky GUI, it's very good at tracking the store sale of the day as well as the big sales, and your library. I don't use it for any other deeper functions or communicating with friends or anything else, so I don't know whether all the additional features work. I did try remotely installing a game after purchase, and I know for a fact my pc was turned on and had Steam running…but the game install request simply did not queue up in the Downloads area on the PC. That's first world software problem though… the store purchases work fine and quickly, which is the important part.

My only suggestion I have is to please please please add 'swipe back' browsing gestures. It's annoying that the back button must still be used while browsing the store all this time later as iPhone processing power effectively doubles each year. We don't need pinch turn or any other fancy gestures which no one uses…we need reliable 'swipe back' though.
Get Steam Mobile from App Store
What is your opinion about Steam Mobile
Bitcoin
Ethereum
MetaMask (ETH)
Xrp
Polkadot
Binance coin
Stellar
Dogecoin
Tron
Elrond
Donate Bitcoin to this address
Scan the QR code or copy the address below into your wallet to send some Bitcoin
Donate Ethereum to this address
Scan the QR code or copy the address below into your wallet to send some Ethereum
Donate Xrp to this address
Scan the QR code or copy the address below into your wallet to send some Xrp
Donate Polkadot to this address
Scan the QR code or copy the address below into your wallet to send some Polkadot
Donate Binance coin to this address
Scan the QR code or copy the address below into your wallet to send some Binance coin
Donate Stellar to this address
Scan the QR code or copy the address below into your wallet to send some Stellar
Donate Dogecoin to this address
Scan the QR code or copy the address below into your wallet to send some Dogecoin
Donate Tron to this address
Scan the QR code or copy the address below into your wallet to send some Tron
Donate Elrond to this address
Scan the QR code or copy the address below into your wallet to send some Elrond