(Game) Oxenfree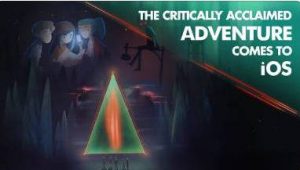 Game Description :
Play the opening for free. In-app purchase of the full game.
Choose your fate in this critically-acclaimed supernatural adventure.
Oxenfree takes the best parts of supernatural 1980's teenage horror films and combines it with believable characters, beautiful set pieces, and a haunting VHS synth-pop soundtrack to create a masterpiece. – 10/10 from CGMagOnline
What "Stranger Things" was to Netflix, "Oxenfree" was to the video game world. – LA TIMES
Oxenfree stands firm as a smart supernatural tale that crawls to a chilling end. – KILLSCREEN
There's no filler here, just an increasingly fascinating, emotional story steeped in the paranormal. Night School Studio's first effort is a brilliant one. – FORBES
Game Features :
Oxenfree is a supernatural thriller about a group of friends who unwittingly open a ghostly rift. Play as Alex, a bright, rebellious teenager who brings her new stepbrother Jonas to an overnight party on an old military island. The night takes a terrifying turn when you unwittingly open a ghostly gate spawned from the island's cryptic past. How you deal with these events, your peers, and the ominous creatures you've unleashed is up to you.
Determine every aspect of Alex's story while exploring Edwards Island, uncovering the base's dark past, and changing the course of your friends' lives.
Oxenfree can be played in both touchscreen and controller modes, allowing you to switch between play styles seamlessly.
An intelligent conversation system changes the story and your relationships based on every decision.
The unique radio mechanic allows Alex to communicate with mysterious spectres and manipulate her world.
Multiple mysteries to unravel, spanning decades and lifetimes.
Additional Information :
Size 1.6 GB
Requires iOS 9.1 or later.
User Reviews :
A Masterpiece
I've been recommending this game to everyone and anyone. The story, the setting, the characters, the development, the dialogue, and the design are nothing like I've played before. I didn't know what to expect with this game, but I'm glad I bought it, $4 was insanely worth the brilliance of this game. It was easy to catch on how to play, and none of the problems were extremely difficult that I had to look up answers.

I love being scared and startled, and getting sucked into another world, and I finally found a game that perfectly gave that, being a thriller, horror, comedy, romance, and mystery all in one. This is the kind of "make your own choices" game that every game should be. It was exactly like real life where you get to choose what to say and when to say it in a conversation. The never ending dialogue was enjoyable as well.

The only struggle I had with this game was I was never 100% sure I was going the right direction. It also doesn't save when you want it to, but I caught on that it saves whenever you change location.

I'm not going to complain with how much storage it takes up or that it drains your battery, because you should expect that to happen with a game like this. Surprisingly, it didn't overheat my phone like other games have done, so that was a plus.

Overall, I hope to stumble upon a game like this in the future, though I know nothing will live up to the magic of this one.
Awesome!
Ok, I've been playing this game for like 6 of the last 12 hours, so I feel reasonably qualified to say this game is killer. It's got a good balance of eerie and sweet, enough that I'm looking over my shoulder when I hear weird noises, but I'll still be able to fall asleep. The gameplay is giving me some serious tv show vibes (Locke and Key, Haunting of Hill House, and even Stranger Things, all for reasons I won't explain, bc spoilers). I've played it about 1.5 times at this point, and I really like that it has enough structure so I don't really get stuck, but my choices (apparently) can still lead to slightly different outcomes! Even though I've "finished" the game, there's still a lot more for me to discover, and (hopefully) a few more outcomes! Really makes it feel worth the $5, since I will definitely play it again. Also want to mention that I LOVE how there's some… aftereffects playing it the second time. My only complaint would be that the movement can be a little buggy sometimes, like it won't let me climb up a wall, and I just have to walk away and come back a couple times. Even with this minor issue, I 10/10 recommend this game to anyone who enjoys a bit of creepiness!
Excellent
This is a genuinely compelling and wonderful game. The characters, while not all great or even very well rounded, are interesting and fun, especially Alex and Jonas. I sincerely love their relationship especially, and that this is one of the most compelling sibling stories I've ever played. That said, there are a few issues with it, mainly the mechanics and the way the dialogue flows. For example, in order to fill space between actions, the characters might initiate dialogue, but when you get dialogue options, they fade so quickly that you have to interrupt the sentence of the person talking, or miss your chance to even say any dialogue. There are also a few things with the movement mechanics that annoyed me, a few bugs with how the characters moved around, but the biggest primary issue was that you couldn't choose your walking speed, and you also couldn't choose to not rush ahead of your friends and stuff so it was irritating to see Alex just bolt up ahead of her friends to get to the destination faster, though I did like the fact that you could really control where you went during dialogue scenes and such. I would also recommend playing this on a tablet, as using a phone is kind of difficult to control. Overall, a fantastic game, though and if I could give it 4.5 stars I would.
Get Oxenfree from App Store
What is your opinion about Oxenfree
Bitcoin
Ethereum
MetaMask (ETH)
Xrp
Polkadot
Binance coin
Stellar
Dogecoin
Tron
Elrond
Donate Bitcoin to this address
Scan the QR code or copy the address below into your wallet to send some Bitcoin
Donate Ethereum to this address
Scan the QR code or copy the address below into your wallet to send some Ethereum
Donate Xrp to this address
Scan the QR code or copy the address below into your wallet to send some Xrp
Donate Polkadot to this address
Scan the QR code or copy the address below into your wallet to send some Polkadot
Donate Binance coin to this address
Scan the QR code or copy the address below into your wallet to send some Binance coin
Donate Stellar to this address
Scan the QR code or copy the address below into your wallet to send some Stellar
Donate Dogecoin to this address
Scan the QR code or copy the address below into your wallet to send some Dogecoin
Donate Tron to this address
Scan the QR code or copy the address below into your wallet to send some Tron
Donate Elrond to this address
Scan the QR code or copy the address below into your wallet to send some Elrond