(App) Skinseed for Minecraft Skins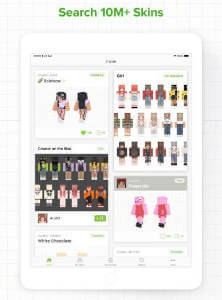 App Description :
Meet the most versatile Minecraft skin app. Works with both Minecraft Pocket Edition and PC/Mac version.
App Features :
Intuitive skin editor with unique features such as intelligent texture generation
10,000,000+ high quality, fully searchable skins to be used as it is, or as a starting point for your work
Wardrobe feature providing customized skins collection
Interactive 3D previews
Import from Minecraft game using usernames
Community where you can share your works with your friends
One touch, direct export to Minecraft
We are always excited to hear from you! If you have any questions or feedback, please contact us using the contact form provided in the app.
Disclaimer:
This app is not affiliated with, or endorsed by Mojang. "Minecraft" is a trademark of Notch Development AB.
Additional Information :
Size 95.7 MB
Requires iOS 11.0 or later.
User Reviews :
Good, but experiencing bugs.
I like this app a lot. I used it to both download and create many of my own skins when i was younger, and I returned recently to get back on making my own skins. It has the good capabilities of many skin creators, including changing brightness, darkness, and saturation, and editing lassoed areas or filling areas with color boundaries. However, my main issue recently has been importing skins from the camera roll. when I exported a photo from skindex and imported it into Skinseed to further edit, the transfer didn't work. The skin didn't load. :/

Other than this bug, I've liked this app fairly well, and although it has its limitations such as only showing one surface face at a time, overall this leads to better accessability. If you are new to Minecraft or looking for a good skin app, get this one. Even if you don't like to make your own skins or pixel art it has tons and tons of skins to pick from. Keep in mind most of the community skins only work on pocket edition and not Java (on computer, uses a launcher.)

My main issue is importing skins from photos not working. Please fix this devs.
Great app!
I would like to give a few update ideas, 1. Polls, they would be like things you can put asking your followers what type of skin you should make next. 2. Random skin generator, since it's kind of hard for new creators to get a lot of people to see their skin there should be a button you can press to see a random skin. 3. Live-streams, now before you just look at that word and totally discard the idea here me out. Once you hit like 1000 followers you should be able to live stream your skins if you want. I don't mean talk and stuff while your making a skin, I mean like if you livestream your skin people can see you in the making of the skin. 4. I think you should add some currency called diamonds (also hear this idea out) every 1000 subs you get you get 1 diamond, you can also donate people diamonds if you want. Every 10 diamonds would be equal to 1 dollar (still listen) this money would only count to being able to buy mine coins, Windows 10, and a Minecraft Java Edition acount. They wouldn't count as real money so it wouldn't take anything out of your guyses pockets. That means if you get 275k followers you would be able to buy a Minecraft java edition acount. I think that's a fair price considering how much follows you would need to get. Thanks if your listening to this and if you are please copy this and also repost it so other people can see this and hopefully the developers can and add one of these ideas
I love this app. I've had I since 2017, but got an account this year. I just have some suggestions/problems. Suggestions: Maybe and an option to host a contest. Also, the repost system is totally inaccurate. People can sometimes spam you with reports, and you get redacted for no reason. Maybe you can get people to make a team/committee to monitor stuff. I think that's all. Oh, I'd also like the ability to make collaboration skins. Like, you can ask someone to make a collab with you. Kind of like shared powerpoint's work. Finally, ssm was good. I'd like the ability to be able to message people privately on SS. To monitor that, I suggest that if you have a certain amount of reports, or you are notorious for being suspended on accounts, you can't message (for reasons). I also think this could work for making a photo pfp. If you have a certain amount of reports, suspends, or bans, you can't do it. Maybe atime lapse feature like ibis paint has. So once you are done with a skin, you can see how you made it. People would also be able to view it when you post it. Also, with the possible contest hosting feature, maybe the ability to start a series (like a book), or other. I don't know. The ability to also maybe make report skins. By tapping a plus sign and selecting your option (report, series, or contest). That's all.
Get Skinseed from App Store
What is your opinion about Skinseed
Bitcoin
Ethereum
MetaMask (ETH)
Xrp
Polkadot
Binance coin
Stellar
Dogecoin
Tron
Elrond
Donate Bitcoin to this address
Scan the QR code or copy the address below into your wallet to send some Bitcoin
Donate Ethereum to this address
Scan the QR code or copy the address below into your wallet to send some Ethereum
Donate Xrp to this address
Scan the QR code or copy the address below into your wallet to send some Xrp
Donate Polkadot to this address
Scan the QR code or copy the address below into your wallet to send some Polkadot
Donate Binance coin to this address
Scan the QR code or copy the address below into your wallet to send some Binance coin
Donate Stellar to this address
Scan the QR code or copy the address below into your wallet to send some Stellar
Donate Dogecoin to this address
Scan the QR code or copy the address below into your wallet to send some Dogecoin
Donate Tron to this address
Scan the QR code or copy the address below into your wallet to send some Tron
Donate Elrond to this address
Scan the QR code or copy the address below into your wallet to send some Elrond