(Game) Battleplans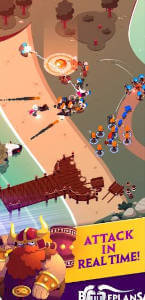 Game Description :
Battleplans infuses unique squad tactics into an action-packed strategy game. Command your troops directly in stylish real-time clashes of epic proportion! Attack enemy camps or lead a powerful defense as you and your online enemies battle for valuable resources.
Save the island kingdom from the evil Skull invaders: Take back your lands, free your heroes and build an army to claim your victory! Sail into battle in online PvP, and reclaim lost resources using cunning defense and careful strategy!
Game Features :
OUTSMART ENEMIES: Choose from a mix of unique heroes as you attack and defend both computer and live players.
DIRECT CONTROL: Clash in real time, controlling heroes and troops with a swipe.
COMPETITIVE PLAY: Dominate the map. Plan, attack, and defend on your schedule.
STRATEGIC CAMPAIGN: Conquer bases and free heroes from the evil Skull King and his minion, the Soul Titan.
INTUITIVE CONTROLS: Easy to learn and fun to master. Quick thinking beats quick fingers.
REAL-TIME TACTICS: Choose your next move quickly to turn the tide of battle.
REFINE DEFENSES: Use smart defense planning to predict and thwart attack options.
BASE BUILDING: Use resources to improve your bases and push back invaders.
MULTIPLE OPTIONS: Mix and match heroes and troop types for endless team combinations.
Experience a rousing strategic campaign, or sail into battle with online enemies in PvP. Vie for superiority over the islands freed from the Skulls in epic wars, climb to the top of the rankings, and earn extra resources to upgrade bases, train troops, and even level up or hire extra heroes for the next war.
Download Battleplans and start planning your next attack!
Note: Battleplans is free to download and play, but some optional items can be purchased with real money from inside the game. You can disable in-app purchases within the settings menu of your device. We cannot offer support or compensation related to use on non-recommended devices.
Battleplans requires at least an iPhone 5, iPad 4, or iPad mini 2.
Come talk with us about the game on
Twitter @playbattleplans
Facebook fb.com/BattleplansGame
Additional Information :
Size 355.5 MB
Requires iOS 9.1 or later.
User Reviews :
Strong Start Rough Finish
Gameplay is really enjoyable. No "lives" or amount of attempts will limit how many times you can challenge an opponent. Only when you lose Soldiers during a match you would have to wait for them to regenerate. The free awards are reset fairly often so it is not a "pay to play" game which is enjoyable. The game limits your defense to a preplanned execution which means there's is no PVP. This is a refreshing choice since most games is switching to an AI or PVP format. Gameplay is really smooth, characters are interesting, and maps are creative. The only issue is that there is an automatic failure if you lose connection mid battle in the game. There is no notifications if maintenance is being done or if the number of individuals playing are too much for the app but it's hit or miss if I attempt to play. The first four days I had no issues but the higher level I achieve the more connection errors there are. Overall I highly recommend this game due to its reasonable wait times, realistic upgrade requirements, and gameplay.
Idea for developers!
To keep game fresh in late-game and to further challenge people who are high leveled In lower ranks (making it very difficult for low levels to attack) I'd said high rank is on a attack spree or wins more than 2 invasions in a row. On their third attack, (live) they can be ambushed 20 seconds into the raid by a third party player with (less) limited units. This stunting players from capturing hella forts, and it would add live combat which would likely flourish in this game. The fact that all attacks are against ai or pre planned defenses make the game mediocre at best. But to mix in live pvp would recreate the game and it's definitely holding the potential. Other than that games fun, no ads, just gets super Grindy after playing for a while and I can see how it can become stale. ADD live PVP!
Meh, some issuses
The controls are weird, and the AI's even weirder. Can't say how many times I've lose a battle because an enemy minion wanders into an archer radius. Kinda eliminates the purpose of being ranged if your not able to reposition. Other problems that I have is a not very strategic-friendly with the abilities heros have. It's cool and all to know what it does but I'd rather have numbers displaying for example how much health a zombie or stag has, how much damage an aoe trap does over time, even when some abilities are able be used again, and/or cooldowns on abilities that continuously do something (such as a timer on graveyards). The art style is meh, but I'd rather have numbers to plan out my plans mathematically and mentally rather than seeing it all so cartoony.

Other than that, the game can be enjoyable at times. It's just misleading to me when they call it strategic and it has little to no detailed stats on abilities.
Get Battleplans from App Store
What is your opinion about Battleplans
Bitcoin
Ethereum
MetaMask (ETH)
Xrp
Polkadot
Binance coin
Stellar
Dogecoin
Tron
Elrond
Donate Bitcoin to this address
Scan the QR code or copy the address below into your wallet to send some Bitcoin
Donate Ethereum to this address
Scan the QR code or copy the address below into your wallet to send some Ethereum
Donate Xrp to this address
Scan the QR code or copy the address below into your wallet to send some Xrp
Donate Polkadot to this address
Scan the QR code or copy the address below into your wallet to send some Polkadot
Donate Binance coin to this address
Scan the QR code or copy the address below into your wallet to send some Binance coin
Donate Stellar to this address
Scan the QR code or copy the address below into your wallet to send some Stellar
Donate Dogecoin to this address
Scan the QR code or copy the address below into your wallet to send some Dogecoin
Donate Tron to this address
Scan the QR code or copy the address below into your wallet to send some Tron
Donate Elrond to this address
Scan the QR code or copy the address below into your wallet to send some Elrond