(Game) Frozen Synapse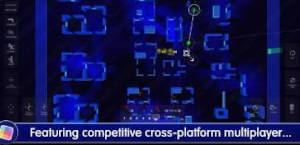 Game Description :
Enter a bleak cyberpunk future where a small resistance struggles against an oppressive regime with the freedom of humankind at stake. You're a commander who has to issue orders to his soldiers in order to claim victory over the enemy. Battles move fast, but you'll experience them a few seconds at a time. Plan your moves carefully, give your orders, and watch how things play out. The enemy will also be making its moves, so you'll have to consider every possibility to keep your people safe.
Game Features :
Play through a challenging campaign where the AI will dog your every step. Can you lead the resistance to victory against seemingly insurmountable odds? Looking for a little less commitment? Try out the Instant Skirmish mode to jump right into the action. Of course, the real challenge comes from taking on a human opponent. Play online with cross-platform multiplayer or in hotseat mode and see whose tactics reign supreme. With countless map variations, you'll find fresh challenges to test your strategies around every corner. Prove you have the superior synapses!
Think Carefully: You have all the time in the world to plan the actions of your soldiers, but once the turn starts you can only watch things play out.
Guide Every Move: It's up to you to decide where each soldier goes, how fast they move, and how they react to any enemies they see. You even control how they stand and which way they're looking. Total control, total responsibility.
A Challenging Campaign: Assume the role of a resistance commander and battle against an oppressive government regime. Strike a blow for freedom!
Multiplayer Battles: Go online and test your wits against another human, or challenge a friend on one device with the hotseat mode. Who is the superior commander?
Fight in Style: Stylish minimalistic visuals are backed by a pulse-pounding soundtrack that will put you in the mood for some serious tactical action!
GameClub is a subscription mobile gaming service. If you like our games, try our auto-renewing monthly subscription for 30 days free, and play all of our games with no limits, no ads, no hidden fees, and no other in-app purchases.
If you choose to purchase GameClub's optional subscription, payment will be charged to your iTunes account at confirmation of purchase. No charge will be made for the free trial period. Your subscription automatically renews unless auto-renew is turned off at least 24 hours before the end of the current period. Your account will be charged for renewal within 24 hours prior of the current period, at the cost indicated. You can manage your subscriptions and turn off auto-renewal by going to your App Store account settings after purchase. Any unused portion of a free trial period, if offered, will be forfeited when the user purchases a subscription to that publication, where applicable.
Terms of Use: gameclub.io/terms
Privacy Policy: gameclub.io/privacy
If you have any questions, please contact us at support[at]gameclub.io
Facebook: facebook.com/gameclub
Twitter: twitter.com/gameclub
Thank you!
Additional Information :
Size 299.7 MB
Requires iOS 11.0 or later.
User Reviews :
Very faithful port
Amazing game that is faithfully ported from the PC.

You should be warned that this game is a challenge… It will take time to learn the interface and controls and the tutorials are not interactive, which is a big problem for many. This game requires you to think quite a bit, it's not an action game. The graphics are spartan but I like the style and atmosphere. Complex and hardcore are two words I'd use to describe this game, and if that scares you, I'd stay away.

For those coming from the PC version, the iPad version doesn't support iOS standards like notifications. The PC version used email to notify you of turns but that's a little antiquated. Also it would be great if gamecenter could be patched in. I know that the server and player ids are based on a completely different system, but a lot of iOS players will be confused about matchmaking and hooking up with friends online. Finally graphically, sometimes I wish that some of the interface elements were a bit sharper.

Despite these nitpicks, even if you never touch multiplayer the game has tons of skirmish modes and a full story campaign. Once you learn the interface controlling your team is easy: you can make broad strokes or micromanage every tiny movement… which can mean the difference between life and death sometimes! Great music, quick loading and booting, snappy interface. Highly recommended game!
Best tactical game on the ipad!
I've had my ipad for some time now and have always enjoyed gaming on it. This is the first title though that's come along on the device, grab my attention and not let go! It is incredibly competitive and the complexity of the tactics require you to think out every command and will mean the difference between an incredibly satisfying victory or horrendous defeat. I've read numerous reviews about how the learning curve is too steep for new players. This is not true at all. I'm new but am near the top of the leader boards. You just have to like tactical games! … I have noticed a few drastically negative reviews, one in particular calling the gameplay obtuse, and found a need to respond. Anyone who could describe this game in such a manner obviously couldn't be bothered with learning its depth. Everyone has a right to there own opinion of course but I would venture to call such a comment blatantly arrogant when so many others applaud the game's tactical complexity.

UPDATE:

Love the hi-res graphics! Unfortunately not everything has made the transition. Hopefully that is coming!
Great but could be better
Overall this is a great strategy game that I can easily spend countless hours on in one sitting. I personally enjoy the hotseat feature where I can play with my friends or even by myself to test out different strategies. My only concern is that you should allow the hotseat mode's advanced setup to use seeds to generate previous maps that I tweaked in the skirmish generator or allow the skirmish generator mode to allow hotseat playability. (Also you guys should take off the 5v5 limit on the skirmish generator because I loaded a hotseat match before with about 12 men on each side and it played smoothly with no lag. I don't know if this is the same case for other devices (I have the Ipad 3) but it would be a nice feature to add)
Loved it
Me and my friend love playing the game. The amount of options in any situation is immense and there's many fun game modes and different soldiers that all have very different ways to use them. I love strategy games and even if you aren't a person who likes them, this game is definitely worth a try. The interface is very nice and is very easy to manage. I loved the vastly different ways to set up the game and configure the amount of soldiers of each type and their starting points.

I wish that there was a way to edit exactly how the map was set up rather than it being random when you set it up against a specific person online, a sort of forge where you can design exactly a map.

This game was very fun, I hope for future updates and I think I'm going to purchase the addon pack when it comes out.
Get Frozen Synapse from Play Store
Leave your feedback regarding Frozen Synapse
Bitcoin
Ethereum
MetaMask (ETH)
Xrp
Polkadot
Binance coin
Stellar
Dogecoin
Tron
Elrond
Donate Bitcoin to this address
Scan the QR code or copy the address below into your wallet to send some Bitcoin
Donate Ethereum to this address
Scan the QR code or copy the address below into your wallet to send some Ethereum
Donate Xrp to this address
Scan the QR code or copy the address below into your wallet to send some Xrp
Donate Polkadot to this address
Scan the QR code or copy the address below into your wallet to send some Polkadot
Donate Binance coin to this address
Scan the QR code or copy the address below into your wallet to send some Binance coin
Donate Stellar to this address
Scan the QR code or copy the address below into your wallet to send some Stellar
Donate Dogecoin to this address
Scan the QR code or copy the address below into your wallet to send some Dogecoin
Donate Tron to this address
Scan the QR code or copy the address below into your wallet to send some Tron
Donate Elrond to this address
Scan the QR code or copy the address below into your wallet to send some Elrond