Rhythm Hive: Cheering Season game by HYBE IM Co.,Ltd.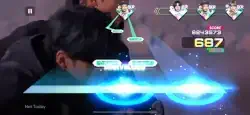 Game Description :
An all-new rhythm hive!
Check out the artists' live scorecards, plus new playable singles and unit songs now!
HYBE Official Rhythm Hive Rhythm Game
BTS, TOMORROW X TOGETHER, ENHYPEN and Seventeen music as a rhythm game!
Enjoy the artist's folk songs in full and short versions! Latest News + You can also play singles and unit songs!
See all the latest songs like Butter, Magic, Upper Side Dreamin', Darl+ing, and more!
Game Features :
Create your own diary with the artist! Have you tried to stick different stickers? Visit random Diaries and leave your name on the Diary Ranking!
From the album cover to the cute and cool look of the artist, create a theme for your diary and decorate it with stickers!
UR voice and and message cards that can only be found in Rhythm Hive + a live moving cards that have never been seen anywhere.
The highest-rated card update that allows you to check out the voice card recorded by your favorite artist and the newly added moving figure in the message
Card drawing tickets starting today!
Get a ticket to draw a card and pick any performance cards that you want anytime!
From debut to the present, various images of your favorite artists in the form of card! Collect the cards to level UP! Rhythm Hive's exclusive selfie card! Don't miss it!
From login rewards to quest rewards, accumulate the rewards just by playing!
Play the rhythm game now, and get all kinds of rewards for free!
Special rewards for Weverse users!
Get all the special rewards by linking your account with BTS, TXT, ENHYPEN, and SEVENTEEN Weverse!
Mission Update for Newcomers!
The Rhythm Hive Guide for new Hivers! Learn the game, get rewards, and have a great time!
Smartphone App Access Permission Notice
Rhythm Hive requires access to the following to provide its services.
Required
1. Storage: For reading and storing game data.
Optional
1. Camera: Required to take photos/videos to upload.
2. Photos/media/files: Required to store videos and upload photo/videos.
Choosing not to allow optional access permissions will still let you use the app.
How to Deny Access Permission
Settings > Privacy > Select Permission manager > Allow or deny permission.
*App permissions are used for playing the game only and are not used for any other purposes.
Product Information and Terms
A separate fee is charged for purchasing paid content.
Payment amounts and methods are separately announced and are different for each product. (The actual charged amount may differ for foreign currencies depending on the exchange rate, fee, etc.)
Product terms and periods are announced separately in the game.
You can purchase the subscription product via in-app purchase, and the transaction is made each month from the date of your first purchase until you cancel the subscription.
If you don't cancel the subscription within 24 hours before the next transaction day, it is renewed automatically, and the cancellation is handled in accordance with the Market's cancellation policy.
Contact
HYBE IM Co., Ltd
Privacy Policy: rhythmhive.hybecorp.com/app/rhythmhive/privacy
Terms of Service: rhythmhive.hybecorp.com/app/rhythmhive/terms
Additional Information :
Age Rating 4+
Size 294.5 MB
Requires iOS 11.0 or later.
User Reviews :
I love it, but I have a suggestion
I love this game, as I was a fan of the Superstar games that would come out, especially the BTS version. But, I do have a suggestion. In the game, there is the option to compete/play online with other players. I think it's a great thing and it's really cool. But, sometimes it's purely based off of which player has the better card rather than which player has the better performance, I know that if an S card did horrible and missed every note that they would lose to a B card. But, if an S card still got hits and performed good, even if the B card performed better than them they would be the best performer. I guess what I'm trying to say it, they should have a ranked thing, I think they should rank players based off of their cards. I think you should put players with a B card with other players with a B card and do the same thing with the other ranks. I don't know if this is possible, but I think in theory it could be. Also, if a player is playing on hard mode then put them in a game session with other players that are playing in hard mode. I think it would make it a more fair and competitive feature. This is just a thought I've been having. Other than that, the game is really enjoyable and fun to play. The developers are great at updating the game. I experienced a bug in the game, and it was gone by the next day. I hope they keep up the hard work!
A very good start
What people don't understand about this app is that the game is still being worked on. Of course there are going to be problems and glitches, and that's the reason they put it out on February 4th instead of the 28th. They want us to give them feedback on the issues and glitches. What did the devs get? Hate. Everyone told them that the game is awful and can never measure up to Superstar BTS. That is very disrespectful and immature.

Personally, I think the note style and design of the beatmap is a monumental improvement. The previous notes in SBTS constantly registered incorrectly and the slide notes were the worst. These notes are so much better. The design and layout of the game is wonderful and the textures and colors are so pretty. Yes, cards are currently hard to get, but if we respectfully make requests and suggestions and not insult the game, the devs will take our suggestions into consideration.

The game even says in the news that this period of time is to learn how to use the game and report any major bugs, and that "Season 1" will start soon, which appears to be a competitive leaderboard with increased rewards. Patience is the key here. We need to have patience and wait for updates, so please give the game a chance.
Get Rhythm Hive from App Store
What is your opinion about Rhythm Hive
Bitcoin
Ethereum
MetaMask (ETH)
Xrp
Polkadot
Binance coin
Stellar
Dogecoin
Tron
Elrond
Donate Bitcoin to this address
Scan the QR code or copy the address below into your wallet to send some Bitcoin
Donate Ethereum to this address
Scan the QR code or copy the address below into your wallet to send some Ethereum
Donate Xrp to this address
Scan the QR code or copy the address below into your wallet to send some Xrp
Donate Polkadot to this address
Scan the QR code or copy the address below into your wallet to send some Polkadot
Donate Binance coin to this address
Scan the QR code or copy the address below into your wallet to send some Binance coin
Donate Stellar to this address
Scan the QR code or copy the address below into your wallet to send some Stellar
Donate Dogecoin to this address
Scan the QR code or copy the address below into your wallet to send some Dogecoin
Donate Tron to this address
Scan the QR code or copy the address below into your wallet to send some Tron
Donate Elrond to this address
Scan the QR code or copy the address below into your wallet to send some Elrond