Ecobee app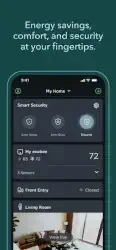 App Description :
An ecobee home learns and adapts based on your needs, behaviors and preferences, offering comfort when you're there, and peace of mind when you're away. The ecobee mobile app is simply an extension of this experience. We update the app regularly to include newly released features and enhancements.
App Features :
Install your device with step-by-step instructions.
Save even more energy by adjusting your thermostat settings and turning off unnecessary lights directly from your smartphone, tablet or Apple Watch.
Keep track of the comings and goings in your home with ecobee Smart Security, our smart home monitoring solution.
Monitor entryways, windows, drawers, and cabinets with intelligent alerts.
Get a clear view of home when SmartCamera detects unexpected activity.
At ecobee, we value our customers' feedback. Have a question or a suggestion about the app? Tell us what you think at ios[at]ecobee.com
ecobee. Smart that makes a difference.
Additional Information :
Age Rating 4+
Size 248.7 MB
Requires iOS 15.0 or later.
User Reviews :
I really like this product, and I've had it for more than 3 years!
I installed my ecobee 2 more than 3 years ago. I did have an issue with the first remote sensor, but after contacting support, they sent me an additional one and it works flawlessly. I relocated the original sensor to a room adjacent to the thermostat and it now works as expected also. I have had times where I could not connect with my thermostat via the iPhone app, but I could not connect with other apps at my home at that same time, indicating that my very poor internet connection was temporarily down. I can find no fault with the ecobee app, and I have found their support to be extremely good. They talked me through an issue that was similar to the "learning" that a competing product performed that I did not want. I would certainly recommend this product, and would definitely buy another if I ever need a new thermostat! However, it seems unlikely that I will need a new one as this one does everything I want it to and more. Additionally, I find this product much more cosmetically pleasing on the wall than other similar products. The LED display is not too bright in the dark, yet bright enough to easily read in daylight.
Great until it wasn't
Update from original. They apparently fixed whatever problems and app is working fine again although I haven't tried to reinstall the sensor. Still, I have a lot of smart home devices and apps. This product is the must troublesome. Biggest heartburn is that whenever there is a hiccup with my wifi, the ecobee products don't reconnect automatically like all the others. I have to manually reconnect using device. Other than that happy with product.

My app starting popping up a screen that says one of my sensors is low on battery. I click ok and it says reconnected them comes right back and says low battery again. Changed the battery twice with no luck. The worst part is that I can't get past that screen to do anything else. Can't remove the sensor, change temp or anything, just see a screen with low battery warning. I went to desk top version and I can change temps and all, I removed that sensor from any thermostat setting on the desktop version but app still keeps popping up that screen. Freakin annoying as hell. Finally figured out how to unpair the sensor but that didn't fix the problem. App still says low battery. The apps are totally worthless at this point as all I can do is see a screen that says sensor battery low. Infuriating to say the least. I wonder if the Nest product had these kind of issues
Developer Response,
Sorry to hear this alert issue impacted you! We have fixed this bug and put measures in place to prevent it from happening in the future.
Good Thermostat, Okay App, Bad Filter Service
Overall I give the product and services four stars. The thermostat itself functions well. I have no complaints about the device. The app leaves some things to be desired. You can get lost easily in menus and have difficulty remembering where they place each function. The app has been built up over time and could use some spring cleaning and reorganizing. I will also admit that the most recent app update removed all the iconic bee interfaces and replaced them with boring 'e' symbols. It definitely shows the device is going mainstream and is killing its unique brand history in the process. That aside beware of the in-app subscription service. They now offer filters direct however, and this is a big however, the filters contain no labeling and I can tell you from first hand experience they do not appear to met the MERV ratings you are paying for. I ordered MERV 13 and based on appearance alone, it's a MERV 7 fabric at best. I advised Ecobee of this and they didn't even apologize or offer to fix it. There is clearly no satisfaction guarantee or customer resolution practice. All I was told is that they would pass my concerns along. So buyer beware. The devices are good, the app is functional but leaves some to be desired, and the in-app filter service is suspicious and likely fraudulent at this time.
Get Ecobee from App Store
What is your opinion about Ecobee
Bitcoin
Ethereum
MetaMask (ETH)
Xrp
Polkadot
Binance coin
Stellar
Dogecoin
Tron
Elrond
Donate Bitcoin to this address
Scan the QR code or copy the address below into your wallet to send some Bitcoin
Donate Ethereum to this address
Scan the QR code or copy the address below into your wallet to send some Ethereum
Donate Xrp to this address
Scan the QR code or copy the address below into your wallet to send some Xrp
Donate Polkadot to this address
Scan the QR code or copy the address below into your wallet to send some Polkadot
Donate Binance coin to this address
Scan the QR code or copy the address below into your wallet to send some Binance coin
Donate Stellar to this address
Scan the QR code or copy the address below into your wallet to send some Stellar
Donate Dogecoin to this address
Scan the QR code or copy the address below into your wallet to send some Dogecoin
Donate Tron to this address
Scan the QR code or copy the address below into your wallet to send some Tron
Donate Elrond to this address
Scan the QR code or copy the address below into your wallet to send some Elrond