Arlo Secure – Home Security app by Arlo Technologies Inc.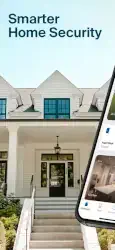 App Description :
Control your Arlo smart home security system with one, easy-to-use app. Use the Arlo Secure App to protect your home, inside and out, with Arlo's award-winning home security system, video doorbells, cameras, and floodlight.
App Features :
Protect your everything and personalize your entire home security system. With the Arlo Secure App, you can control multiple locations at once and quickly arm or disarm your system with one tap.
Get round-the-clock protection with 24/7 Live Security Experts that will monitor your home, so you don't have to or use one tap Emergency Response to quickly get police, fire, or medical help to your home.* Easily customize your security by creating smart activity zones to reduce unwanted notifications and set schedules to arm or disarm your system.
See important details from your home security camera system with up to 4K resolution, 12X zoom image capabilities, and color night vision. When motion is detected, receive interactive notifications on your phone and watch an animated preview, call a friend, activate a siren, or initiate Emergency Response.*
With an Arlo Secure plan and an Arlo camera, video doorbell, or floodlight camera, you can view 30 days of video history, receive notifications that tell you when a person, package, vehicle, or animal has been spotted with advanced AI Object Detection.
Disclaimers:
*Emergency Response (available in the United States only), Object Detection and Video History require an Arlo Secure paid plan after trial period.
**4K resolution, 12X zoom image capabilities, color night vision, and Emergency Response features vary by camera model.
Additional Information :
Age Rating 4+
Size 1 GB
Requires iOS 11.0 or later.
User Reviews :
Really, really good but not great… like a lot but don't love…
App itself is very full featured. In comparison to all the others I've tested, Arlo is still #1. Haven't tested Nest to be fair tho. Arlo does a lot of smart things in the setups allowing a lot of customization, particularly in setting how one or more cameras behave based on motion on another – that's really great and also the customization of geo settings and arming specific cameras of choosing based on location, presence. arrival, departure, etc. Also great ability to adjust motion zones, lighting, brightness, duration, etc. My biggest complaint is the time it takes for a camera image to load after receiving an alert. Not the alert image, the actual camera if clicking the alert to open the app. It's painfully long and seems longer than when just viewing the cameras without an alert. And this is when one has the greatest sense of urgency in wanting/needing to view it! My 2nd biggest complaint is the CVR feature, not awesome or that user friendly compared to all your other features/capabilities… cannot do a quick view type "overview" like some competitors offer, which would be super helpful! And for the price we're charged it's not great, and it's a per camera fee, at least allow 2-3 cameras for the fee to make up for the lack of CVR features. Still a big fan but still could be better too.
Brings peace of mind
We have had a three camera system up for over 6 months. The cameras have worked amazing, even in negative winter temperatures in northern Wisconsin, (way north). The two outside cameras that are exposed to full weather and temperatures have only had problems when we were -30 degrees and lower. They will shutdown if to cold, but come back on when it warms up. The third camera is protected a little more and it doesn't get any colder than 35 degrees and has had no problems. Strong wifi is needed to support the system. We are currently using Starlink satellite and have no problems with delay or coverage.

The video clarity is very good and the stored video library has been helpful on several occasions. We have a $9.99 monthly membership.

We recommend buying the official Arlo power cords to plug-in if your cameras will have a lot of activity. Otherwise you will be changing/charging your battery, (XL battery), every three days. The two cameras that have extensive activity for detection we have hooked up to Arlo outdoor power cords. The one camera that has very little activity, the battery goes several months between charges. Other family members also have Arlo cameras and they are very happy too.

Random pros are we have been able to monitor weather conditions while away from home, get great video of wildlife and monitor people that may be up to no good, but see our security cameras. We have no cons.
Great Video Quality but Beware of Ad Creep
My wife and I use Arlo Baby primary on our smartphones.

Pros: We are impressed with the video quality. We use the music and light features to stimulate our baby before he gets out of his crib. This is a part of his morning daily routine which allows him to ease into getting up and give us a few extra minutes to get his bottle ready. Also being able to view the room from anywhere on your smart devices when you are away from the home is a clear advantage from other stand-alone baby monitors. This comes in handy when you have a babysitter for a night out or might be doing work around the house in areas where wifi signal is week or non-existent.

Cons: The live feed does take a few seconds to load (10-20 sec) which may not seem like a lot but can sometimes be frustrating when you just want to pop-in to take a quick look at your little one. The most annoying thing about the app is that every 10th time you open the app there is an ad to promote some paid Arlo premium feature like Arlo smart. Before you can view the live feed of the room you have to click past it. I find this to be a major turn off and considering regulate two-way monitors don't do this, it sets Arlo baby a part, in a negative way. I haven't found a way to opt out of seeing these Ads but I would suggest to Arlo to at least provide such a way to do so or stop the Ad creep altogether.
Developer Response,
Hi BrownPartyof3,

Thanks for sharing your experience with the Arlo app. If you're not able to view your live feed properly, refer to this article to learn how to troubleshoot: https://kb.arlo.com/1124. If you need further assistance, please contact our support team at support.arlo.com. Our team will be more than happy to help you further.

And your feedback about seeing advertisements will be provided to our development team. We appreciate your patience and understanding.

Best regards,

Arlo Team
Almost Perfect
We love the fact that Arlo can be wireless or hard wired. We have an older home and hardwiring for our front door would take an"expert" to do. My husband who is a communications engineer was not able to understand 1940's wiring. We then opted for the wireless doorbell and it worked immediately. The Arlo App it's self is good and almost perfect. I'm not sure if we have an earlier generation but the gigahertz for the wireless connection has to be low for "successful" connection. We feel that we don't get immediate notification when the camera is sending us notifications.

Otherwise, the camera itself is displaying really clear images on both wireless door camera and wireless spotlight camera.

The app does allow us to see remotely the battery life on both devices and adding devices are pretty easy as long as you follow instructions.

We like how we can view and save/download recordings but wish we had the option to mass delete rather then delete individual recordings. We have dogs and they run around our house and it's a annoying task to save data space on our phone and clean up the dozen videos of our dogs being dogs.

Hopefully the tech team are working on the slightly inconveniencing issues- but other then that, pretty great system.
Get Arlo Secure from App Store
What is your opinion about Arlo Secure
Bitcoin
Ethereum
MetaMask (ETH)
Xrp
Polkadot
Binance coin
Stellar
Dogecoin
Tron
Elrond
Donate Bitcoin to this address
Scan the QR code or copy the address below into your wallet to send some Bitcoin
Donate Ethereum to this address
Scan the QR code or copy the address below into your wallet to send some Ethereum
Donate Xrp to this address
Scan the QR code or copy the address below into your wallet to send some Xrp
Donate Polkadot to this address
Scan the QR code or copy the address below into your wallet to send some Polkadot
Donate Binance coin to this address
Scan the QR code or copy the address below into your wallet to send some Binance coin
Donate Stellar to this address
Scan the QR code or copy the address below into your wallet to send some Stellar
Donate Dogecoin to this address
Scan the QR code or copy the address below into your wallet to send some Dogecoin
Donate Tron to this address
Scan the QR code or copy the address below into your wallet to send some Tron
Donate Elrond to this address
Scan the QR code or copy the address below into your wallet to send some Elrond