(App) MealMe – All of Food, One App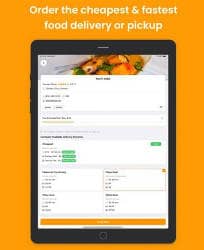 App Description :
Our users save an average of $6 and 20 minutes per order
The majority of people ordering food switch between multiple apps to find the best deal. That's why we made MealMe, an iOS app that brings all the major food apps into one. As a result, we have a greater selection than any individual food app. We also aggregate delivery services for each store you get matched to the lowest price and delivery time.
App Features :
1. EXPLORE THE LARGEST SELECTION OF STORES
Order from over a million stores – groceries, restaurants, convenience, liquor, and more. MealMe brings all of food into one app. Use MealMe's Discover tab to find something new, use the Search tab to get the best deal on your favorite store, use the Orders tab to reorder a favorite meal, or use MealMe AI for an intelligent recommendation.
2. COMPARE DELIVERY FEES AND TIMES
"Zero Delivery Fee" doesn't mean "Free Delivery." There's also 15-20% service fees, inflated menu prices, surge fees, small cart fees, and sales taxes. All of these fees are calculated differently among delivery services so MealMe lets you compare the prices and times.
3. CHECKOUT IN MEALME
Instead of linking you over to the store's website to order, we power Checkout in MealMe so you can place your order with just one account for all of food.
4. MEALCOIN REWARDS
We didn't stop at matching you to the cheapest and fastest delivery app – we also let you apply massive additional discounts that you can only find on MealMe. Earn an extra 10% on each order with MealCoin.
The Food Delivery market is growing increasingly fragmented, with the growth of new and larger delivery services plus restaurant chains that now offer their own delivery, including Chipotle, 7-Eleven, Popeyes, Dominos, and Papa Johns, over 100,000 restaurants with their own drivers, and independent courier services. You may find yourself asking: What is the cheapest food delivery app near me? or What is the best food delivery app near me? or What is the least expensive food delivery service? or What is the fastest food delivery service? To solve this problem, you would first have to find a nearby restaurant by using one of the food delivery services. This isn't great because food delivery services do not list every nearby restaurant. After you find a nearby restaurant, you would then have to add all items to your cart to find the subtotal on one service. You would then have to navigate to the other food delivery services, add all items to your cart again, then compare the subtotal across all food delivery services. Instead of comparing food delivery services by switching between multiple apps, you can instead use MealMe. Our food delivery comparison makes it easy to determine what is the cheapest food delivery app, or what is the fastest food delivery app, or what is the best food delivery app, or what is the largest food delivery. Download MealMe to save an average of $6 and 20 minutes per order!
Additional Information :
Size 50.7 MB
Requires iOS 13.0 or later.
User Reviews :
Great costumer service!
Testing this app I realized I started to use it way too late. This app is engineers to work for you!! And while there is a lot to cover within the app so much so that it's a times hard to come back onto the same customer service thread or verify whether you're doing a pick up or a delivery order, I have trust that the team is doing the right things, going above and beyond for the user to have a seamless experience. I committed the mistake of ordering a pick up order when I meant to have it be delivery and the customer service peeps were very professional and fast to respond as well as caring and detail oriented, they tried to arrange for someone from the restaurant to come and do a delivery and when all options were exhausted they stayed on the thread to make sure I arrived pick up my food and then safely return home. Huge congrats to the team on being a cohesive unit and raising the bar for the whole industry. Provecho!
Not Bad, Not Amazing
We've been using MealMe for quite a while now, and have actually enjoyed doing so. We save money, which is always great. They even give you $3 off every 3 orders. However, there are some cons. Sometimes it takes a WHILE for our food to arrive. This could be due to many factors like traffic, or the restaurant being busy, but I digress. We've also had moments where the app had issues. Either it put our order in wrong, or it wouldn't give us tracking information. Just yesterday we had the biggest issue. We ordered and, after an hour, we still didn't get notified of a driver nor got our food. We contacted customer service and they were great ! They offered a refund, or offered us credit for $5 more than what we spent on the order. We accepted the credit and tried ordering again. Unfortunately, same issue. We eventually were given a full refund. I think something was going on with their servers.

Overall, MealMe is a GREAT app ! But it needs a lot of work in order to be successful. I believe with more time put into it's development, it can become my main food delivery app, but right now I get nervous using it due to past issues.

Keep up the work, developers. You have a great concept here, but the execution needs to match the genius of it.
Meal Me has a lot of potential and why you should download this app
MealMe is a great app for finding good cheap restaurants you might've not had the chance to try before, what is the fastest delivery and what's the most reliable delivery. I think the idea is ingenious removes the hassle of trying to cross reference between apps seeing what's the cheapest when you're on a budget. They also allow you to choose in whether you would like to keep your funds or give tips to either the company or driver for the service you get. Although there are occasional kinks when you order the customer service on the backend is phenomenal they provide excellent help when things don't always go the way you expect. I highly recommend giving MealMe a shot if you're on a budget but want delivered meals. Special Thanks to Dale P and Richard Young for being amazing customer service.
Get MealMe from App Store
What is your opinion about MealMe
Bitcoin
Ethereum
MetaMask (ETH)
Xrp
Polkadot
Binance coin
Stellar
Dogecoin
Tron
Elrond
Donate Bitcoin to this address
Scan the QR code or copy the address below into your wallet to send some Bitcoin
Donate Ethereum to this address
Scan the QR code or copy the address below into your wallet to send some Ethereum
Donate Xrp to this address
Scan the QR code or copy the address below into your wallet to send some Xrp
Donate Polkadot to this address
Scan the QR code or copy the address below into your wallet to send some Polkadot
Donate Binance coin to this address
Scan the QR code or copy the address below into your wallet to send some Binance coin
Donate Stellar to this address
Scan the QR code or copy the address below into your wallet to send some Stellar
Donate Dogecoin to this address
Scan the QR code or copy the address below into your wallet to send some Dogecoin
Donate Tron to this address
Scan the QR code or copy the address below into your wallet to send some Tron
Donate Elrond to this address
Scan the QR code or copy the address below into your wallet to send some Elrond