(Game) Match Ten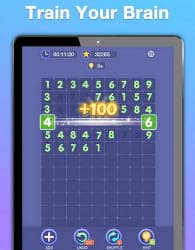 Game Description :
The best number puzzle games ever!
Match Ten! The classic logic puzzle has come back!
This classic puzzle game is the best brain teaser for puzzle lovers also known as Make Ten, Take Ten, Digits, Numbers, Sunflower seeds, Seeds, Or Column.
Rules of this number puzzle game are very simple: Clear all digits from the game board by deleting pairs of equal digits or pairs of digits that add up to ten.
When there are no matches on the board, you can tap the ADD button to drop the new numbers on the puzzle pages.
If you like Sudoku, Nonogram, Griddlers, crossword puzzles or any other number games, this game is perfect for you to exercise your brain in the spare time.With soft music and nice graphic, you will feel relaxing and calming down.
This game is also helpful for improving some basic math or numeracy
skills.
Are you ready for a relaxing way to clear your mind and complete the free Match Ten Puzzle? Take the challenge, and train your brain NOW! This entertaining mind game will bring you hours of fun!
Game Features :
Easy to learn and quite addictive
Special boosters like Hints, Bombs and Undos
Complete Daily challenges or seasonal events to get unique trophies
Global leaderboard to challenge people worldwide
Update new puzzles every weeks
Customize your board with beautiful skins
Additional Information :
Size 351.8 MB
Requires iOS 9.0 or later.
User Reviews :
Keeps crashing! Updated
Updated review: I am not crashing like I once was. Still buggy at times but way better. Love the game!

I really like this game but it keeps crashing since the last update. There are also way too many ads. Gets annoying. Please fix! Once it's fixed I will update this review.
Developer Response ,
Hi, thank you for your love and feedback for us, we are trying our best to fix this problem, please stay tuned
I understand the need for ads, but…
I've been obsessed with this game for a few weeks now—it's fun and just challenging enough to keep me engaged but not stressed while I listen to podcasts or take my breaks at work.

Wanting a good supply of props without wasting all my time watching ads, I even purchased a few prop packs, and was happy to see that doing so got rid of the video ads whenever I went to add rows (which is a basic function of the game). Instead I just got the occasional banner ad at the bottom of my screen. That is, until yesterday. Once again, I started getting full ads every time I went to start a new game, return to the home screen, or add rows. I thought it was just because I hadn't bought a new pack in a while, but they persisted even when I made new purchases. I absolutely understand the need for advertisements in order to support the game, but I spent my money on these props specifically so I could have uninterrupted gameplay, and that doesn't seem to be the case anymore.

In summary, this is a fun game, but don't go wasting your money on big prop packs until the developers fix the scam.
Developer Response ,
Hi dear, thank you so much for your love and support us! We are truly sorry for bringing you the inconvenience and the bad gaming experience. We will optimize the ad experience asap.Thank you again for keep supporting us! If there is anything we could do for you, you can contact us at help@metajoy.io ! Hope you have a nice day!
Enough Ads to kill the fun
This is a cool and fun game. Very similar to others like it with relaxing music that plays. However, the number of ads that play are ridiculous. Any time you add numbers something plays. It's really obnoxious when you get down to almost solving. I understand ads to get more power ups, and even the occasional ad between games and maybe even once or twice when you add numbers but this was enough for me to delete the game. Update after developer response: the ads that can be skipped after 5 seconds are few and far between. I understand free apps and the need for ad revenue, I have quite a few and some I purchased the ad-free versions. My point was that it's excessive in this game to the point that I didn't even want to purchase the ad-free version because the excessive ads are obviously to force you into purchasing the ad-free version. Also, I redownloaded to double check and searched throughout and could not even find the option to purchase the ad-free version.
Developer Response ,
Hi there, thanks for your love and support for us! As you know our game is free to download so we need ads to financially support our development and maintenance. Most ads can be skipped after 5 seconds and removed by purchasing ad-free in-app. After the purchase, banners and pop-up ads will be removed.
Get Match Ten from App Store
What is your opinion about Match Ten
Bitcoin
Ethereum
MetaMask (ETH)
Xrp
Polkadot
Binance coin
Stellar
Dogecoin
Tron
Elrond
Donate Bitcoin to this address
Scan the QR code or copy the address below into your wallet to send some Bitcoin
Donate Ethereum to this address
Scan the QR code or copy the address below into your wallet to send some Ethereum
Donate Xrp to this address
Scan the QR code or copy the address below into your wallet to send some Xrp
Donate Polkadot to this address
Scan the QR code or copy the address below into your wallet to send some Polkadot
Donate Binance coin to this address
Scan the QR code or copy the address below into your wallet to send some Binance coin
Donate Stellar to this address
Scan the QR code or copy the address below into your wallet to send some Stellar
Donate Dogecoin to this address
Scan the QR code or copy the address below into your wallet to send some Dogecoin
Donate Tron to this address
Scan the QR code or copy the address below into your wallet to send some Tron
Donate Elrond to this address
Scan the QR code or copy the address below into your wallet to send some Elrond