Like A Pet game by Phan Le Thien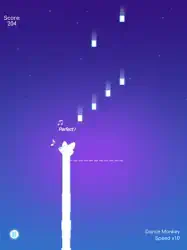 Game Description :
Like A Pet brings the best of both worlds – music and your happy little friends.
Challenge yourselves and your pets with exciting beats and rhythm. Collect as many music notes as possible to become the master of melody. Your pets bring so much joy as they turn into funny characters when they collect many notes.
How to play
Hold and drag to collect as many music notes as you can. Let's see how you can team up with your pets to win this fun music game. Be ready! The game will speed up after every round to challenge you and your pets.
Game Features :
Relaxing and upbeat music
Multiple levels of increasing difficulty in each song
Cute characters for collection
Are you ready to join this exciting musical journey with your pets? DOWNLOAD NOW to see how your pets can really surprise you with music.
Term Of Use : novalab.technology/2022/03/29/term-of-service/
Privacy Policy : novalab.technology/privacy-policy/
Additional Information :
Age Rating 4+
Size 231 MB
Requires iOS 11.0 or later.
User Reviews :
I have some ideas
So its a great game, accept its copyright kinda. And it would be cool to have pastel colors and create original songs like the creator of like a Dino did. Instead of using there songs create your own with some random music notes. But some good things about this game is it has adorable animals and great songs. When i got the app I was expecting it to be bad but i was surprised it had all my favorite songs. Its overall a great game but its copyright and it could use some more detail. Thanks for reading. (Creators note the game is good just maybe add the things that i wrote and make I more original.)
mixed emotions.
ok… so i was looking through the reviews and i noticed that there are no comments on how to make this game better. the only comments there are are ones saying… "best game ever!" "OMG IN LOVE!!!" "amazing" and way more.. keep in mind after i downloaded this game i liked it enough to keep it on my phone but.. there are a few things i would like to address…

the songs: bro these songs are copyrighted like seriously!!! butter for example.. you cant use that! so if possible choose different songs.. i was very unimpressed by that.

copying: ok so obviously your gonna find games that are similar to others but this.. if you didnt know there is this game called.. Like a Dino! this game was originally created by a young girl who had a dream to become a animator.. so she worked on this games for years and finally finished it.. people loved it and it was awesome!! then this person decides to copy this talented young girls project (that she had worked on for years) and copy it exactly. so uncool.

anyways those two thing bug the crap out of me but anyways.. i titled my review "mixed emotions" because this game is fun but some things bug me more than others! which is okay because that is was reveiws are for!!

anyways to anyone that is still reading thank you and i hope you have a awesome day!!

-fatunicornnnnn
So many ads but otherwise good game
There are a lot of ADS on this game. For example when you mess up it gives you a option to get another life but you have to watch a ad. Even if you say no you STILL have to watch a ad. But otherwise it's a really fun game. At first it might be hard but it gets easier.
This game is so nice
I love it the cute animals and everything I'm obsessed with it's just make me feel like I'm at home whenever even whenever I'm not it's really nice having this app and it makes me feel so secure I love everything about this whenever I text my friends I stopped to play this app you usually I do that just kidding every day and I love the songs on it my favorite song is on it good for you really nice and you guys all of you who are reading the reviews should get it
Love it!!!
I am obsessed with this game it is so fun and pretty easy to play I love all the different animals you can have and there are tons of song options I definitely recommend downloading this app at first it was a little tricky to play but I eventually got really good at it and now my high score is 1003 definitely recommend this app hope you like it as much as I do!!!
Get Like A Pet from App Store
What is your opinion about Like A Pet
Bitcoin
Ethereum
MetaMask (ETH)
Xrp
Polkadot
Binance coin
Stellar
Dogecoin
Tron
Elrond
Donate Bitcoin to this address
Scan the QR code or copy the address below into your wallet to send some Bitcoin
Donate Ethereum to this address
Scan the QR code or copy the address below into your wallet to send some Ethereum
Donate Xrp to this address
Scan the QR code or copy the address below into your wallet to send some Xrp
Donate Polkadot to this address
Scan the QR code or copy the address below into your wallet to send some Polkadot
Donate Binance coin to this address
Scan the QR code or copy the address below into your wallet to send some Binance coin
Donate Stellar to this address
Scan the QR code or copy the address below into your wallet to send some Stellar
Donate Dogecoin to this address
Scan the QR code or copy the address below into your wallet to send some Dogecoin
Donate Tron to this address
Scan the QR code or copy the address below into your wallet to send some Tron
Donate Elrond to this address
Scan the QR code or copy the address below into your wallet to send some Elrond