Tesla app by Tesla, Inc.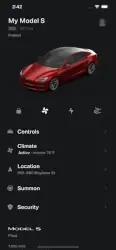 App Description :
The Tesla app puts owners in direct communication with their vehicles and energy products anytime, anywhere.
App Features :
With this app, you can:
Check charging progress in real time and start or stop charging
Heat or cool your car before driving – even if it's in a garage
Lock or unlock from afar
Locate your vehicle with directions or track its movement
Send an address from your favorite apps to start navigation in your car
Allow your passengers to quickly control media
Flash lights or honk the horn to find your vehicle when parked
Vent or close the panoramic roof
Summon your vehicle out of your garage or a tight parking space (for vehicles with Autopilot)
Update your vehicle software from wherever you are
Engage with Powerwall: monitor how much energy is stored from solar, used by your home, or exported to the grid
Download your solar production and battery usage data
Note: Powerwall features in this app require Powerwall 2
For more information about Tesla, visit www.tesla.com
Additional Information :
Age Rating 4+
Size 438.6 MB
Requires iOS 13.0 or later.
User Reviews :
Glaring bug still not fixed after 5 updates and numerous reports
I love my TM3 more than any other material object I've owned, but the support us lacking. There are no avenues for several types of support. I've reached out everywhere I can think of and phone support said to write a review here MIGHT be read. WILL THE USSUE BELOW EVER BE RESOLVED? Thanks.

Ever since iOS app version 4.8.0. You can no longer see how many estimated miles of range you will have as you adjust the charge limit slider. This data point is absolutely crucial for planning trips. You can see your current estimated range and you can set a charge percentage limit, but you cannot see how many estimated miles that charge limit will yield. This bug is driving me and several other owners nuts. It has been reported over the phone, via chat, on Twitter, etc., but with little to no response. There have. Even 4 more app updates se then. Is there a fix planned? This is a critical piece of information lol obviously it would be useful to know what kind of range you will have in order to set it accordingly. Is there a fix planned?
Better than any other app for other brands.
See many complaints about the app and Elon. I'm no Elon fan per se', but objectively I think people forget, and maybe can answer this, what app does any other car maker have that is anything close to Tesla? None. My BMW app does like 3 things. It's garbage. I've had pretty much a 99% positive experience with the app. Things just work and new features have been rolled out the last 18months that we didn't have. Like remote camera viewing which requires premium connectivity subscription. Plus a host of other improvements. Yeah they aren't perfect, but they are still literally miles ahead of any competition for the App and technology in the electric car market. The 400k cars a quarter they are producing and selling should be evidence enough. But this is the App Store and people love to hate. Good luck to you. Kia has some interesting electric cars, maybe that is more up your alley? The app is trash for that brand. Look it up.
Great app, keeps getting better
Tesla keeps improving my driving and car management experience regularly, through this app. Being able to adjust and readjust the climate remotely from my phone, including individual seat heaters, defrost, cabin temp, has been great this winter. Being able to remotely open the two trunks and charging port, flash lights and horn, etc., is nice to have when you want it. Being able to schedule a service appt, control the charging sched, map out nearest superchargers, and find pretty precisely where my car is at the exact moment, is really convenient. Only issue is the time it takes to "wake up" (connect from the app to the car), while it is only less than a minute, takes longer than I would like. When I'm standing in my house next to the router and the car is 20 feet away, also on the router, I would think it would be almost instantaneous. Would really, really like to be able to remotely activate any/all cameras and see the view from my phone. Thanks, Tesla!
Get Tesla from App Store
What is your opinion about Tesla
Bitcoin
Ethereum
MetaMask (ETH)
Xrp
Polkadot
Binance coin
Stellar
Dogecoin
Tron
Elrond
Donate Bitcoin to this address
Scan the QR code or copy the address below into your wallet to send some Bitcoin
Donate Ethereum to this address
Scan the QR code or copy the address below into your wallet to send some Ethereum
Donate Xrp to this address
Scan the QR code or copy the address below into your wallet to send some Xrp
Donate Polkadot to this address
Scan the QR code or copy the address below into your wallet to send some Polkadot
Donate Binance coin to this address
Scan the QR code or copy the address below into your wallet to send some Binance coin
Donate Stellar to this address
Scan the QR code or copy the address below into your wallet to send some Stellar
Donate Dogecoin to this address
Scan the QR code or copy the address below into your wallet to send some Dogecoin
Donate Tron to this address
Scan the QR code or copy the address below into your wallet to send some Tron
Donate Elrond to this address
Scan the QR code or copy the address below into your wallet to send some Elrond