(App) Killer Sudoku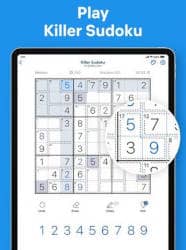 App Description :
Enjoy an engaging Killer Sudoku experience! Jump into enhanced gameplay, solve tons of puzzles, train your brain, and have fun!
Discover the new brain-training puzzle from the developer of Sudoku.com!
Killer Sudoku by Sudoku.com is great for both beginners and advanced players. Although Killer Sudoku is harder than classic sudoku, we made it accessible for players of all skill levels. With its enhanced gameplay, it's easy to follow the game rules and become a sudoku master in no time. Explore Killer Sudoku and discover a refreshing take on the classic paper-and-pencil sudoku puzzle.
App Features :
What you get:
Killer Sudoku puzzles to expand your sudoku experience.
Thousands of levels to solve.
Daily challenges to win unique trophies.
Seasonal events to get unique medals.
Hints and notes to guide you when you get stuck.
Tons of gameplay to challenge your brain.
New game from a top developer!
How to play:
Fill all rows, columns, and 3×3 regions with numbers exactly like classic sudoku.
Every cell is part of a cage, indicated by dotted lines.
Make sure the cells can be added up to the sum in the upper left corner of the cage.
The sum of all numbers of each 3×3 region, row or column always equals to 45.
Numbers cannot repeat within cages, a single row, column, or 3×3 region.
Dive into the world of Killer Sudoku! Play anywhere, anytime!
Additional Information :
Size 136.8 MB
Requires iOS 11.0 or later.
User Reviews :
Excellent Game
I really enjoy this version of Killer Sudoku. I've played hundreds of games and not seen any that were "badly formed." Some were truly devilish to solve, and I often think that the expert level could be divided into 2 levels because of the differences in difficulty among those puzzles. Like another reviewer, I also noticed that I got more expert puzzles as dailies as I went along. I assumed that the game learned the players skill level and tuned the game to present appropriate puzzles. If it does not do that then let me suggest it. One comment for improvement is on the Ads. I like the way they are handled and how I can FF through many of them, and I like that they have the Adsense triangle on most of them to allow reporting bad ads. This is especially helpful because there are a set of ads that never exit and don't provide an X or close button. Those also don't seem to render properly. On those ads the only thing that works is clicking through to their website or returning to the ad. On them I have to kill the Killer Sudoku app and restart it to move on. Yet other ads lock up my iPad almost completely. I remember groaning over and over when the killer ad came up. It was for drinkable makeup or something like that. I have iPad 4 FWIW.
Developer Response ,
Hi, thanks for your feedback. Yes, you are right, the Daily Challenges are generated randomly and the difficulty level may vary from one game to another, but they take into account the difficulty level of usual games you play. Would you please give us the screenshots of these unskippable Ads? Please provide this information using the "Help" section inside the app, or at support[at]easybrain.com. We will do everything to reveal the advertiser and appeal a complaint if necessary
Yes a bit harder
If you are a regular player of sudoku and have never played this version before, start out with medium.. then work up to hard. That one is challenging but keeps your brain active. Using a combination of regular sudoku rationalizations, and the new ones you learn in this version you can solve all of the hard. The boards are well done, easy access to hard choices and for notes. I love how it eliminates numbers that are completed, and highlights choices. The software also keeps track of your records, losses and wins, how long it takes, scores, and such. The background of the game is simple…the developers could add a color back ground, art, to add more value. If you want to move to expert level, be sure you Google this type of Sudoku and learn how to use the 45 methods. That's challenging! Great job.
Developer Response ,
Hi! We're so glad you enjoyed our game. We really appreciate your feedback. It will motivate us to make more games that your fans will enjoy.
Get Killer Sudoku from App Store
What is your opinion about Killer Sudoku
Bitcoin
Ethereum
MetaMask (ETH)
Xrp
Polkadot
Binance coin
Stellar
Dogecoin
Tron
Elrond
Donate Bitcoin to this address
Scan the QR code or copy the address below into your wallet to send some Bitcoin
Donate Ethereum to this address
Scan the QR code or copy the address below into your wallet to send some Ethereum
Donate Xrp to this address
Scan the QR code or copy the address below into your wallet to send some Xrp
Donate Polkadot to this address
Scan the QR code or copy the address below into your wallet to send some Polkadot
Donate Binance coin to this address
Scan the QR code or copy the address below into your wallet to send some Binance coin
Donate Stellar to this address
Scan the QR code or copy the address below into your wallet to send some Stellar
Donate Dogecoin to this address
Scan the QR code or copy the address below into your wallet to send some Dogecoin
Donate Tron to this address
Scan the QR code or copy the address below into your wallet to send some Tron
Donate Elrond to this address
Scan the QR code or copy the address below into your wallet to send some Elrond