Guitar Band – Battle Hero by Zeeppo Games Ltda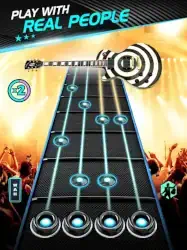 Game Description :
Guitar Band Battle is the biggest band challenge in the world! A free multiplayer game that brings the best mix of bands and rhythm for mobiles and tablets, with amazing guitars for you to test your skills on and to compete with real players from around the globe.
Start in the garage, gather your band and evolve until you become a rock n roll hero, going through multiple stages, stadiums and arenas, playing famous tunes until you reach the top of the hall of fame. Buy several guitars, hire musicians and make your band famous, conquer millions of fans and turn yourself into a music superstar!
Game Features :
Collect and customize super detailed unique guitars.
Start your band in the garage and evolve by doing shows, recording albums and videoclips.
Go through different stages and arenas till you reach the top and become a music star.
Get a bass, drums, pedal and amplifier to enhance your skills.
Assemble your own band by hiring a bassist, drummer, guitarist and vocalist, as in a real band.
Play in the perfect tempo to be a rock and roll hero and conquer success.
PLEASE NOTE! Guitar Band Battle is completely free to play, however, some game items can be purchased with real money. You can enable and disable these purchases on your own device. You must have internet connection in order to play the game.
Visit www.zeeppo.com, like our Facebook page and send us your suggestions for the game!
Additional Information :
Age Rating 4+
Size 181.5 MB
Requires iOS 11.0 or later.
User Reviews :
Game Review
I find the game to be quite amusing and fun to play but it has some minor things that the developers need to work on. For example,I really like how off brand the songs are but their still recognizable without making this a game where you'd have to pay money to get it and have the real songs. Another thing is the poor calibration that can fail you at any time or cause you to miss a note you were trying to play but the speed shifted and made you miss the note. I also wish there was a way for them to tell you what the actual song is that it's trying to imitate without you having to guess if you don't know the actual song. Other than that I find this game as close to rock band as I can get
Epic
This is the only phone game I've played in months lol. The fake songs are pretty good, they're close enough to the originals to enjoy and most of the songs are fun to play I just don't know all of them lol. There aren't really any BIG complaints I have except I still have ads and there are ads like before and after every song and sometimes they show up late and make you miss part of a song. Sometimes the ads glitch out too and you have to close the app and go back in but those aren't too bad and I should probably just buy something to get rid of ads since I like the game so much anyway. Final complaints, frequently when I'm doing double notes and stuff I mess up cause my thumbs are fat but I don't know how that could be fixed, and i wish that there were more ways to get the gold coins or you got more from 10 victory cases or things cost less cause most people don't want to or can't blow money on a phone game, and SOME people (cough cough me cough) want slash's or Zakk's guitar without playing for 4 years non stop hehe. ANYWAY besides those the game is epic the upgrade system thing is pretty nice and the equalized bonus is cool and the guitars are cool and the disc system reminds me of like overwatch competitive score which is kinda broken but I guess balances itself out. AND last but not least can paradise city be added as like paradise town or something lol. Huge gnr fan here.
4 Stars
Great game, super fun. I like that the songs are free and really close to the originals so you know what you're playing. I would like if you could change your level to harder sooner if you wanted. I find the beginning to slow. The blue icon should also be a bit more vibrant. When you're playing a harder level it's a bit hard to see when it's coming at you fast if it's a hold or just press on blue. Also, I feel like there's a tad bit to many ads. I completely am for watching an add for double money, but if you just click continue you also have to watch an ad which is stupid. I should be able to choose instead of being forced to watch an ad every time.
Get Guitar Band from App Store
What is your opinion about Guitar Band
Bitcoin
Ethereum
MetaMask (ETH)
Xrp
Polkadot
Binance coin
Stellar
Dogecoin
Tron
Elrond
Donate Bitcoin to this address
Scan the QR code or copy the address below into your wallet to send some Bitcoin
Donate Ethereum to this address
Scan the QR code or copy the address below into your wallet to send some Ethereum
Donate Xrp to this address
Scan the QR code or copy the address below into your wallet to send some Xrp
Donate Polkadot to this address
Scan the QR code or copy the address below into your wallet to send some Polkadot
Donate Binance coin to this address
Scan the QR code or copy the address below into your wallet to send some Binance coin
Donate Stellar to this address
Scan the QR code or copy the address below into your wallet to send some Stellar
Donate Dogecoin to this address
Scan the QR code or copy the address below into your wallet to send some Dogecoin
Donate Tron to this address
Scan the QR code or copy the address below into your wallet to send some Tron
Donate Elrond to this address
Scan the QR code or copy the address below into your wallet to send some Elrond