Jeep app by FCA US LLC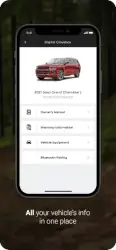 App Description :
Whether you're out adventuring in your Jeep® vehicle, relaxing in the comfort of your home or just about anywhere else, the new Jeep® app lets you stay in touch and helps you stay in control of your vehicle like never before.
App Features :
Need to contact your dealer? No problem, simply use the My Dealer feature to find your preferred dealership's address, schedule service appointments, or call them directly with the touch of a button.
Easily access your vehicle's info—including the owner's manual, service history, and more—with the My Garage and Digital Glovebox features. And stay up to date on open recalls using the Recall Alert so you're always one step ahead. If your vehicle is equipped, you can remotely start or stop your vehicle+, lock or unlock the doors and activate the horn or exterior lights. You now have access to more services than ever, ranging from entertainment to available Navigation, safety and security and more, all combining to provide new levels of convenience and the peace of mind you deserve.
+You are responsible for using remote features in accordance with any laws, rules or ordinances in effect in your vehicle's location. You must have an active subscription to Jeep® Connect, SiriusXM Guardian™ or Uconnect Access in order to use remote services. See Terms of Service for service limitations.
©2021 FCA US LLC. All Rights Reserved. Jeep is a registered trademark of FCA US LLC.
Additional Information :
Age Rating 4+
Size 268.9 MB
Requires iOS 12.0 or later.
User Reviews :
Doesn't always work
I love the app, but there is times (can count on both hands) that the app doesn't start the car. For what reason? Just says it failed. The point for the auto start is to keep from getting in a cold car. These days seems more often your getting in a cold car then not.

Now I have received an email that my app will no longer work unless I pay $25 a month or $250 up front for a whole year. This includes my remote start and my navigation. Why show me the stuff/add it if you're going to charge me such a high price for it. I have another manufactures car and it's only $10 a month but free for the first 3 years. WTH!!!

Guess I will look for a auto start for the car and continue to use my phone for the nav.
Developer Response,
Thanks for reaching out to us. We appreciate your feedback and have documented them within our system. If you have any additional comments or concerns, please email us at socialmedia.uconnect[at]fcagroup.com ~ Jivona
Useful but too limited
For what the subscription costs, this app is way too limited. I like the remote start and location features, but there are a number of items it doesn't support that it should:

1) I should be able to see the charge status of my 4xe (whether plugged in or not, and what the charge % is). It used to do a slightly better job at this, but a recent update seems to have gone backwards instead of forward. Even better if it took current rate of charge into consideration and gave an estimate to complete – which it already does in vehicle so that info could just be exposed to the app

2) After remote start, I should be able to control basic climate control parameters such as temp and whether heated seats and steering wheel are turned on.

3) The fuel level (remaining miles) should include total, gas and electric reading, right now it only has gas miles remaining even though labeled 'total'.

4) The manual should be accessible straight from the app, or access to similar content in videos.
Developer Response,
Greetings, using your app you should be able to see charge status and the owner's manual. We would like to look into this situation further for you and see if there is any opportunity to assist. Please feel free to send our team an email to socialmedia.uconnect[at]fcagroup.com to add additional details. ~Rob
Great addition
This app is great. I have a Subaru, and it's app is nowhere near how good and easy this app is. Of course, my new Gladiator is in the shop, because there is an issue with the airbag. The car sent us a text that we needed to take it to get looked at. While, I wish, I had my car, that is impressive, that it texts you. It makes me nervous, though, because I just got rid of a Ford Fusion, that was in the shop, numerous times.

We are fine with the Jeep. I don't know who the person is that runs your shop. But, he couldn't be any nicer. He has kept us updated on what is happening. We have another car, we are not stuck. But, this man is the reason, we will continue to go to Gossett Jeep for any service that needs to be done. Ford was nowhere near as forthcoming.
Developer Response,
Thanks for bringing this to our attention. We would be more than happy to look into this situation further on our end. To do so, please email us at socialmedial.uconnect[at]fcagroup.com We look forward to working with you. ~ Jivona
Get Jeep from App Store
What is your opinion about Jeep
Bitcoin
Ethereum
MetaMask (ETH)
Xrp
Polkadot
Binance coin
Stellar
Dogecoin
Tron
Elrond
Donate Bitcoin to this address
Scan the QR code or copy the address below into your wallet to send some Bitcoin
Donate Ethereum to this address
Scan the QR code or copy the address below into your wallet to send some Ethereum
Donate Xrp to this address
Scan the QR code or copy the address below into your wallet to send some Xrp
Donate Polkadot to this address
Scan the QR code or copy the address below into your wallet to send some Polkadot
Donate Binance coin to this address
Scan the QR code or copy the address below into your wallet to send some Binance coin
Donate Stellar to this address
Scan the QR code or copy the address below into your wallet to send some Stellar
Donate Dogecoin to this address
Scan the QR code or copy the address below into your wallet to send some Dogecoin
Donate Tron to this address
Scan the QR code or copy the address below into your wallet to send some Tron
Donate Elrond to this address
Scan the QR code or copy the address below into your wallet to send some Elrond