(App) Foodpanda – Food Delivery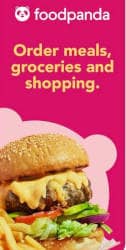 App Description :
foodpanda – food and more, delivered
Craving something delicious from your favorite restaurant? Forgot to pick up the shopping on your way home? We deliver food and groceries in a flash. It's our mission to bring everything you want, need or crave right to your door, whether it's a meal from your favourite local restaurant or same day grocery delivery and cleaning supplies.
App Features :
Download the app to check if we're in your city
Our app is crammed with the greatest food experiences in the world. Hungry for wood-fired pizza, a classic burger or super fresh sushi? We know the best food for every cuisine that your city has to offer. foodpanda is the best food delivery service in your city – so take the first bite and download now!
Plus there's grocery home delivery
Missing milk? Batteries? Detergent? Order from thousands of products with shops on foodpanda. It's online grocery delivery without the wait. Choose your favorite shops for everything from groceries to drinks to health to pharmaceuticals and even electronics.
How it works
First, enter your address (home/office/treehouse). Then, choose your favorite restaurant or shop and place an order. They prepare your items and, once they're ready, our courier brings them to you. If you need something to watch, you can track your rider in real-time. Just sit back and enjoy.
What makes us special
Whether you're looking for the biggest brands or your favorite local restaurant or shop, foodpanda works with the best spots near you. Pizza or sushi? Groceries or gifts? Whatever you're after, our rider will be at your doorstep with a smile, while you save time to do something else you love.
Talk to us
If you've ordered with us before, we want to know what you think. Give us your food thoughts/confessionals.
Email us at support[at]foodpanda.com
For more info visit:
www.foodpanda.com.bd
www.foodpanda.hk
www.foodpanda.com.kh
www.foodpanda.la
www.foodpanda.com.mm
www.foodpanda.my
www.foodpanda.ph
www.foodpanda.pk
www.foodpanda.sg
www.foodpanda.co.th
www.foodpanda.com.tw
Additional Information :
Size 214.3 MB
Requires iOS 11.0 or later.
User Reviews :
Convenience at its best!!
We're staying at a hotel in Phuket for a month long vacation. But hotel prices for food are drastically higher than any of the restaurants. Kids don't want to leave poolside and we were forced to overpay for meals – ordering from hotel, Food Panda really helped out!! Once we discovered this Service – I couldn't believe that it's possible!! Not only there is no delivery charges, there is almost always coupon available to use (on top of already lower prices of meals!). Delivery is quick and food always arrives hot, on time and in great condition!! Drivers are very polite and nice and although happy to receive tip – never expect it as a must! Now my kids can play at the pool all day, we get great food delivered straight to us and we do not pay insane prices of the hotel restaurants!! Thank you Food Panda! We will definitely continue to use this service when we go back home!
I think it is a poorly designed app
Writing as a fellow product person. I notice a few poor designs in this app, that creates friction and causes bad user experience. 1) Unnecessary surveys: "Why did you not complete the order at X". First, this X restaurant is wrong (I already placed the order). Second, survey is a poor way to get user feedback. Participation rate is not guaranteed. A much better way to do it is to do a thorough data analysis of user behaviour, form solid hypotheses and test these hypotheses thru experimentation. 2) Cluttered UI: Do we really have to have "trending order"? Do I, as a customer, really get value from knowing what others are ordering? Does it benefit me, a restaurant order, that customers only order the hottest 1 or 2 items from my menu? 3) It is just buggy. There are a few times when I simply cannot place an order. I click the button, then nothing happens. There is no way for users to report this bug, or seek help for it. 4) The rewards program. I understand rewards program create loyalty and we want loyalty in the fierce competition among delivery apps. But this rewards program is poorly designed; rules are not communicated clearly; the UI/notification is intrusive. All of the above makes me question: Who is making product decisions at Foodpanda? Are they really relying on data and listening to users? Or just go with whatever they ASSUME is a good idea?
Amazing! Full of Variety and Options!
So the app is easy to use, highly ascetic – who can refuse a cute panda? And most importantly- it's more than a small array of restaurants. From food to essentials, with stores that have actually given you a great array of options from their stock vs typical basics that won't always satisfy your needs. It may not have play by play tracking but having approximate times with more options to serve you better makes it far superior to its competitors. Icing on this fantastic cake (I may just order one after this) is that the app does incentivize consistently- you don't need to spend over a hundred dollars constantly to get a paltry benefit like 5 dollars off. No general amounts and purchases can easily reap you discounts more routinely and simply add to the convenience of it all. So in all- 10/10 I certainly recommend.
Get Foodpanda from App Store
What is your opinion about Foodpanda
Bitcoin
Ethereum
MetaMask (ETH)
Xrp
Polkadot
Binance coin
Stellar
Dogecoin
Tron
Elrond
Donate Bitcoin to this address
Scan the QR code or copy the address below into your wallet to send some Bitcoin
Donate Ethereum to this address
Scan the QR code or copy the address below into your wallet to send some Ethereum
Donate Xrp to this address
Scan the QR code or copy the address below into your wallet to send some Xrp
Donate Polkadot to this address
Scan the QR code or copy the address below into your wallet to send some Polkadot
Donate Binance coin to this address
Scan the QR code or copy the address below into your wallet to send some Binance coin
Donate Stellar to this address
Scan the QR code or copy the address below into your wallet to send some Stellar
Donate Dogecoin to this address
Scan the QR code or copy the address below into your wallet to send some Dogecoin
Donate Tron to this address
Scan the QR code or copy the address below into your wallet to send some Tron
Donate Elrond to this address
Scan the QR code or copy the address below into your wallet to send some Elrond