Dancing Line game by Cheetah Technology Corporation Limited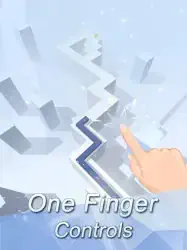 Game Description :
Dancing Line combines fast-paced gameplay with a carefully selected soundtrack to create an experience like no other. Featuring different worlds of increasing difficulty, each one paints a unique picture and evokes different emotions. The key is to not only watch for obstacles and traps, but also play to the music. Listen to the beat and the melody, and after a short while you will find yourself doing better and better.
Come on! Test your reflexes and rhythm skills! See the surprises and wonders every level holds for you.
Gameplay:
Guide an ever-growing Line through a multiple of environments, listening carefully to the music. Tap the screen to make a sharp turn, avoiding obstacles and reacting to the World changing before your eyes.
Game Features :
1. Original background music
2. Multiple levels of increasing difficulty with their own stories
3. Very simple practice mode with only one finger tap
4. Music is the key to guide you
Support:
If you need any support, please send email to dancingline@cmcm.com or you can reach out us on Facebook @DancingLineGame.
Business Cooperation:
Cheetah Mobile is now sincerely inviting all the amazing mobile game developers globally to achieve mutual success! we are looking forward to the great games! Contact us on: cheetahgames[at]cmcm.com
Privacy Policy: www.cmcm.com/protocol/site/privacy.html
Terms of Service: www.cmcm.com/protocol/site/tos.html
Ad Choice: www.cmcm.com/protocol/site/ad-choice.html
Additional Information :
Age Rating 4+
Size 551.1 MB
Requires iOS 9.0 or later.
User Reviews :
The Best Game on the App Store
I'm not a very good player, but this game is still my favorite. The graphics are pleasing and the music is beautiful. Even when I'm doing horrible at the game itself, I still manage to feel more at peace, refreshed and happier in general after playing. I could play the same level 100 times and still feel entertained. There is quite a surprising amount of diversity in the game and many levels.

With that said, the ads were incredibly annoying in this game specifically. But I wasn't bothered paying $5.99 to remove them. This is such a great app that I think it's a catch it's even free, so I feel justified in spending to remove the ads. There's also a little bit of lag, but it doesn't really bother me. The push to make players spend on packs and levels and coins is a little bit obnoxious however, and it's my only genuine complaint. It's annoying trying to figure out if you won something from the level and you're getting it for free, or if clicking on it is going to ask for a password to charge your card or bring you to a 60 second ad.

The negatives don't balance out the positives though — it's a great game. I would be pleased to see an update to clear the confusion between messy advertisement of expensive skin packs and actual earnings from collecting diamonds or passing a level though. I'm genuinely happy with this app and feel grateful for how amazing it is now.
Really fun and addicting but to many ads.
So a couple years ago I started playing this game and forgot about it. I later remembered the game and decided to see if it had changed much and there where new levels but it was pretty similar. I enjoy this game a lot and it is very fun and addicting. If you're looking for a little challenge this game has it. But my one problem is the ads. After almost every time you die there is a 30 second ad! There are ads everywhere and it makes the game feel boring and the ads really get annoying. Each ad drags on and they can happen with 30 seconds in between 2 of them because you died. The only way to get rid of the ads is by paying for a subscription that cost 8$ A WEEK! I don't want to spend that much money on a game I pick up on my phone when I'm bored. Eventually I will probley stop paying this game again and forget about it so paying that much WEEKLY for an online game is not worth it. In total it ads of to about $32 a month and $384 a YEAR! This is way to expensive for a game that you do just for fun. The subscription just unlocks all the levels gives you unlimited revives and no ads. It's not worth it! So ultimately having to deal with the ads gets annoying so I will probley quit this game eventually because I am getting tired of the ads. This game has more potential and I understand that's how the developers make money but there are just too many ads!!!
Get Dancing Line from App Store
What is your opinion about Dancing Line
Bitcoin
Ethereum
MetaMask (ETH)
Xrp
Polkadot
Binance coin
Stellar
Dogecoin
Tron
Elrond
Donate Bitcoin to this address
Scan the QR code or copy the address below into your wallet to send some Bitcoin
Donate Ethereum to this address
Scan the QR code or copy the address below into your wallet to send some Ethereum
Donate Xrp to this address
Scan the QR code or copy the address below into your wallet to send some Xrp
Donate Polkadot to this address
Scan the QR code or copy the address below into your wallet to send some Polkadot
Donate Binance coin to this address
Scan the QR code or copy the address below into your wallet to send some Binance coin
Donate Stellar to this address
Scan the QR code or copy the address below into your wallet to send some Stellar
Donate Dogecoin to this address
Scan the QR code or copy the address below into your wallet to send some Dogecoin
Donate Tron to this address
Scan the QR code or copy the address below into your wallet to send some Tron
Donate Elrond to this address
Scan the QR code or copy the address below into your wallet to send some Elrond