(App) Chilis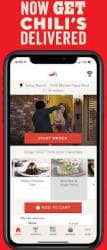 App Description :
Hi, welcome to the Chili's iPhone app!
Easily order your favorite Chili's menu items (now featuring Delivery!), find your nearest Chili's, add your name to the wait list, check your available Rewards and more all within the most delicious app you'll ever download.
App Features :
Enjoy easier online ordering with faster checkout
Order food for Delivery, To Go or Curbside Pickup
Reorder your Chili's favorites super easily
Keep track of past orders for easy re-ordering
Save your favorite Chili's locations
Check your available Chili's rewards
And more!
Additional Information :
Size 55.4 MB
Requires iOS 12.1 or later.
User Reviews :
I love this place.
I love this place. I've only eaten at the one on Poplar Level Rd in Louisville Ky. And I've only dined in at the restaurant itself once. All the other times (which has been at least 100 by now) has all been done thru ordering via the App and picking it up at the Carry Out Counter on either Friday or Saturday nights before I go into work. So I can have it for Lunch/Dinner at work. The ladies that have always taken care of me there have always been sweet and very awesome at their job. They have never messed up my order. They have always given me extra sauce when I asked for extra. And kitchen staff had always had the food read at the time that I asked it to be when I ordered it ok the App. There has been times that I've ordered the food 12 hours or more in advanced the morning before I had to go to work as I'm going to bed (I work 3rd shift alone as a dispatcher at the largest Towing & Recovery Company in Louisville Ky every Friday & Saturday night). So I highly recommend the App and the Restaurant. At least the one I go to on Poplar Level Rd in Louisville Ky.

Enjoy!
Order Resets Every Time You Switch Apps
The app has a clean interface and is easy-to-use, even if you're not computer savvy. The menu is laid out well and the customization options are great. It would have been a 5-star review, but every time you minimize the app, switch apps, your phone locks, or you breathe too hard the entire order resets – even if you're logged in to your account. I was ordering for me, my mom, and my sister so I texted them to ask if they wanted bacon crumbles on their food. I returned to the app and the whole order was gone. I had to ask what side they wanted – same thing. I had to check my bank account balance to see which card to pay with – reset. I had to walk to get my credit card out my purse – my phone locked due to inactivity and boom, it was all gone. I ended up having to re-input the order (and all the customizations) at least 6 times. In the time it took to order and pay for 5 items, I could have driven the 10 minutes to the restaurant, ordered in person, and driven home. It's a great app, but unless it is programmed to save your order in progress, you better treat it like a drive-thru: know exactly what you want the first time and have payment in hand.
Covington Chili's Service Poor
Our fairly recent Chili's in Covington, GA. Lacks on management and service. Numerous times our service has been poor. I still leave a good tip, but, I will write a review. My husbands chicken crispers meal came out well over 30 minutes after all 10 of us got our food. I kept asking the male waiter, he replied, its coming right up. I asked again, again, again, 30 minutes later his food came out. Was told, I will discount you for your food coming out late.

We did not get a discount, we were even charged for our reward chips and salsa. I even showed him the app. Not a good Night. We were there 1 1/2 hours. Seated right away, were last ones there. Got there at 10pm. Left after 11:30. My husbands food had not long come out.
Overall Good App, Some Features Are Buggy
I love Chili's lol, and the convenience of being able to save my account on the app and order quickly makes planning dinner a breeze. But there are a few bugs I'm noticing that make me want to use the app less:

1) When my location services are set to "always on" for the app, I'm often marked as "here" before even reaching the restaurant out on the road! Not sure if it's the app or the restaurant that sets the "here" radius, but it makes the employees think I'm impatient lol

2) I now keep location services off, however, if you do that, you have to press the "I'm here" button on the order page when you arrive. That'd be fine if you were able to switch to another app (ex: gps to get to the restaurant) and come back to the Chili's app without it completely resetting and not allowing you to pull your order up to mark that you're here.

It's minor stuff that I think would improve the success of the app 🙂 everything else is great!!
Get Chilis from App Store
What is your opinion about Chilis
Bitcoin
Ethereum
MetaMask (ETH)
Xrp
Polkadot
Binance coin
Stellar
Dogecoin
Tron
Elrond
Donate Bitcoin to this address
Scan the QR code or copy the address below into your wallet to send some Bitcoin
Donate Ethereum to this address
Scan the QR code or copy the address below into your wallet to send some Ethereum
Donate Xrp to this address
Scan the QR code or copy the address below into your wallet to send some Xrp
Donate Polkadot to this address
Scan the QR code or copy the address below into your wallet to send some Polkadot
Donate Binance coin to this address
Scan the QR code or copy the address below into your wallet to send some Binance coin
Donate Stellar to this address
Scan the QR code or copy the address below into your wallet to send some Stellar
Donate Dogecoin to this address
Scan the QR code or copy the address below into your wallet to send some Dogecoin
Donate Tron to this address
Scan the QR code or copy the address below into your wallet to send some Tron
Donate Elrond to this address
Scan the QR code or copy the address below into your wallet to send some Elrond