(App) Burger King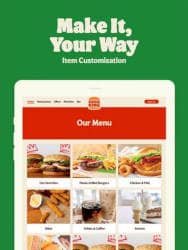 App Description :
Get secret deals and exclusive mobile coupons with the official BURGER KING® app and save like a king! Explore our menu and find your nearest BK® restaurant anytime, anywhere. And in most locations, you can even order ahead.
App Features :
Mobile Coupons: Get VIP access to the hottest mobile-only coupons and secret deals right from your phone.
Mobile Ordering: For select locations, order with the app and skip the line to enjoy your meal even faster.
Find Your BK®: Locate your nearest BURGER KING® restaurant and never leave those flame-grilled cravings unfulfilled.
Menu: Explore your BK® favorites and discover our hottest new menu additions. Plus, you can browse item descriptions and nutritional information at any time.
Compatible with Apple and Google Pay
Additional Information :
Size 61.9 MB
Requires iOS 11.0 or later.
User Reviews :
Will only order delivery with the app!
We are avid DoorDash customers and order from them sometimes a few times a week, but we HATE it when we want to modify menu items and the DoorDash app won't allow us to make the same changes as we could ordering at the drive thru! That's why I am SO HAPPY I found the Burger King app for us! (I wasn't used to using apps specific to each restaurant until now) DoorDash doesn't allow simple changes like extra cheese, and for Burger King you can't even add special requests. So luckily the Burger King app allows you to delete ingredients, add extra or make it light. EVERY INGREDIENT on EVERY SANDWICH, not just the common extra cheese or no pickle! Thank you, Burger King, for remembering "order it your way" should be possible no matter how we are getting our order!!!

BTW, I've tried to post this for what must be TWENTY TIMES or more by now BUT every time I try it tells me my nickname has already been taken! Pretty ridiculous when I enter something like "frustrated no nicknames are left" and a message pops up that it's taken! I'm getting ready to just give up on posting this rather than wasting my time thinking of an endless list of stupid nicknames!
What's up?
What's up Burger King? I'm 70 and been eating your meals for many years, from California to Arizona, never have I ever had an issue with any of your restaurants and or the way you operate your business, such as specials that comes from the corporate office, manager specials, coupons, specials that are on television, until now, the end of January 2022 and February 1st. I saw on television and was impressed with the special $5.00 meal, well I'm sad to report to you that not all of your restaurants are honoring the price, I've been told from two restaurants that the meal is in there system for $6.00 and they can't and won't change the price and honor your advertisement, now one dollar plus the tax isn't a lot of money, but some of us are on a fixed income and every dollar is more valuable than a few years ago, but that's really not the point, you at corporate take the time and money to run this special for your customers and a number of your restaurants don't honor the price you set, now, that makes me question your operation of business, how can I trust your organization if your employees are not willing to observe what comes out of corporate? As a long standing customer, I hope you get this under control, thank you for letting me express my thoughts.
Technical Issues with App
EDIT: I was contacted a day after writing my review. Despite my frustration at the time, I am glad that the BK Team took time to reach out and resolve the issue. Despite the fixes the app may need, their act of taking accountability was superb.

To the BK Tech Team, if you're reading this please contact me.

I've used the BK App for more than a year now and my experiences have varied. There's been times that I've made an order through the app with absolutely no problems. However, there's been many more times that the app has given me some sort of issue. Based on the reviews, it's clear that the app needs PLENTY of work.

Now you may be wondering why I decided to post a review until now. That's because I now have several screen recordings of the app providing issues. Today, specifically, I was using a coupon that required the purchase of another item. The coupon and additional item were visible in My Cart/Checkout (and in the screen recording). However, after paying, the order completely erased the coupon. Given I was on my lunch break for work, it made a lovely afternoon, very inconvenient.
Developer Response ,
We're bummed to hear that you didn't have the most ideal experience. Hit us up at BK.com/contact-support so we can look into this for you.
Get Burger King from App Store
What is your opinion about Burger King
Bitcoin
Ethereum
MetaMask (ETH)
Xrp
Polkadot
Binance coin
Stellar
Dogecoin
Tron
Elrond
Donate Bitcoin to this address
Scan the QR code or copy the address below into your wallet to send some Bitcoin
Donate Ethereum to this address
Scan the QR code or copy the address below into your wallet to send some Ethereum
Donate Xrp to this address
Scan the QR code or copy the address below into your wallet to send some Xrp
Donate Polkadot to this address
Scan the QR code or copy the address below into your wallet to send some Polkadot
Donate Binance coin to this address
Scan the QR code or copy the address below into your wallet to send some Binance coin
Donate Stellar to this address
Scan the QR code or copy the address below into your wallet to send some Stellar
Donate Dogecoin to this address
Scan the QR code or copy the address below into your wallet to send some Dogecoin
Donate Tron to this address
Scan the QR code or copy the address below into your wallet to send some Tron
Donate Elrond to this address
Scan the QR code or copy the address below into your wallet to send some Elrond