(Game) Words With Friends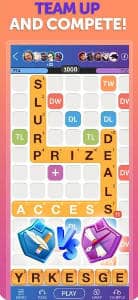 Game Description :
The World's Most Popular Mobile Word Game now has even more ways to play! Try new rewards and boosts to help you play smarter and faster!
Words With Friends is the fun, free word game that lets you connect with friends and family while expanding your vocabulary and sharpening your wit. Test your brain power and spell your way to victory.
May the Best Friend Win.™
Game Features :
WEEKLY CHALLENGE: Play the weekly challenge and earn fun, themed badges
BEAT THE CLOCK: Challenge friends to beat the clock in fast play!
SOLO PLAY: Play offline and sharpen your skills with solo play
HINDSIGHT: Uncover the best word you could have played after each turn
WORD RADAR: Heat map reveals the location of all possible moves before you take a turn
PROFILE FRAMES: Show off your unique style with custom profile frames
SMART MATCH: Connect with players of a similar skill with Smart Match
6 LANGUAGES: Choose to play in Spanish, French, German, Italian, Brazilian Portuguese and British English
Play Words With Friends without third party ads between moves if you previously purchased Words With Friends Pro on iOS or any other mobile device. Be sure to login with Facebook or the email account you used to make the previous purchase to continue to play without third party ads between moves.
Already an accomplished Wordie? Like us on Facebook or follow us on Twitter to stay
up-to-date on game news, contests, polls and more.
For more information, see our Terms of Service: www.zynga.com/legal/terms-of-service and Privacy Policy: www.zynga.com/privacy/policy
The game is free to play; however, in-app purchases are available for additional content and in-game currency.
Just another title from Zynga's Games With Friends™
Additional Information :
Size 221.6 MB
Requires iOS 11.0 or later.
User Reviews :
Ameliorate your vocabulary and dextrously deracinate adversaries with your incomparably declamatory submissions — or totally cheat and pretend you know what big words mean as you furiously search through a dictionary to try and find anything that beats your friend's triple letter score. Seriously, what are we going to spell with all of these Qs?
Pastime pleasure…
I love this game… and have played it for years every morning with my morning cup of coffee…I play the old-fashioned way with none of the colorful play options perched above for the less astute player. I play with like-minded players (I think!) and play just for the sheer fun of building words! A wordsmith at heart I suppose. I enjoy the badges and find myself trying to achieve the set goal, however, I wish those weekly goals would scramble from high to low, low to high, and everywhere in between… not just demanding a higher target every week making it sometimes too difficult to achieve it in the time I allow myself to play. Even in the case of other players using the enticing bling aids, I still enjoy the simple pleasure of mixing letters with the use of my own brain and it matters not if other players do or do not. Somehow, with time, you find compatible playmates who keep the game challenging, yet stay true to the integrity of the basic game of Scrabble. Oh! And I occasionally like to look at my stats … rather interesting! Thank you for this enjoyable game!
New Bells and Rolling suggestion at bottom of screen!
I have been playing WWF for many years. Please, take this rolling suggestion of which game I should play next, away! It is so very annoying! I am capable of picking the next game to play since I prefer to pick my own order. Currently I have about 56 games going, so I believe I can make that decision myself. Also, this latest update slows down my rhythm, having to wait until the opponents words displays slowly, one letter at a time, and only then can I see my available letters. When I'm playing back and forth , live with my opponent, it's distracting to have to wait. Please give us the option to do away with the suggested next player. Now you've added all the extra bells when forming a word Omg, the noise is distracting, slows the game down and is redundant, we already had the thing that acknowledged an acceptable word! Then all the extra steps to get to the dang rewards. We don't need all the new flashy bells and whistles. With all the extra time it takes now, just waiting for the bells to stop, I'll have to cut back on the number of games I play. Probably the majority of people playing this game are adults and don't need the flashy stuff to encourage us to play anyway.
Get Words With Friends from App Store
What is your opinion about Words With Friends
Bitcoin
Ethereum
MetaMask (ETH)
Xrp
Polkadot
Binance coin
Stellar
Dogecoin
Tron
Elrond
Donate Bitcoin to this address
Scan the QR code or copy the address below into your wallet to send some Bitcoin
Donate Ethereum to this address
Scan the QR code or copy the address below into your wallet to send some Ethereum
Donate Xrp to this address
Scan the QR code or copy the address below into your wallet to send some Xrp
Donate Polkadot to this address
Scan the QR code or copy the address below into your wallet to send some Polkadot
Donate Binance coin to this address
Scan the QR code or copy the address below into your wallet to send some Binance coin
Donate Stellar to this address
Scan the QR code or copy the address below into your wallet to send some Stellar
Donate Dogecoin to this address
Scan the QR code or copy the address below into your wallet to send some Dogecoin
Donate Tron to this address
Scan the QR code or copy the address below into your wallet to send some Tron
Donate Elrond to this address
Scan the QR code or copy the address below into your wallet to send some Elrond