(App) Wise (ex TransferWise)
 iphoneapps info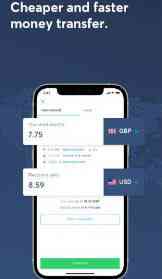 App Features :
The international account
Join over 10 million people and businesses, in more than 170 countries, who use Wise to send, spend, convert, and receive money internationally.
Wise is for anyone — travelers, immigrants, freelancers, organisations — whose money crosses borders. We're 8x cheaper on average than leading UK banks. And a lot faster, too.
App description :
Cheaper and faster money transfers
Send money to over 80 countries
For a super-low fee, you get the real exchange rate, like on Google, for every money transfer
50% of transfers are instant or arrive within an hour
Secure your transfers with two-factor authentication
A debit card to spend worldwide
Spend or withdraw money in more than 200 countries
If you don't have the local currency, we'll auto-convert what you have with the lowest possible price
Freeze and unfreeze your card, and update your virtual card whenever you like
Get paid with real account details
Get your own UK account number and sort code, European IBAN, US routing and account numbers, and more. As if you had local bank accounts around the world.
Use these account details to get paid in multiple currencies for free, and for direct debits
Keep up-to-date with instant push notifications for every transaction
Hold 50+ currencies and convert between them instantly
No monthly fee and no maintenance fee to keep money in your account, in most cases
Convert between currencies instantly, at the real exchange rate, for a super-low fee
A better business account for going global
Pay invoices and bills faster, at a better exchange rate
Use account details to get paid by clients and customers around the world
Connect to supported platforms like Amazon, Stripe, Xero, and more
Wise is regulated by the FCA in the UK, and by other authorities around the world. Your money's safe with us.
Send from: GBP (British Pound), EUR (Euro), USD (US Dollar), AUD (Australian Dollar), BGN (Bulgarian Lev), BRL (Brazilian Real), CAD (Canadian Dollar), CHF (Swiss Franc), CZK (Czech Koruna), DKK (Danish Krone), HKD (Hong Kong Dollar), HRK (Croatian Kuna), HUF (Hungarian Forint), JPY (Japanese Yen), NOK (Norwegian Krone), NZD (New Zealand Dollar), PLN (Polish Zloty), RON (New Romanian Leu), SEK (Swedish Krona), SGD (Singapore Dollar)
Send to: EUR (Euro), USD (US Dollar), GBP (British Pound), AED (UAE Dirham), AUD (Australian Dollar), BDT (Bangladeshi Taka), BGN (Bulgarian Lev), BRL (Brazilian Real), CAD (Canadian Dollar), CHF (Swiss Franc), CLP (Chilean Peso), CNY (Chinese Yuan), CZK (Czech Koruna), DKK (Danish Krone), EGP (Egyptian Pound), GEL (Georgian Lari), HKD (Hong Kong Dollar), HRK (Croatian Kuna), HUF (Hungarian Forint), IDR (Indonesian Rupiah), ILS (Israeli Shekel), INR (Indian Rupee), JPY (Japanese Yen), KES (Kenyan Shilling), KRW (South Korean Won), LKR (Sri Lankan Rupee), MAD (Moroccan Dirham), MXN (Mexican Peso), MYR (Malaysian Ringgit), NOK (Norwegian Krone), NZD (New Zealand Dollar), PEN (Peruvian Nuevo Sol), PHP (Philippine Peso), PKR (Pakistan Rupee), PLN (Polish Zloty), RON (Romanian Leu), RUB (Russian Rouble), SEK (Swedish Krona), SGD (Singapore Dollar), THB (Thai Baht), TRY (Turkish Lira), UAH (Ukrainian Hryvnia), VND (Vietnamese Dong), ZAR (South African Rand)
Additional Information :
Size 94.3 MB
Requires iOS 13.0 or later.
User Reviews :
Exceptionally effective way to manage funds internationally
I did quite a bit of research into money transfer apps and platforms and TransferWise seemed to meet all my needs. I opened a Borderless account and have now used it to make several transactions—moving funds between various onshore accounts and converting between currencies. Unless I'm missing something, the platform, the process and the app all work flawlessly.

With just a few clicks my money is moved into my Borderless account in one country, converted from one currency to another, and moved into an external account in a different country. The fees are low and I get the forex spot rate not some 5 or 6 pt spread between buying and selling that pays criminally high broker fees; I've saved literally hundreds of USD on one transaction alone.

With some platforms you pay more to get an easy process; with others the cost is low but you have to jump through a lot of hoops. TransferWise is that rare situation where the process is easy AND the cost structure is low. I love it, easiest 5-stars I've given in a long while.
Efficiency of TransferWise
I've availed TransferWise service for several years now and had great results. Although recently I had an unusually untimely transfer (4 days). In addition I was a bit confused by the overly long estimated time conveyed by TransferWise on a subsequent transfer (6 days) but after submitting the transfer and to my surprise I received the funds in less than two hours, which is about the speed in which I normally receive the funds. I want to clarify my previously poor feedback toward TransferWise. The service I have received is for the most part Great! My only complaint is the recent estimate for the completed transfer. I understand your companies position that it would be better to over estimate the transfer timeframe and deliver the funds earlier than proposed, and I'm trying to wrap my head around that logic because that works great for most people I'm sure. But… in my situation an estimate of 6 days for a Debit/ACH transfer leaves me wanting to initiate my transfer 5 days early, but If the transfer completes in only a few hours it then creates another issue with my billing cycle at my bank and fees. Overall I rate your service as highly recommended. I will just have to cross my fingers and hope the funds arrive as they have in the past.

Thank you,

Lon
App works well, needs a couple features
I have very few complaints with TransferWise and this app. It generally works as advertised and I have used it for a number of months now with few problems. One glitch is TransferWise's interface with banks (U.S., at least), which sometimes does not recognize your account has been verified and asks to reverify it by confirming a couple of micro-deposits – a process which can take several days. However, if you cancel the transfer which prompted the request to reverify, then try it again, this has always resulted in a successful transfer on the second attempt for me. Both the app and desktop version of TransferWise also have trouble sometimes dealing with verification questions used by many banks. One additional feature which would be useful for the app (essential, in my opinion, for a 5-star rating) is the ability to download a pdf receipt for a transfer, showing all relevant account information and date/time of the transfer events, as you can from the desktop web site. Despite the above issues, I'm satisfied with my experience and TransferWise is an excellent alternative to international bank wires, especially for smaller amounts.
Get Wise from App Store
What is your opinion about Wise
Bitcoin
Ethereum
MetaMask (ETH)
Xrp
Polkadot
Binance coin
Stellar
Dogecoin
Tron
Elrond
Donate Bitcoin to this address
Scan the QR code or copy the address below into your wallet to send some Bitcoin
Donate Ethereum to this address
Scan the QR code or copy the address below into your wallet to send some Ethereum
Donate Xrp to this address
Scan the QR code or copy the address below into your wallet to send some Xrp
Donate Polkadot to this address
Scan the QR code or copy the address below into your wallet to send some Polkadot
Donate Binance coin to this address
Scan the QR code or copy the address below into your wallet to send some Binance coin
Donate Stellar to this address
Scan the QR code or copy the address below into your wallet to send some Stellar
Donate Dogecoin to this address
Scan the QR code or copy the address below into your wallet to send some Dogecoin
Donate Tron to this address
Scan the QR code or copy the address below into your wallet to send some Tron
Donate Elrond to this address
Scan the QR code or copy the address below into your wallet to send some Elrond