(Game) Ava Airborne
 iphone games download free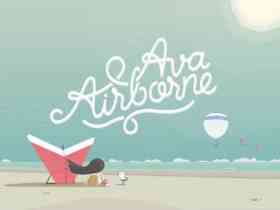 Game Description :
Ava believes she can fly. Immerse yourself in this thrilling journey across a beautiful yet hazardous skyline. Weave between giant bomb-balloons, dive into turbo-charged catapults, bounce off trampolines and launch up into the clouds. Just never touch the floor.
Defy gravity. With style.
Lovingly crafted by the multi-award winning British indie studio Laserdog, Ava Airborne lets you master the sky with anything you can find: cardboard wings, rocket-propelled boots, an old umbrella, or even a jet-fuelled trombone.
Game Features :
TAKE TO THE SKIES: Glide Ava as far as you can without touching the floor – the further you fly, the bigger the reward!
JOIN THE ELITE: Progress Ava through fifteen levels of pilot, from the beginner's Leaf rank to the ultra-exclusive Ace class!
BIRD BUDDIES: Get a little boost from Ava's flying companions, from Steven the Seagull to Duckington McDuckFace!
FALLING BEAUTY: Customise your very own Ava by collecting your very own trinkets, charms and companions!
Follow Ava as she flies on Social:
www.facebook.com/AvaAirborne/
www.instagram.com/avaairborne/
www.snapchat.com/add/avaairborne
© 2018 PlayStack LTD.
Additional Information :
Size 158 MB
Requires iOS 8.0 or later.
User Reviews :
My new favorite mobile game!!
This game has me hooked. The controls for each glider are different and fun, and I find myself trying out new strategies for each of them all the time. Collecting all of the items is also a fun for completionists. The overall atmosphere of the game is lovely, and it really immerses me. My only complaint is the score screen is waaaaay too long. I want to get back into the action and play again, not wait 2 minutes tapping gifts and watching ads. It feels like the Agamemnon doesn't want me to play it at all! Other than that, it's a fun game to experiment on with adorable graphics to go with. If you liked Whale Trail, you'll LOVE this.
Has huge potential
I think you've made a great start with this game, but the next step to encourage retention/bring in more revenue is to add features to the game so that there's more to it. It kind of reached capacity as far as diversity for me by the time I'd gotten a gold contraption…I eventually continued to acquire most of the upgrades, but the game had become stale.

If I were you, I'd make it so that the different gliders and buddies and lollipops and things give you powerups or maybe the buddies pop black balloons for you. I'd make it so that players could travel 1,000,000M in Fly mode through using the right combination of powerups and skillful gliding. I'd add powerups and "load out" selection to Race mode and make it so that sweets earned count toward your purchasability.

I'd keep the core game dynamics that you've built, but add enhancements to widen the spectrum of those dynamics. It would make the game more fun and give you more money-making opportunities.
Monetization Tactics Ruin a Fun Game
The way the developers decided to implement micro transactions into the game is so abrasive that it ruins the app. Games where you are encouraged to stay alive as long as you can benefit from a system where you can try again immediately. Here, you have to wait through 3 screens that can barley be sped up and a menu that asks if you want to watch ads for more in game currency. Pick up more than one present in a game? You have to pay to open it with in game currency. So many tactics and distractions just to tug at your wallet or get you to watch advertisements.

The game itself is fun with but has some flaws. It's hard to judge altitude. Maybe put an indicator on the left hand side or make the steps in the sky more distinguished. The recovery system requires you to tap in order to regain control, but after you tap it feels like it requires additional taps in order to get your contraption to work.
Developer Response ,
Hey there. Thanks for taking the time to reach out. I have forwarded your feedback to the team. If you have other suggestions, could you please send a message to our team at support@avaairborne.zendesk.com? Our team uses feedback from players like you to improve the game and any ideas you have to improve the game experience would be appreciated.
Great game, minor changes could make it better
This game is a really fun game if you just want to (kind of) calmly fly through the air on a hang glider, yo-yo, or some other crazy machine. I only have three problems: the game is a bit laggy sometimes but is mostly ok, leveling up is a bit more difficult than it should be in my opinion, and you have to "rent" buddies for an hour at a time. Honestly I'd much rather the bonuses than give to be smaller or even none at all if I could just have them fly with me permanently. Overall the game is great. But fixing these things could just make it *that* much better.
Get Ava Airborne from App Store
What is your opinion about Ava Airborne
Bitcoin
Ethereum
MetaMask (ETH)
Xrp
Polkadot
Binance coin
Stellar
Dogecoin
Tron
Elrond
Donate Bitcoin to this address
Scan the QR code or copy the address below into your wallet to send some Bitcoin
Donate Ethereum to this address
Scan the QR code or copy the address below into your wallet to send some Ethereum
Donate Xrp to this address
Scan the QR code or copy the address below into your wallet to send some Xrp
Donate Polkadot to this address
Scan the QR code or copy the address below into your wallet to send some Polkadot
Donate Binance coin to this address
Scan the QR code or copy the address below into your wallet to send some Binance coin
Donate Stellar to this address
Scan the QR code or copy the address below into your wallet to send some Stellar
Donate Dogecoin to this address
Scan the QR code or copy the address below into your wallet to send some Dogecoin
Donate Tron to this address
Scan the QR code or copy the address below into your wallet to send some Tron
Donate Elrond to this address
Scan the QR code or copy the address below into your wallet to send some Elrond