(App) Tally – Pay Off Debt Faster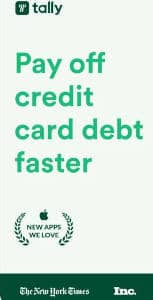 App Description :
Tally is the first automated debt manager. Tally makes it easier to save money, manage credit cards and pay down balances faster. Tally's low-interest credit line has helped thousands of people consolidate credit card payments into a single bill and save on interest and late fees!
Sign up for Tally and quickly see if you're eligible for a credit line. Our credit check won't impact your credit score.
Tally is available in most states except MT, NV, and WV. Generally, you need a FICO Score of 580 or higher to qualify for a credit line. (Scroll down to see which credit cards Tally supports.)
App Features :
Here's how it works:
1. Download Tally
Within minutes, Tally can help you start the path to being debt-free, and it won't hurt your credit score.
2. Find your savings
Once you qualify, Tally gives you a line of credit with a low annual percentage rate (APR). Tally then uses the new line of credit to pay your credit cards every month. The low APR helps save you money on interest. (Scroll down for important disclosures about what Tally charges.)
3. Organize your cards
Manage all your credit cards in one simple app! Tally keeps track of the balances, interest rates and due dates for each card. That's how Tally makes the right payment to the right card at the right time. All you have to do is make one monthly payment to Tally.
4. Say goodbye to late fees
Tally's late fee protection gives you the peace of mind of autopay without the fear of overdraft. As long as you're in good standing with Tally, you'll avoid the hassle of late fees.
5. Be debt-free faster
That's it! Tally helps separate the burden of credit cards from the benefits. Keep using your credit cards for the rewards and let Tally handle the hard work. No tricks. Just a smarter way to manage your cards and a faster way to pay your balances.
FREQUENTLY ASKED QUESTIONS
What does Tally charge?
To get the benefits of Tally, you must qualify for and accept a Tally line of credit. Depending on your credit history, your APR will be between 7.9% and 29.9% per year. The APR will vary with the market based on the Prime Rate. Some credit lines are subject to an annual fee, which will be explained with your offer if you qualify. If you don't qualify for a line of credit, Tally's card payoff services are available for $4.99/month.
How does Tally estimate my savings?
To calculate your savings we look at: 1) an average-weighted APR based on your initial eligible credit card balances and APR's; 2) an average monthly payment to Tally of 3% of your eligible balances; and 3) an average monthly spend of 0.8% of your eligible credit card balances. We exclude credit cards with APR's lower than the Tally APR, since Tally doesn't make payments to those cards. For the Express member savings estimate, we assume you receive the Express discount every month.
How does Tally save me money?
You can save money with a lower APR on your Tally line of credit. That means you're saving money on credit card interest each month. Tally's late fee protection helps you avoid missed payments.
How does Tally make money?
Tally makes money through interest on your Tally line of credit, but only if Tally can help save you money. Tally also makes money on membership fees (annual or monthly fee) according to the Tally service you are eligible for.
MORE DETAILS
The Tally app and servicing is only available in English. If there is any discrepancy between translations, the English version prevails over other translations.
Tally supports most cards from American Express, Bank of America, Barclays, Capital One, Chase, Citibank, Discover, US Bank and Wells Fargo, as well as cards from Amazon, American Eagle, Macy's, Sears, TJ Maxx and Walmart.
Tally Technologies, Inc. (NMLS # 1492782 NMLS Consumer Access , SC License , MO License). Lines of credit issued by Cross River Bank, Member FDIC, or Tally Technologies, Inc. ("Tally"), as noted in your line of credit agreement. Lines of credit not available in all states.
Additional Information :
Size 100.3 MB
Requires iOS 13.0 or later.
User Reviews :
Tally is a interest saver and stress reliever.
Tally has simplified my balancing 5 credit cards making sure everything is paid off I never missed a payment in my life yet I needed help organizing my credit card debt and being able to pay it down now since i got Tally all I do is weekly pay a set amount I budgeted for my debt weekly so on pay day I wake up my check from work is already deposited so I immediately pay tally $250 every week I let the app decide how to pay my debt off and I get a weekly report of how much saved interest I do have to run #s think about due payments or anything just pay weekly and save I'm not a bot or paid person lol you don't have to pay as much as me in just trying to pay my debt down quick so I do the maximum I can budget from my weekly pay but if you budget yourself pay what you can as much as you can just give it to Tally and relieve your mental stress I love it I still got long ways to go on my debt but I'm no longer stressed like I use to be…
Unable to use the service.
The first and most important of my issues is that they claim they pay off your cards for you so you don't have to worry about it, which is false. All it really does is allow you to see all of the cards you have in one place (which also presents its own issues, I will discuss next), but you still have to decide how much to pay towards each card yourself (they don't even give you the most basic of help in how much/how you should split up what money you have to go toward what cards). On top of that, I have 4 cards, two of which aren't able to be connected, which is whatever because I was able to manually update the APR and balances of them. However, I have two checking accounts, Members first federal credit union, and BB&T which recently changed to Truist, and neither of these checking accounts are able to be linked, essentially making the entire app pointless because I couldn't make any payments, even if I wanted to. If you're going to have an app like this, maybe at least make sure that you give the most basic of help that you are advertising.
Get Tally from App Store
What is your opinion about Tally
Bitcoin
Ethereum
MetaMask (ETH)
Xrp
Polkadot
Binance coin
Stellar
Dogecoin
Tron
Elrond
Donate Bitcoin to this address
Scan the QR code or copy the address below into your wallet to send some Bitcoin
Donate Ethereum to this address
Scan the QR code or copy the address below into your wallet to send some Ethereum
Donate Xrp to this address
Scan the QR code or copy the address below into your wallet to send some Xrp
Donate Polkadot to this address
Scan the QR code or copy the address below into your wallet to send some Polkadot
Donate Binance coin to this address
Scan the QR code or copy the address below into your wallet to send some Binance coin
Donate Stellar to this address
Scan the QR code or copy the address below into your wallet to send some Stellar
Donate Dogecoin to this address
Scan the QR code or copy the address below into your wallet to send some Dogecoin
Donate Tron to this address
Scan the QR code or copy the address below into your wallet to send some Tron
Donate Elrond to this address
Scan the QR code or copy the address below into your wallet to send some Elrond