(Game) Ninja Chowdown
 free games for iphone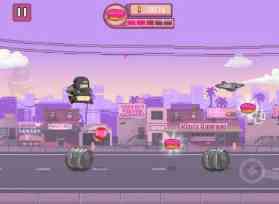 Game Description :
Meet Donatsu, the chubby and agile ninja from the Dough-jo: a donut shop by day and a ninja dojo by night.
Destructoid – Ninja Chowdown proves running doesn't always lead to weight loss.
GamesXtreme – You can't go wrong with an arcade running game…especially if we're talking about a game where you're a fat ninja who is chasing donuts. Creativity at its best.
Join Donatsu's thrilling adventures in this witty, action-packed, colorful runner in a world ruled by food clans and love for humour and puns. But be warned, this is not your average runner. Let yourself be surprised!
Beware of Pizza Pierates, the Traveling Rollnins, the Barbacarians and other food bosses – as delicious as they sound, dangerous they are!
Designed specifically for mobile devices, Ninja Chowdown can be picked up instantly – but won't be easy to master.
Will you be able to fight your way to the top of the food chain?
Game Features :
Chubby 2D pixel art aesthetic
35 levels, thrilling and humorous (30 seconds – 3 minutes)
Pets, clothes and weapons to customize your adventure
Haptic vibration
Game Center achievements and leaderboards
Additional Information :
Size 104.9 MB
Requires iOS 12.4 or later.
User Reviews :
Cute art, funny storyline & challenging gameplay
If you enjoy a challenge, I recommend this game! Great gameplay; the storyline is funny & the art is SUPER well done. However, the controls to drag & toss an object sometimes gets read as a jump when I drag too close to the left side of the screen. It feels a little awkward, but I just need to get used to the controls lol! Transitions are beautiful. The ads aren't those annoying ones that come up after every level, so props for not overloading on ads!
I love this game
The graphics are amazing and honestly this game is funny all the characters are really done and even though it's hard it's a game that's designed to be that way so I will forget it even though I gave it five stars there's this one girl that's why I tap on the screen and it doesn't help even though I press where the jump button and I don't jump it's really annoying can you please remove that glitch
This is an incredible game on mobile
I love this game. The characters have so much personality making the whole g as me feel alive. The gameplay is simple yet addictive and the fun little story brings me a smile. I recommend buying this is extremely high quality for a free mobile game. My only complaint is that there is no infinite runner but that is just a hope for the future. If you want some quick addictive unique fun you should buy this game.
Impressive and Hilarious Visuals and Gameplay
Honestly a great game overall. Fun to play though controls do need some getting used to. Love the retro art style and interesting character bosses. You can see the love and time that went into this game through the little details. It might not be for everyone but everyone needs to try at least once and give it a chance!
Good game
Game is solid. Super fun. Art is amazing

It is a lot harder than I thought it would be, but I like that about it.

My only critiques:

1. Individual Levels are kind of short

2. When you die, an option to watch an ad for another life or exit pops up. Sometimes, when clicking exit, it will make me watch an ad anyway that is the same length as if I had just did the extra life option. To me, this kind of defeats the purpose of putting the option in there. Other games with this implementation usually make one ad shorter than the other or skip-able.

These are just my minor though. Ads aren't intrusive or anything.
Great game but a few flaws
I had fun with this game but I find that this could be perfected (and to add more replay value) to have an endless mode, yes I'm aware of the AYCB mode. The game left on a cliffhanger with so many questions unanswered what's in the knownut? Did grey just die after eating the knownut? Great game I NEED a sequel
Great App, but Not for Me
This is a great app, but not quite my style of playing. The circle swipe for shooting is slightly uncomfortable for me to use, but maybe that's just something I haven't gotten used to yet. I know others are out there who will enjoy the game, so if you download it, I wish you the best.
This is the best runner twode game
This game is totally worth time!

I love how the corrector is a ninja and the Gomes's is pixleded,but it still has a great story!i LOVE that you give us a choice for adds,instead of just forcing us to watch the add each time we die! and I think you should make a sequel!
Wow
This is a surprisingly good game it is fun and everything oh just one thing when you update it why don't you add a backstory and he is a loser because he is fat but then he starts running and saves the day this is a really good game not bad north bad at all
Get Ninja Chowdown from App Store
What is your opinion about Ninja Chowdown
Bitcoin
Ethereum
MetaMask (ETH)
Xrp
Polkadot
Binance coin
Stellar
Dogecoin
Tron
Elrond
Donate Bitcoin to this address
Scan the QR code or copy the address below into your wallet to send some Bitcoin
Donate Ethereum to this address
Scan the QR code or copy the address below into your wallet to send some Ethereum
Donate Xrp to this address
Scan the QR code or copy the address below into your wallet to send some Xrp
Donate Polkadot to this address
Scan the QR code or copy the address below into your wallet to send some Polkadot
Donate Binance coin to this address
Scan the QR code or copy the address below into your wallet to send some Binance coin
Donate Stellar to this address
Scan the QR code or copy the address below into your wallet to send some Stellar
Donate Dogecoin to this address
Scan the QR code or copy the address below into your wallet to send some Dogecoin
Donate Tron to this address
Scan the QR code or copy the address below into your wallet to send some Tron
Donate Elrond to this address
Scan the QR code or copy the address below into your wallet to send some Elrond