(App) Widgy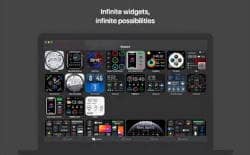 App Description :
Home screens can be pretty bland and useless. If we did anything to theme them, it's mostly straight out of a template. That's not Widgy.
With Widgy, your home screen becomes YOUR home screen. You can make any kind of widget imaginable that perfectly matches the rest of your aesthetics. All the information you need can be easily surfaced through a widget that you designed. You don't have to clutter your screen with the information you don't want, it's just what you want, how you want it.
App Features :
It's simple to make a widget
You don't need to be a professional designer, you just need to know what you want. Once you figure that out, it's a matter of letting your creativity flow. Just add an element, pick a data source, throw on some effects, and put it where you want. Then repeat to add another element. After a while, you'll have a perfect widget, and all you need to do is to assign it to a widget slot and drop it on your home screen. There it is, marvelous!
The Widgy editor only has two parts. The preview and the layer list. When editing a layer, you get a couple of different sections that let you tweak the appearance and data of that layer. Each section has several special things you can do to the layer. The Preview will always show you a live display of exactly how the widget will look on your home screen, so you don't have to constantly go back and forth between the editor and home screen.
Everything you need
Widgy provides all the different elements that you would ever need to make your widget perfect. Along with that, there are all the data sources you could ever need, everything from system info to weather. And with all these data sources, there are several ways to display the data, whether it's a text, a nice chart, or something else.
There's no limits
This isn't an app full of templates, everything is 100% customizable and interchangeable. It's your widget, and you choose how to make it. The only limit is your imagination.
Sharing and discovering is easy
You can privately share widgets with your friends or publicly with all Widgy users, all with a couple of taps. You can share your widget as a URL, QR Code, JSON data, a file, or you can publish it to be shown in the Explore section for all the Widgy users to see.
Other than the Explore section, Reddit (r/Widgy) and Discord communities have produced thousands of Widgy widgets so far. So if you just want to browse widgets or if you need some inspiration you can get that too!
NOTE: Widgy optionally integrates with Apple Health. This integration is used to display your data if you select one of those widget types. Permission for Widgy to access this data is controlled through the Apple Health app.
As with Health, all other permissions for Widgy are optional and are there just to show you the data you want to be displayed.
Additional Information :
Size 35.7 MB
Requires iOS 15.0 or later.
User Reviews :
Simply incredible
This app is as said, simply incredible. I never leave reviews for apps but for this I felt necessary. The ui and tools provided are extremely intuitive to use, it truly is like photoshop for widgets. If you don't want to make your own widgets, there is a very well developed community in the explore tab on the app as well as on the Reddit page where thousands of talented designers can submit their designs for you to use in your set up. Not to mention that the developer is extremely accessible with in the Reddit page, and he truly listens to his community and implements features that the community wants. After messing around with the free version when I first got Widgy, I decided it was fully worth the money to buy the full version just to support the developer alone. This app is incredible and if you are debating honestly just do it. The amount of joy I've gotten out of just a widget app alone, creating and submitting my widgets to the community is outstanding, easily one of my favorite apps I've ever gotten.
I found a bug.
Hello developers of Widgy! I just want to let you know that I found a bug with displaying widgets on my Home Screen recently. I'm using an iPhone 7+, and when I put it into standby mode and then unlock it again, the widgets disappear. By disappear, I mean that the widgets act as if the slots they are set to have no widgets in them, despite the fact that there are widgets in those slots. Why this happens, I'm not sure, as Widgy works just fine on all my other devices (including my iPad), but not on the 7+. This app is still awesome, though—don't get me wrong—which is why I'm only removing one star here. But devs, if you could please fix this small issue, that would be amazing; thank you!

UPDATE: Wow, that was really fast, guys! The devs just pushed out an update that has fixed the bug for me! So Widgy, I'm giving you back your fifth star. You're welcome!
Support an Awesome App and Dev and Just Buy the IAP Options
It's rare to see an app come along that perfectly fills the void no one else has bothered with. Imagine amazing looking widgets that do all sorts of things you never thought possible, and even provide access to loads of already created widgets you can use as-is, or edit and customize. It's a beautiful thing.

It's obvious that this developer actually uses widgets, noticed the shortcomings, and did something about it. You can get a lot of joy from this app for absolutely zero cost, but even the pricing model makes buying the IAP a no-brainer. The cost is minimal, only a one-time charge (no ongoing subscription), and it helps support someone who really deserves it. This app had to take tons of time to envision and create, so the few bucks is worth it. I'd give it 10 stars if I could. Very well done!
Get Widgy from App Store
What is your opinion about Widgy
Bitcoin
Ethereum
MetaMask (ETH)
Xrp
Polkadot
Binance coin
Stellar
Dogecoin
Tron
Elrond
Donate Bitcoin to this address
Scan the QR code or copy the address below into your wallet to send some Bitcoin
Donate Ethereum to this address
Scan the QR code or copy the address below into your wallet to send some Ethereum
Donate Xrp to this address
Scan the QR code or copy the address below into your wallet to send some Xrp
Donate Polkadot to this address
Scan the QR code or copy the address below into your wallet to send some Polkadot
Donate Binance coin to this address
Scan the QR code or copy the address below into your wallet to send some Binance coin
Donate Stellar to this address
Scan the QR code or copy the address below into your wallet to send some Stellar
Donate Dogecoin to this address
Scan the QR code or copy the address below into your wallet to send some Dogecoin
Donate Tron to this address
Scan the QR code or copy the address below into your wallet to send some Tron
Donate Elrond to this address
Scan the QR code or copy the address below into your wallet to send some Elrond