(Game) Solitaire Cube – Win Real Cash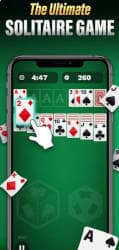 Game Description :
A modern version of the classic: Klondike Solitaire.
Includes large tournaments and head-to-head competitions with cash prizes (where available).
Game Features :
Klondike Solitaire: Stack cards into piles to sort them by their suit. Sound easy? It is!
It only takes a minute or two to play a round, but it's so fun you'll want to play for hours.
Fast animations and smooth touch controls on all devices.
Play for free as long as you want without any ads.
No longer a solitary experience!
Games can be played Head to Head with other players or in large, multiplayer tournaments.
In head to head games, both players solve the same deck and the player who finishes with the most points win.
• Challenge people around the world with Skillz, a competition platform complete with leaderboards, trophies, physical or virtual prizes, and an amazing loyalty program that rewards you for playing!
Prize tournaments are not enabled in the following states: AZ, AR, CT, DE, IN, LA, ME, MT, SC, SD, and TN. If you don't live in a real prize-enabled region, you can still play for fun with our virtual currency.
If you have any questions feel free to reach us at info[at]tetherstudios.com
If you have any questions about the Skillz system or cash tournaments please contact: support[at]skillz.com
Additional Information :
Size 332.8 MB
Requires iOS 12.0 or later.
User Reviews :
Awesome Gameplay as well as Skillz Support Crew
 Absolutely Fun !!! Players have the opportunity to play with other competitors in several different Buy in games with the opportunity to win good money if you have the Skillz. In addition to winning money you also build tickets that also allow players to purchase all kinds of prizes such as Money to go towards $$ play games and then souvenirs to large amounts of giftcards, bose and high dollar items to even Sport cars!!! Yep Sport cars!!! I have to give the Skillz administrators props because they are not the typical ones who you contact and never hear back from . I actually have never had to wait longer than 20 mins for a reply back and they are unbelievably FAIR!!! If you have a some sort of issues where say a game may have been aborted or lagging which was not caused by the players they are fair and you have to play to just find out exactly what i mean…. If you have fun playing Solitaire this particular game literally just got on your toes exciting .. Its free to join so come on and lets get some more faces on the board and have some fun!!! Trust me it does get addicting. hahaha
Great game, but a few suggestions!
Starting off I thought this game was a scam, losing more than I won, and a lot. Lost a lot of money, but then I realized I needed to actually learn the skill of the game and work the strategy because believe it or not, there are people who've mastered this and it's called a Pro League for a reason! I knew from beginning g that staff as well played the game, but you are indeed refunded if you lose against one. I know this because it's happened when I was a beginner. Now that I've gotten much better with the game I'm up in the pro leaderboards, but you are going to want to play at higher hits to move on the board and always play smart, don't rush to the point where you are forgetting key steps/moves to completing the game.

Overall it's a great game, not a scam, you just need to practice the skill to be able to go up against some really good players. One thing I recommend are yes, maybe some new deck set ups, without replacing old ones. Also the matching has been my biggest issue. After this last pro league, the system isn't matching me with anyone, in any of the selected cash options which is frustrating because I want live results and I don't want to have to wait days for it to just be refunded. That's needs to be fixed, please!
Enjoyable Frustration
I love playing Solitaire on this site and the potential of winning real cash. I hate the frequency of crashes I experience and even though refunds are swift, many times I get condescending advice on repair and prevention even when the steps are taken in advance to prevent them. There seems to be no responsibility for it being a flaw in their system. There could definitely be some customer service retracing.

The other day during a Bonus Cash promo, I didn't receive mine and contacted them about it. I was taken through all sorts on totally unnecessary loops to prove I wasn't lying, when they had every piece of evidence in their own system to readily verify the error much better than I ever could have. The promo was on their Skillz News, I was asked for pictures; my deposit and balance is readily available on the site to verify I hadn't received it. The time of my deposit was documented to verify it being within the promo time frame. Totally unnecessary hassle that was totally avoidable and verifiable by their own system. Doesn't promote a sense of trust or honesty and should have been comped for the hassle.

If their was some customer service retraining, this would easily be my favorite gaming web site!
Get Solitaire Cube from App Store
What is your opinion about Solitaire Cube
Bitcoin
Ethereum
MetaMask (ETH)
Xrp
Polkadot
Binance coin
Stellar
Dogecoin
Tron
Elrond
Donate Bitcoin to this address
Scan the QR code or copy the address below into your wallet to send some Bitcoin
Donate Ethereum to this address
Scan the QR code or copy the address below into your wallet to send some Ethereum
Donate Xrp to this address
Scan the QR code or copy the address below into your wallet to send some Xrp
Donate Polkadot to this address
Scan the QR code or copy the address below into your wallet to send some Polkadot
Donate Binance coin to this address
Scan the QR code or copy the address below into your wallet to send some Binance coin
Donate Stellar to this address
Scan the QR code or copy the address below into your wallet to send some Stellar
Donate Dogecoin to this address
Scan the QR code or copy the address below into your wallet to send some Dogecoin
Donate Tron to this address
Scan the QR code or copy the address below into your wallet to send some Tron
Donate Elrond to this address
Scan the QR code or copy the address below into your wallet to send some Elrond