OpenSea – NFT marketplace app by Ozone Networks, Inc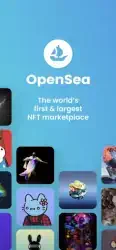 App Description :
OpenSea's mobile app is the easiest way to keep track of your NFT collection and discover new assets from the world's first and largest digital marketplace for crypto collectibles and non-fungible tokens (NFTs).
App Features :
CONNECT TO YOUR PROFILE: View items you've previously collected by associating your profile with the app.
DISCOVER NEW WORK: Discover new NFT releases from a variety of digital artists and creators, from established artists to indie creators building momentum towards their first sale.
SAVE YOUR FAVORITES: Find something interesting? Favoriting an asset will save it to a tab of your profile page along with other favorited items
SEARCH AND FILTER NFTS: Search and filter by category, name, collection, creator and other properties to find exactly what you're looking for.
VIEW COLLECTION AND ITEM STATS: View the latest market activity around a collection or item to stay up-to-date on projects building traction and demand.
Other features include:
A rankings page to track collections ranked by 24-hour, 7-day or all-time volume, along with other sorts
Links to blog posts on OpenSea developments and the NFT ecosystem
Resources for getting started with our platform
Links to exclusive releases
Stay tuned – we'll be periodically releasing new features to make this experience more useful.
For feedback and assistance, you can reach us at support.opensea.io. You can also find us on Twitter @OpenSea.
Additional Information :
Size 16 MB
Requires iOS 14.0 or later.
User Reviews :
Amazing Platform- Needs a few things
The two main issues with the mobile app are 1. The bid prices are not accurate. One NFT can say it has a bid of $150 when the desktop and actually accurate version is over $1,500 bid. The prices are not accurate on mobile version. Point 2, they have not added where you can purchase or bid or even sell an NFT on the mobile version. Their have been times where I was away from my MacBook and wanted to bid on one and missed out as a result. MetaMask allows you to bid using their built in browser, but not everyone uses MetaMask. Just a convenience issue. Other than that, app is wonderful, no other complaints.
So far, so good!
This app has a very nice setup for viewing collections, what you have collected, favorited, etc. The app is not laggy at all and decently built. I like that you can connect your wallet and view everything in your account/wallet.

However, two things that are a must have that don't appear to be features yet: the ability to filter collections in your wallet and the ability to view your activity. Since these two features have not been added yet, I still have to go to the website if I am on my phone and not near my laptop or desktop. These would be my only reasons for giving this app 4 stars. I do appreciate that I am able to filter collections outside of my wallet. I just hope these features will be added in future app updates for your own wallet view.
Sweet app, couple recommendations
Love it so far, would definitely like to see more stats when you click on "volume traded" while looking at a collection though. I still go back and forth between the mobile site and the app because there isn't as much detailed information. Otherwise, the other new features like "recent rockets" is a cool way of seeing price change similar to a top losers or top gainers board
There's no way to unhide NFTs on iOS
For some odd reason there isn't an option to unhide your NFT on your profile like there is on desktop. Also, clicking on an OpenSea link from social media (e.g. Twitter, Instagram,) and trying to favorite an NFT is a hassle, as you'll click "sign" (if your not logged in, which is usually the case) and will take to your MetaMask to sign etc etc, but when you go back to the original page where your trying to favorite the NFT, it'll bring you through the whole entire process again. (Which is usually 2-3 times for me) but overall it's a seamless and enjoyable experience.
Good start, needs work
This is a decent first native app for OpenSea. However, there is a lot of room for improvement. You cannot list things to sell nor make purchases. You cannot edit your profile. The UI is a little clunky and unpolished at times. There are no settings to adjust (ex. enabling dark mode whenever you want.) There doesn't appear to be any notification system.

In short, the app is decent, but it needs work. This is in no way a replacement or even a serious alternative to the website. I suspect it'll improve greatly over the coming months.
Get OpenSea from App Store
What is your opinion about OpenSea
Bitcoin
Ethereum
MetaMask (ETH)
Xrp
Polkadot
Binance coin
Stellar
Dogecoin
Tron
Elrond
Donate Bitcoin to this address
Scan the QR code or copy the address below into your wallet to send some Bitcoin
Donate Ethereum to this address
Scan the QR code or copy the address below into your wallet to send some Ethereum
Donate Xrp to this address
Scan the QR code or copy the address below into your wallet to send some Xrp
Donate Polkadot to this address
Scan the QR code or copy the address below into your wallet to send some Polkadot
Donate Binance coin to this address
Scan the QR code or copy the address below into your wallet to send some Binance coin
Donate Stellar to this address
Scan the QR code or copy the address below into your wallet to send some Stellar
Donate Dogecoin to this address
Scan the QR code or copy the address below into your wallet to send some Dogecoin
Donate Tron to this address
Scan the QR code or copy the address below into your wallet to send some Tron
Donate Elrond to this address
Scan the QR code or copy the address below into your wallet to send some Elrond