(Game) Truth or Dare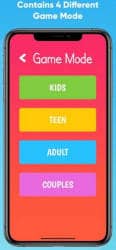 Game Description :
Play the ultimate Truth or Dare game with clean and dirty dares for teens and adults!
Get to know your friends for real by playing a classic game of Truth Or Dare! This is the ideal Truth or Dare app for parties, dates, sleepovers and breaking the ice.
Contains hundreds of fun and challenging Truth and Dares ranging from clean to dirty.
Game Features :
Hundreds of Truth and Dares questions
Add your own clean or dirty dares and truths into the app!
Set player names – perfect for large groups and parties!
Frequently updated with more content
Play with up to 16 players
Keep track of who is winning with a scoreboard displayed after each round
4 different game modes including Kids, Teens, Adult (18+) and Couples
This is the perfect Truth or Dare app for teenagers or adults.
What are you waiting for? Grab your friends and have a game of Truth or Dare.
Feedback is always appreciated.
Additional Information :
Size 95.7 MB
Requires iOS 10.0 or later.
User Reviews :
Good game only a couple issues
Well I love this game I like how it is for kids, Teens,Adults, and Couples but some of these questions are impossible or inappropriate for example one time it said that you had to do a headstand and drink water at the same time. So that could have caused a injury if you tried, it and it's impossible unless you are extremely talented. But most questions are good the truths have nothing wrong with them and I enjoy the way that the graphics are.

If I could I would rate it 4 and a half but it will not let me. Ok that's it thanks for reading this whole thing! Bye!
really good but the adds
This game is good because you get to pick what mode you want to play on I also like it because you get to right down the people name who you are playing this game with but the only problem I have with it is the adds like every time I go to to the next person to do the truth or dare it's always the same add that has to pop up and it annoys me
I love truth or dare
This app has been so fun lately that I have been bored I just play with my friend Sammy and we love truth or dare so I really want to find a app and I found Truth Or Dare so I need this a five star review why it's because it's really fun it's not educational but it's still fun it tells you ran dares and random truth so and you even get points so that's the funniest thing thank you truth or dare I love it
Nice app
This game is amazing it has the best truth or dare question is in the nothing any truth or dare questions or any other Truth Or Dare games have this so you should play this game if you don't it's your opinion but I think you should because it is so so so so cool and let you cut it lets you even make your own truth or dare's alleged you put your names down if it's too long and stuff like that
This GAME IS THE BEST GAME EVER FOR FRIENDS
Just a day I wanted a party game for my friends so I have a plan I said I will play truth or dare with my friend they are four then I typed actually truth or dare then I see this epic app then I installed it then we played it all day then I called all of my friends to play this epic game and special thx to the developers of this game and thx u so much for this epic game
Thank you
This app is the reason my crush and I are kinda 'dating'. I love this app. And I love that you can add your own truths and dares. This app made my crush and I confess we like each other. Tysm to whoever made this app. It is my fav.

Also, please add more truths and dares. I have gone through all of them. That's my one request. Again, tysm
It is alright
I really like this game but all the kissing is weird.i think there should should be more eating weird food dares and on truth like is it true u like someone There are a lot of adds I would change that because it makes me were I don't want to play anymore I really like the dares to message things on that phone that is my favorite part about it well I hope y'all agree with me
Get Truth or Dare from App Store
What is your opinion about Truth or Dare
Bitcoin
Ethereum
MetaMask (ETH)
Xrp
Polkadot
Binance coin
Stellar
Dogecoin
Tron
Elrond
Donate Bitcoin to this address
Scan the QR code or copy the address below into your wallet to send some Bitcoin
Donate Ethereum to this address
Scan the QR code or copy the address below into your wallet to send some Ethereum
Donate Xrp to this address
Scan the QR code or copy the address below into your wallet to send some Xrp
Donate Polkadot to this address
Scan the QR code or copy the address below into your wallet to send some Polkadot
Donate Binance coin to this address
Scan the QR code or copy the address below into your wallet to send some Binance coin
Donate Stellar to this address
Scan the QR code or copy the address below into your wallet to send some Stellar
Donate Dogecoin to this address
Scan the QR code or copy the address below into your wallet to send some Dogecoin
Donate Tron to this address
Scan the QR code or copy the address below into your wallet to send some Tron
Donate Elrond to this address
Scan the QR code or copy the address below into your wallet to send some Elrond