(Game) Whale Trail Junior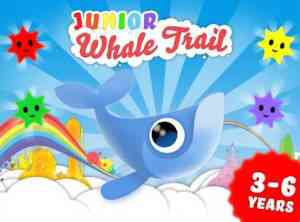 Game Description :
Did you know that whales can fly? Join Willow the Whale and his friends on an amazing adventure through the rainbow kingdoms of the sky.
Game Features :
Whale Trail Junior is for 3-6 year olds and anyone looking for an easy ride. Avoid mischievous clouds, grab colourful Blubbles and collect Stars as you play this simple, fun and engaging game. Escape from the evil Baron Von Barry and unlock all 9 zones and 12 characters and costumes, including Wagner, Wendy and Emmy.
Absolutely krilliant!
Additional Information :
Size 55.2 MB
Requires iOS 6.0 or later.
User Reviews :
SO CUTE
So I played this since I was like 3 and now I'm in 4th grade and still love it. It brings back so many memories and the song, me and my whole family still remember and love it! Keep up the cute games, guys! YOU NEED TO BUY THIS GAME PEOPLE.
Design problem
The game is ok. It is a little hard to control the whale. There is no difficulty change among the levels. The worst thing is there is no exit button during the game. You have to finish each level to get out. Even you finish all the levels you still couldn't get back to the first page. You stuck at the screen where all the levels showed. This is ridiculous.
This game is way too easy it just makes it like you can get it done with in five minutes I don't like it I like the older kids version better or the adult version and when you bump into the clouds you don't die what where you thinking
A little easy
This is a fun game and I know its for little kids but its way too easy
Kinda pointless
Just let your kid play regular whale trail. This provides no challenge at all and barely has an objective.
My Daughter Willow Gets Her Own Version!!
My daughter is two now, and she lived watching me play the rainbow pop adventure that is Whale Trail! It is fun that the whale shares my daughter's name. This version is great for kids because it keeps the game going if you let go, and there are small increments to accomplish. Not to mention all the characters that are easily obtained with each easy level.
Great

This game is super fun!! My five year old loves it!! The original whale trail was sort of hard for her, but this is perfect because you cannot die. Many different cute characters and maps. Everything is so fun and rainbow-y!
Best App Ever Made!
Since I am just so insanely obsessed with the original WT, it was only natural to download it for my 3-year old niece. Now, she can't put my phone down! Guess its time for a new iPhone haha! Thank you sooo much ustwo!!!!! We love youuuu!!!!!
Great fun
I loved Whale Trail original and the jr version delivers the same fun wih I could access more levels and maybe a menu and maybe some easy achievements for the kids XD.
I like it
I like it but it crashes when I try to play it
Needs work
Can't even open it to play without it crashing. Although if this issue was resolved I'm sure it'd be a great game for the kids
Great, when it works
Kids love it, but restarting 10 times to get it to play is a bit much to ask. Nice that it's free, at least.
This game is a lot of fun I love it play it every day and I like the whale he is cute and I will have to idmitte that it kind of hard and the. People who made this game u guys did good
PERFECT!
This perfect for children! My baby brother and little sister absolutely love it! So do I, lol!
Great
I got this game because im really bad at the regular version. Its great and fun! I've had no crashes at all!
All hail the whale trail
Hey,I'm just ere to tell you I love this game beyond everything I thought I loved my wife but no I love whale trail junior and I divorced her to spend time with my real wife, whale trail junior
Fun game for all
Whether you're 3 or 30, this is a fun game. It's great for kids or people that aren't good at games because you can't die. I tried.
Awesome
Even though I'm 9 this game rocks and every time u get frenzy u get a new whale
Get Whale Trail Junior from App Store
What is your opinion about Whale Trail Junior
Bitcoin
Ethereum
MetaMask (ETH)
Xrp
Polkadot
Binance coin
Stellar
Dogecoin
Tron
Elrond
Donate Bitcoin to this address
Scan the QR code or copy the address below into your wallet to send some Bitcoin
Donate Ethereum to this address
Scan the QR code or copy the address below into your wallet to send some Ethereum
Donate Xrp to this address
Scan the QR code or copy the address below into your wallet to send some Xrp
Donate Polkadot to this address
Scan the QR code or copy the address below into your wallet to send some Polkadot
Donate Binance coin to this address
Scan the QR code or copy the address below into your wallet to send some Binance coin
Donate Stellar to this address
Scan the QR code or copy the address below into your wallet to send some Stellar
Donate Dogecoin to this address
Scan the QR code or copy the address below into your wallet to send some Dogecoin
Donate Tron to this address
Scan the QR code or copy the address below into your wallet to send some Tron
Donate Elrond to this address
Scan the QR code or copy the address below into your wallet to send some Elrond