(App) EasyDrawing-AR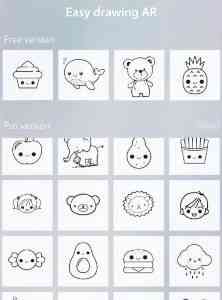 App Description :
EasyDrawing-AR is perfect for beginners learning to draw and sketch!
This is a sketch tool to make drawing easier.
App Features :
Select the cute character stencil picture
Position the phone above your paper
Adjust the image (alpha, size, rotation)
select from your pictures to draw, position the phone above your paper, and drawing from a photo becomes easy
Sketching pictures of anything
Add any image into the app to draw
outline drawing app with tools for sketching
Drawing becomes so easy
Drawing has never been easier!
Get started with EasyDrawing AR now!
Additional Information :
Requires iOS 11.0 or later.
Size 335.6 MB
User Reviews :
It's fine I guess…
I think that it's sorta good because I drew a cute whale :3 but it looks ugly in a way- because it's hard to trace while holding your phone so can u fix it so it's easier to use?

If y do I will give it 5 stars

So please read this review!
It's not the best but not the worst
It's a really cute game to do on pieces of paper but I don't think I can color those lines perfectly they are cute designs I will say though the thing is with this game you really can't win if you don't want to pay money for it the designs never change I think you should expand on more people that are more free people that don't want to spend their money on your game if you disagree with me I accept if you don't like that I'm saying this and I understand but you have to think about people that don't wanna spend is there money on your game thank you. Also to the people that are complaining about this app you're supposed to put this on paper thank you it's my complaints aren'tReasonable I understand if you're reading this then thank you.
Its sooo bad!
Pls do not get it. I was just trying to draw and I kept shaking. It's so hard to hold my electronic and draw at the same time. And if u want the pro version you'll have to pay. Which isn't so bad. I love the cute pictures but some people can't afford to get pro version, and there's only four pictures you have for the free version. I really wish there was more.
Not good at all!
I saw the reviews & downloaded this app just to see. 1. It was simply drawings, like from 1st grade.

2. It would've been hard to trace from the app.

3. It kept going all white & kicking me out of the app!

4. It was just all together disappointing & I don't recommend
There isn't much stuff for free
If you are looking for an app that gives you many free drawings, don't use this one. There about six free drawings, and I don't really like them. If you don't believe me look at the picture. Don't recommend this
Not so good
This app is so hard to work with and you have to buy all of the drawings only four of them our free and it's hard to hold the phone and draw at the same time if I could give this zero stars I would
PLEASE READ!!!!
Ok, what I type here is the truth.

1. You only get 4 drawings unless you make purchases.

2. It's very hard to hold ur phone and draw at the same time

3. They don't tell you how much you have to pay to get more drawings

4. I expected cute things like the pictures but It's probably a lot of money, considering number 3.

Please please please don't download unless you want to waste time and money!

Just go download Ibispaint! It's so much easier and everything is free!
Hate it
So bad like I see the things and it looks good but inside AH so bad it's so bad and I hate it so bad and I don't even have a email this app is not for kids NO kids I want to draw but this bad app won't let me I got a new app it's very good not like this bad dumb one
This isn't really good at all.
So when I saw all the reviews, I had some bad thoughts about this app since there is no good reviews. I downloaded it anyway just to test it out, when it came to the welcome page, they spelled welcome wrong. That's easy to spell. But then, I decided to skip the login part and just go do the thing, I chose the bear one for (just the normal ones not the pro) and I tested it out. I held my device and it kept zooming in and out, and the picture outline looked messy and terrible. I didn't think much of it, but when I took a picture it exited me out of the game. The picture didn't come in my photos, so I tried again. When I pressed the come up with a already took picture it also exited me out of the game. I don't know if it was because I didn't log in tho. But if it would still do that, I would be annoyed. This app is really bad and it needs more time on it. Please fix it. I'm very annoyed.
Get EasyDrawing-AR from App Store
What is your opinion about EasyDrawing-AR
Bitcoin
Ethereum
MetaMask (ETH)
Xrp
Polkadot
Binance coin
Stellar
Dogecoin
Tron
Elrond
Donate Bitcoin to this address
Scan the QR code or copy the address below into your wallet to send some Bitcoin
Donate Ethereum to this address
Scan the QR code or copy the address below into your wallet to send some Ethereum
Donate Xrp to this address
Scan the QR code or copy the address below into your wallet to send some Xrp
Donate Polkadot to this address
Scan the QR code or copy the address below into your wallet to send some Polkadot
Donate Binance coin to this address
Scan the QR code or copy the address below into your wallet to send some Binance coin
Donate Stellar to this address
Scan the QR code or copy the address below into your wallet to send some Stellar
Donate Dogecoin to this address
Scan the QR code or copy the address below into your wallet to send some Dogecoin
Donate Tron to this address
Scan the QR code or copy the address below into your wallet to send some Tron
Donate Elrond to this address
Scan the QR code or copy the address below into your wallet to send some Elrond