(App) Western Union – Money Transfer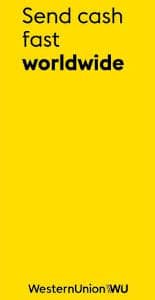 App Description :
Download the Western Union® (WU) money transfer app and quickly start sending cash worldwide, 24/7!
Transfer money internationally to friends and family in 200+ countries and territories completely digitally – or send cash globally to an agent location for pickup.
App Features :
USE THE TRUSTED MONEY SENDING APP :
Send money globally from the US quickly, 24/7
Track your money transfers or pickup, instantly
Repeat transfers to family & friends using quick resend
View live exchange rates for US & global currencies
Make international bill payments & manage accounts
Find thousands of US agent locations for cash pickup
Access the app with secure touch ID login
Receive discounts through My WU Rewards
SENDING YOUR MONEY IS QUICK AND EASY
Download the app and create an account to quickly get your transfer started. Send money with a few taps and pay for it instantly with your debit or credit card – or start a money transfer and complete the payment in cash at a nearby agent location. Your family and friends can receive the funds through wire transfer directly to their bank account or mobile wallet – or pick up the cash at a convenient location near them in their own currency. Western Union has more than 500,000 locations in over 200 countries and territories.
TRUSTED INTERNATIONAL MONEY TRANSFERS
It's easy to send money abroad with the WU app. Track all of your own money transfers immediately after hitting "Send".
Send money to over 500,000 agent locations for pickup:
AFRICA: Including Ghana, Ethiopia, and Kenya
ASIA: Including China, India, and the Philippines
EUROPE: Including France and the UK
NORTH AMERICA: Including Mexico, Latin America, and the Caribbean
SOUTH AMERICA: Including Brazil and Colombia
AUSTRALIA
Money transfer to mobile wallets is available for some international locations. Western Union also offers money transfers and cash pickup for overseas US military bases.
SEND MONEY WITHIN THE US
You can send funds domestically with the WU app as well. Send money to family and friends through wire transfer to a bank account or mobile wallet, set up cash pickup at a US agent location, or transfer money into a correctional facility account (for a county, state, or federal prison inmate).
MAKING THE MOST OF YOUR WESTERN UNION APP
In addition to tracking details of money transfers you've sent and making payments, use your WU app to look up US agent locations. You can visit any of the 42,000 US locations to complete more Western Union transactions, including:
Paying cash to complete a transfer you started on the WU app
Sending money orders
Reloading prepaid phone minutes (up to $15 USD, for select mobile operators in Colombia, El Salvador, Ghana, Guatemala, Haiti, Honduras, Jamaica, Mexico, Nicaragua, Nigeria, and the Philippines)
Picking up cash as a receiver
FEES AND IMPORTANT DISCLOSURES
Western Union makes money from both transfer fees and currency exchange. When choosing a money transmitter, carefully compare the transfer fees and exchange rates. Fees, foreign exchange rates and taxes may vary by brand, channel, and location based on a number of factors. Fees and rates subject to change without notice.
Please use care when providing commissary or bank account information. Funds will be paid into the account corresponding to the account number you provide.
When using a credit card to send money through WU, an issuer cash advance fee and associated interest charges may apply. Use a debit card to avoid these fees and charges.
Services may be provided by Western Union Financial Services, Inc. NMLS# 906983 and/or Western Union International Services, LLC NMLS# 906985. See terms and conditions for details.
Additional Information :
Size86.3 MB
Requires iOS 11.0 or later.
User Reviews :
Loving this app in these times.
I like the app I don't care too much for the service.

I find it funny that you can send someone money three times in one month but it does not factor in the dollar amounts.

For example:

if I want to send someone $5000 today tomorrow and the next day that is considered three times so the person has gotten $15,000 from me.

that's a lot of money for some people now if I send somebody a dollar today and a dollar the next day and a dollar the next day that's only $3 dollars.

it limits you by how many times you send a month but not by dollar amount. that is the dumbest thing I've ever heard. The reason why I say this is the dumbest thing? they say it is to stop money laundering money"!

laundering should be by dollar amounts not by how many times you have sent. Clearly a dollar today a dollar tomorrow and a dollar the next day is not even laundering that is by far, so far from ever hurting an economy.

Even $100 today $100 tomorrow and 100 and the next day that is not laundering. If anything that is trifling if someone made that low of money dealing and wanted to launder $300 and its not even worth their while.

But whatever. Who am I?

So I say all of that to say,…. during these time of covid and world issues people need help. So I send what I can when I can and on the fourth time, my friend in Another country was turned away. You can one get money three time a month.

Great App though
Developer Response ,
Hello Franklyn, your feedback is greatly appreciated and will be considered to improve our services. Thank you for sharing your experience.
Get Western Union from App Store
What is your opinion about Western Union
Bitcoin
Ethereum
MetaMask (ETH)
Xrp
Polkadot
Binance coin
Stellar
Dogecoin
Tron
Elrond
Donate Bitcoin to this address
Scan the QR code or copy the address below into your wallet to send some Bitcoin
Donate Ethereum to this address
Scan the QR code or copy the address below into your wallet to send some Ethereum
Donate Xrp to this address
Scan the QR code or copy the address below into your wallet to send some Xrp
Donate Polkadot to this address
Scan the QR code or copy the address below into your wallet to send some Polkadot
Donate Binance coin to this address
Scan the QR code or copy the address below into your wallet to send some Binance coin
Donate Stellar to this address
Scan the QR code or copy the address below into your wallet to send some Stellar
Donate Dogecoin to this address
Scan the QR code or copy the address below into your wallet to send some Dogecoin
Donate Tron to this address
Scan the QR code or copy the address below into your wallet to send some Tron
Donate Elrond to this address
Scan the QR code or copy the address below into your wallet to send some Elrond