(Game) The Ghost : Survival Horror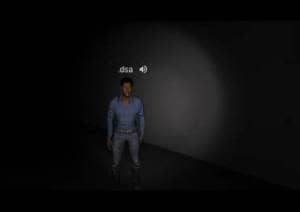 Game Description :
Co-op Survival Horror Game. Play with friends.
You were getting your daily treatment with friends at the New Wishlie Hospital for 2 weeks already, and today was time to get discharged from the hospital. But something happened. You woke up at 2 AM and found out that all the patients were gone, except you and your friends. The place looks much muddier and it's… locked! You read in magazines about the hospital and turns out that it's haunted. Now It seems like the only way to escape is through the garage door. Will you be able to get away by the time the ghost devours your soul?
Game Features :
Play with up to 5 players.
Play as survivor – escape the place.
Play as the ghost – don't let the survivors escape.
Chat, upcoming updates and bug reporting on discord: discord.com/invite/CDeyj4t58H
Additional Information :
Size 389.5 MB
Requires iOS 11.0 or later.
User Reviews :
It's ok i have a few suggestions though!
1. Put a mini map in the corner, like how COD does it cause it makes it easier. Also if we can see our friends/other people on the map that would be cool too.

2. The mic needs to be fixed. By fixed I mean you should be able to turn it on and off not turn it on for a few seconds.

3. More game modes like hide and seek or murder mystery, and if we can add and talk to friends that would be cool too.

4. You should be able to edit your character, like add hats or something that you can put on.

5. It would be nicer to have people who can understand my language or and easier way to search for rooms.

6. It would be nice if we could see better as a ghost or make it to where we can see other ghosts.

Me and my sister love this game it just needs a lot of work and stuff. I still really enjoy it.
Great introduction!
I haven't been able to play a full round yet- guessing because I'm one of few who immediately downloaded the game. So far it gives me dead by daylight vibes- you don't know how long I've been waiting for this game to come out- I wanted to play a mobile horror game with friends because there are very few. I'm very happy this game came out three days earlier than the planned release date! I do want to comment that I hope the lovely developers update this game as much and as often as possible to keep this game going! I can tell by the graphics (which are lovely) that it's going to be more on the 3D side which I love! When I finally get to play a round I'll most likely have more to say! Thank you for creating this game!
Bugs
The game seems like it has potential and all, but there's many issues that needs to be fixed. For example, when I join my friend's lobby and I die by the ghost, I can't do anything afterwards. The ghost jump-scare just stays on my screen constantly doing the jump-scare movements and sounds leaving me with no option but to leave the room and create another one. It's not that big of a deal, but it's incredibly annoying. There's also the fact the game doesn't has any tutorial nor guide, the "Fix car" mode is simply impossible to win, the car parts are either not there or simply too darn difficult to find. There's also the fact, that sometimes the ghost would camp the same area over and over preventing you from going anywhere since every time you go there, it's there and simply becomes predictable.
The Ghost
Horror games do not scare me. There are so many that fit under that umbrella, from Resident Evil to Amnesia, and most hit familiar beats: a few good jump scares, the dread of being pursued, nasty monsters and creepy sound effects. I enjoy all of these experiences, but even when things get intense I'm never really afraid. The Ghost is a game that gets into your head. When you're playing the real world doesn't exist. When you stop, some aspect has seeped into reality. This game has left myself and companions not so much stunned as scrambled, jacked on adrenaline and chatting for hours afterwards about what just happened.
Great potential!
I was super excited for this game as I was looking for a Phasmophobia type of game for mobile. There are definitely a lot of bugs to still work out, such as the walkie talkies not working and difficulties loading the room lobbies.

I would love to see more maps added and people joining. I will definitely revisit this once things are fixed. If you like horror games, or even just want to have a fun time with your friends, give it a try!
Get The Ghost from App Store
What is your opinion about The Ghost
Bitcoin
Ethereum
MetaMask (ETH)
Xrp
Polkadot
Binance coin
Stellar
Dogecoin
Tron
Elrond
Donate Bitcoin to this address
Scan the QR code or copy the address below into your wallet to send some Bitcoin
Donate Ethereum to this address
Scan the QR code or copy the address below into your wallet to send some Ethereum
Donate Xrp to this address
Scan the QR code or copy the address below into your wallet to send some Xrp
Donate Polkadot to this address
Scan the QR code or copy the address below into your wallet to send some Polkadot
Donate Binance coin to this address
Scan the QR code or copy the address below into your wallet to send some Binance coin
Donate Stellar to this address
Scan the QR code or copy the address below into your wallet to send some Stellar
Donate Dogecoin to this address
Scan the QR code or copy the address below into your wallet to send some Dogecoin
Donate Tron to this address
Scan the QR code or copy the address below into your wallet to send some Tron
Donate Elrond to this address
Scan the QR code or copy the address below into your wallet to send some Elrond