(App) VSCO – preppy wallpapers HD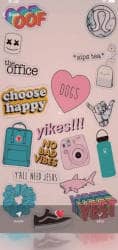 App Description :
Are you looking for Preppy Wallpaper and cute vsco girls wallpapers? Preppy Wallpaper will provide the best for you !
Preppy Wallpaper is a free app with a big selection of Preppy Wallpaper that contains many sections that will meet your interests. Preppy Wallpaper is designed to make your phone appear completely adorable and Preppy. You can use Preppy Wallpaper app wallpapers to give your gadget a cute and Preppy Wallpaper appearance.
Check out this fantastic collection of Cool Preppy wallpapers, with 1000+ Cool background images for your phone .
We've got the finest collection of Preppy wallpapers , and you can use any/all of them however you wish for free!
App Features :
1. Simple and user friendly interface
2. New Design UI
3. FREE Wallpapers
4. Recent, Trending, Popular and Featured Wallpapers
5. Save , Share , and choose your favorite one .
Disclaimer :
All copyright and trademarks from Preppy Wallpapers are owned by their respective owners. The images in this application are collected from around the web and we have no intention of copyright violation as we seek to compile beautiful fan-made Preppy wallpapers arts for you to enjoy. If we are in breach of copyright, please let us know and it will be removed as soon as possible.
Additional Information :
Size 14.7 MB
Requires iOS 14.2 or later.
User Reviews :
Pretty good! <3
I think this app is good because it might look weird at first before u save the picture, but then if u make it ur wallpaper it's normal and not blurry or stretched at all. The pictures are good to because it's preppy,indie,and Vsco at the same time but that's just my opinion 🙂 no complaints at all! Love it
Developer Response ,
Thank u for ure feedback , please enjoy and sgare with your friends
Thx u for this app
I love the wallpapers they are so my Style and when I show my friends and they will download this great app It's so fun at first my phone was so ugly looking then when I saw this app it changed my hole life pls make a widget at with VSCO wallpaper and things
Rating
It is a pretty good app. It's fun and there are some good wallpapers on it, and you can save them on your phone. The wallpapers aren't blurry or weird looking they are clear and really cute!

I just wish you could make your own wallpapers on it. And either save them or just post them.

Overall this is a really good app!
Developer Response ,
Thank you for your feedback , your satisfaction is our priority .
PLEASE READ IF GETTING
Ok look I did one star bc it's ooookk like I like the wallpapers and stuff but let me finish when I saw the reviews they the ones saw were 5,4, and 3 star so I was like ok let's get this app and I got it and I'm not joking AT ALL ( like you can get it if you want to prove me wrong ) every time I would swipe it would pop up a ad and it was soooooooo annoying I couldn't save the pics to my photos to i have to send them to someone. Anyway you can try to prove me wrong idc just saying.
Developer Response ,
Hello sir , your satisfaction is our priority please re-check the app , the problem is resolved .

Thank you.
This app is so useful!
So I got this app because I wanted some cute wallpaper and I found this I absolutely love this app because it gets new wallpaper like everyday 4 days 10/10 GET!!!
Developer Response ,
Thank you for your feedback , your satisfaction is our priority . Enjoy and share with your friends
I love this app
I just got this app and when I opened it my eyes lit up In excitement the pictures are so pretty it set me in a good mood I love it.
Developer Response ,
Thank you for your feedback , your satisfaction is our priority .
Cool app but..
I love this app, it's a great way to find aesthetic wallpapers but there are allot of ads making it take longer than it needs to and making it overall frustrating
<3
Thx so much I love all of these and If you can write to me back that would be super cool if you can can you?? <3
Developer Response ,
Thank you for your positive feedback , its a pleasur , Enjoy and share the app with your friends
My review
This is a really good app but it take long to load maybe you can fix that but either than that this app is amazing! I love it Sm
Get VSCO from App Store
What is your opinion about VSCO
Bitcoin
Ethereum
MetaMask (ETH)
Xrp
Polkadot
Binance coin
Stellar
Dogecoin
Tron
Elrond
Donate Bitcoin to this address
Scan the QR code or copy the address below into your wallet to send some Bitcoin
Donate Ethereum to this address
Scan the QR code or copy the address below into your wallet to send some Ethereum
Donate Xrp to this address
Scan the QR code or copy the address below into your wallet to send some Xrp
Donate Polkadot to this address
Scan the QR code or copy the address below into your wallet to send some Polkadot
Donate Binance coin to this address
Scan the QR code or copy the address below into your wallet to send some Binance coin
Donate Stellar to this address
Scan the QR code or copy the address below into your wallet to send some Stellar
Donate Dogecoin to this address
Scan the QR code or copy the address below into your wallet to send some Dogecoin
Donate Tron to this address
Scan the QR code or copy the address below into your wallet to send some Tron
Donate Elrond to this address
Scan the QR code or copy the address below into your wallet to send some Elrond