(Game) Gin Rummy Classic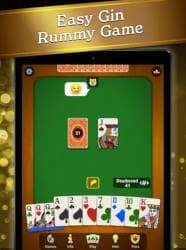 Game Description :
Gin Rummy Classic is the purest mobile version of the game enjoyed by millions around the world.
Made by MobilityWare – original creator of Solitaire (300,000,000+ downloads) – this easy to learn card game is perfect for fun and relaxation.
How to win is simple: build your best hand by drawing or picking up one card at a time.
However victory is both challenging and rewarding vs opponents with adaptive skill levels!
Game Features :
Learn Gin Rummy at your own pace with crystal clear tutorials
Play offline vs bots, available to play whenever and wherever
Enjoy games you can leave at any time in landscape or portrait mode with awesome card animations, no turn timers and unlimited hints/undos
Observe expressive emojis for clues from your competition
Track your high scores across different game types, earn over 300 titles for your achievements and watch your rankings rise as you take on different players in Leagues (and learn advanced gameplay techniques)
What Our Players Are Saying
"Super quick and fun, as well as challenging. Having a great time with Gin Rummy Classic."
"SO PLEASANT TO PLAY. I curl up in my chair, sip my iced tea and just play."
"Play this every night to help wind down my day before sleep!"
"Reminds me of when I was a kid! My Nana would have loved this…"
"The BEST Gin Rummy game! When I get stuck I absolutely LOVE the 'Hint' button."
Install today to have fun improving your brain and game with Gin Rummy Classic!
Additional Information :
Size 276.5 MB
Requires iOS 11.0 or later.
User Reviews :
Avatar Variety
The game itself is great! Only issue I have with the mechanics is that it doesn't allow you to choose your choice of sets or runs, it assumes the "best" option and that's final. You can discard from your sets or runs which would bring back your previous arrangements but I'd like to sometimes keep what I had and choose how I'd like to set that up.

Unrelated to the actual game, I wish there were more avatars to choose from. The list is alright but I'd enjoy a larger list to choose from. Suggestion to acquire the avatar icons after completing a certain their. Ex: I'd like to have the option of being an ant, so once I'm no longer in the tier against "Antonio" the ant, I should be allowed the option of using that image.
Developer Response ,
Hi there, thanks for the review. We appreciate your suggestion! Our team is always looking for ways to improve our apps, so we really appreciate you taking the time to leave a review. Please don't hesitate to Contact Us with any additional suggestions or feedback you have to share with our team. Thanks for playing!
Great game if you enjoy losing the more you progress
Update: so I wrote the below review and I was ok with the loss ratio but the higher I go, the more I lose. And the 90% win rate the computer has in 3 hands or less is now about 99%. The 10 second ads are longer than my hands. And judging by their responses in other reviews, it's not a valid problem for them but here's a tip – if a lot of your complaints are about the same thing, then it's obviously an issue, whether you want to believe it is or not. The fact that play time is about 25% and ads 75% is crazy. Really disappointed.

Original: First, I really enjoy playing games by Mobilityware – I have 5 that I regularly rotate through. They all have the same type of ads after each hand/round but they're short and easily skipped and really aren't an issue in the other games. I love this game; my problem is that the computer wins 90% of the games in 3 hands or less. I win 0% of the games in 3 hands or less. It's extremely unbalanced. Several times, I've been at 95-99 points while the computer is at zero and yet somehow the computer manages to win. It's incredibly frustrating – and it makes me feel like it's just a way to quickly cycle through more ads because the rounds are so short. It's obviously not enough to make me stop playing but is enough to take away a star. Thanks!
Developer Response ,
Hi there, thanks for reaching out! I'm sorry to hear that you're having issues with our app. Our team needs some info about your device to help. Please use this link  mobilityware.helpshift.com/a/gin-rummy/ to Contact Us with your ID MW-1258440 so our team can help. We look forward to hearing from you!
Some corrections necessary
Although I am enjoying the game, there are a couple of things that I think need to be addressed. Sometimes the math done by the game is wrong. The occasion I remember most clearly is when one of us knocked. The math was 7-1=7. This is not the only occasion that the sum was incorrect.

Another area I think needs to be addressed is the criteria used to move up to the next level. I'm not yet good at this game and have won very few rounds. I think that information should be used to keep me from moving up into a level in which I will be even less successful.
Developer Response ,
Your feedback is invaluable to our team and our future development plans. We're always open to any suggestions to help us improve! Please don't hesitate to use this link  mobilityware.helpshift.com/a/gin-rummy/ to Contact Us if you have any details about how we can make your game experience more enjoyable! Thanks for the feedback.
Get Gin Rummy Classic from App Store
What is your opinion about Gin Rummy Classic
Bitcoin
Ethereum
MetaMask (ETH)
Xrp
Polkadot
Binance coin
Stellar
Dogecoin
Tron
Elrond
Donate Bitcoin to this address
Scan the QR code or copy the address below into your wallet to send some Bitcoin
Donate Ethereum to this address
Scan the QR code or copy the address below into your wallet to send some Ethereum
Donate Xrp to this address
Scan the QR code or copy the address below into your wallet to send some Xrp
Donate Polkadot to this address
Scan the QR code or copy the address below into your wallet to send some Polkadot
Donate Binance coin to this address
Scan the QR code or copy the address below into your wallet to send some Binance coin
Donate Stellar to this address
Scan the QR code or copy the address below into your wallet to send some Stellar
Donate Dogecoin to this address
Scan the QR code or copy the address below into your wallet to send some Dogecoin
Donate Tron to this address
Scan the QR code or copy the address below into your wallet to send some Tron
Donate Elrond to this address
Scan the QR code or copy the address below into your wallet to send some Elrond