(Game) Tiki Solitaire TriPeaks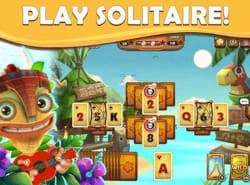 Game Description :
Tiki Solitaire TriPeaks: the classic Solitaire TriPeaks card game! With over 3000 levels to wander and win free coins! Train your brain playing alongside Tiki in this free solitaire game!
Cards games. Play the classic solitaire puzzle game from GSN games alone or play with friends when you collaborate through our Friend Center Challenges and win free coins!
Solitaire. Relax and let time fly by playing classic tri peaks free Solitaire games. If boredom was as life-threatening as children proclaim, Tiki tri peaks solitaire by GSN Games, would have saved thousands – possibly millions! – of lives. No joke.
TriPeaks. Train your brain and play with friends to win free coins in one of the best TriPeaks card games there is!
Tiki Solitaire TriPeaks. No doubt about it — *the* most fun free solitaire tri peaks classic card game out there. It's a little bit Golf, it's a little bit Pyramid, and it's a whole lot of depth. It's not just casual card games- there is so much to explore – TriPeaks levels, lands and worlds to wander.
Game Features :
1. Challenging hazards to train your brain and help you get smarter.
2. Relax with thousands of levels across multiple worlds.
3. Wild Cards and boosters to help you harvest your wins.
4. Join a Tiki solitaire tri peaks club to team up with your friends — or compete against them.
5. Friend Center, where you can send and receive free coins from friends.
Play with friends and compete together to get free coins or play alone and have our crazy characters join you along the way. Not just a standard free Tiki Solitaire triPeaks card game, when you can play with Tiki, your encouraging companion, and Poi, Tiki's cute puppy! There are other characters too like Pele, the Volcano Goddess. Don't mess with her. And Marina the mermaid, she's as sweet as sweet can be. There are penguins, bunnies, monkeys, a parrot and a curmudgeonly old Pirate named Captain Karma. Ahoy!
Travel through the levels to see the most stunning visuals as you play Tiki TriPeaks solitaire. This GSN game offers over 3000 levels to play through as you complete quests and take part in events. This isn't just any classic card game!
There you have it. If you like classic card games like mahjong, pyramid, klondike solitaire, and puzzle games, you'll have a grand time playing Tiki Solitaire Tri Peaks! Download this one free Solitaire TriPeaks game and play today, and you won't be searching for solitaire card games free any longer.
Privacy Policy:
gsngamesnetwork.com/privacy.html
Additional Information :
Size 259.8 MB
Requires iOS 11.0 or later.
User Reviews :
Ads not fair
This game is fun to play. But you don't get the same amount of free coins as others do. It has nothing to do with the level your on or how much you play. Once a day you get ads that give you coins. These coins are vital to the game. Without them you're game time is very limited. It cost a lot per game and you can't make it through many levels without using boosters, which cost 6k in coins per booster. Some levels you need as many as 3 boosters per play. That's 18k plus what it cost to play the level which is usually 2-3k each. Which brings most levels up to 21k per level. The problem is a lot of people get 25-30 ads daily for coins then the rest get 10 ads per day for coins. Ads pay between 300 to 5000 each. So you can see where you are being cheated real easy. I've complained at least 5 or more times about making the ads equal so every one gets a decent chance. They have refused to help me with this. They claim they have no control over ads. No one has a site that they have no control over. I know a ton of people that have complained about this as well. We as players just want the freebies to be fair to all of us that spend our time playing there game. Bottom line they DONT CARE. It's a shame to because this game is fun it's just not fair. I assure you that if you encounter a problem it will not be fixed.
Developer Response ,
Thanks for letting us know about this issue. We can definitely help you with that! Just be sure to contact our Player Services team through the app by going to MENU, then HELP, further assistance.
You have improved the game, and I'm happy about that.
But the cost of more cards is still DOUBLE of what the game costs to play in the first place, for just five More Cards. So if you risk it & pay for the More Cards, you could still end up a big loser by paying at least 9,000 coins and have very little, even as low as 230 coins left to show for it! I know lots of folks on the fan page have also asked y'all to lower this outrageously high cost of More Cards. And this is after the Big Kahuna made the promise to lower the price, which was only lowered for around 1-2 weeks then was jacked right up to that incomprehensible high price and a good idea that again. And when it is so difficult to win a game w/out needing 1+ sets of More Cards or a Wild Card or two, it seems like the deck is most definitely unfairly stacked against you. (No pun intended!)

I do love the game, though, regardless, and your addition of clubs and everything around that inclusion over the past couple of years is original and nothing short of simply inspired. So if you were to reduce the price of More Cards and reverse the betrayal you have imposed upon all your players, including all of us faithful, loyal long-time players, I would give my next review the full five stars.

For now, I thank you for inviting me to review your game again.
Developer Response ,
Hi Mellielair – we don't control anyone's ability to leave reviews. If there's anything we can help you with, please do contact our Player Services department by going to MENU and then HELP.
Get Tiki Solitaire TriPeaks from App Store
What is your opinion about Tiki Solitaire TriPeaks
Bitcoin
Ethereum
MetaMask (ETH)
Xrp
Polkadot
Binance coin
Stellar
Dogecoin
Tron
Elrond
Donate Bitcoin to this address
Scan the QR code or copy the address below into your wallet to send some Bitcoin
Donate Ethereum to this address
Scan the QR code or copy the address below into your wallet to send some Ethereum
Donate Xrp to this address
Scan the QR code or copy the address below into your wallet to send some Xrp
Donate Polkadot to this address
Scan the QR code or copy the address below into your wallet to send some Polkadot
Donate Binance coin to this address
Scan the QR code or copy the address below into your wallet to send some Binance coin
Donate Stellar to this address
Scan the QR code or copy the address below into your wallet to send some Stellar
Donate Dogecoin to this address
Scan the QR code or copy the address below into your wallet to send some Dogecoin
Donate Tron to this address
Scan the QR code or copy the address below into your wallet to send some Tron
Donate Elrond to this address
Scan the QR code or copy the address below into your wallet to send some Elrond