(App) Upflix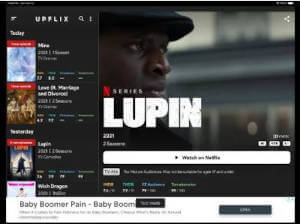 App Description :
If you are a Netflix user, Upflix is just perfect for you!
Netflix has a fantastic and huge catalog with, amazing movies and series, and it is easy get lost in so many possibilities when choosing what to watch. But Upflix has a solution that will blow your mind and help you surf on Netflix like a boss.
App Features :
Upflix is a versatile tool to help Netflix users sending, directly to your iOS device, in real time, all the new movies, series, episodes and documentaries arriving on the service. You will get fast access to everything the is new on Netflix catalog.
The Roulette Mode helps you choose movies and series on Netflix when you don't know what to watch. Just create your filters based on Netflix categories, Netflix, IMDB and Rotten Tomatoes scores and Upflix will suggest something of your liking.
If you're a fan of a particular actor or director, Upflix offers a great way to search through Netflix vast actors base and will allow you to find all of their movies.
Get updates via notifications and share your favourite Netflix movies with your friends and family via Facebook, Twitter, WhatsApp, Email and SMS.
Note: Upflix is not associated or affiliated with Netflix, Inc. Upflix is not part of Netflix, Inc. or have any connection with them whatsoever, nor power over what goes in or out of their catalog.
Additional Information :
Size 31.5 MB
Requires iOS 11.0 or later.
User Reviews :
All bad reviews are wrong
I personally think this app is not bad like say if a new show comes

On that you've been meaning to watch you might not realize it's on Netflix now and that's it's purpose to tell you what is on Netflix and what is not all the reviews that say it's trash are people who either thought that it had all the Netflix stuff and was free which would be stupid or who think you don't need it and you can search it up but both are wrong because if you think you get all the stuff for free that's on Netflix are people who are to lazy or to young to be paying for it and the people who say you can just search for it are people that you should do something all on your own even if you need help
Great
This is always helpful when I'm looking for something to watch on Netflix it's great. If I had one suggestion though it might be cool if it could possibly use your own profile to recommend new shows or movies that you you might be interested in. Anyway recommend this app very much.
You need this
If you don't have Upflix you are not using Netflix to you best ability. Everyday I get a notification to see what is new on Netflix. I click, I look, if I like something I go to Netflix and mark it. My que is always filled with stuff I want to see. Without the upflix list I would miss a lot of shows that don't meet my logarithm criteria. With upflix I can see everything. And it is free. There is one print ad when I open the app. I x it out and done. I have access to everything released. Not sure why you would pay for "no ad". It is only 1 ad, but whatever. .99 is cheap for no ads I guess.

As a rebuttal to other low ratings, this is not an app where I would go searching for something to watch. People are asking for this free app to do so many things. Like I said, it is a list of whatevers new on Netflix that day. Not a search engine to find something to watch.
App does not work properly
Unable to put movies in my cache from app. It has never worked! What's the purpose of the app?
Much better than expected!
Not bad at all! I really didn't expect much. I was looking for an app that could give me suggestions for new movies to add to "My List" on Netflix. A competing app cost too much relative to ratings and so I continued my search and came upon this. I was pleasantly surprised. It's ability to give you ratings from various outlets is very helpful and its one word distillation description is a plus. It doesn't waste space by merely regurgitating what is available elsewhere. And I was able to add movies to "My List" with ease. On the downside, the type is a little small and it still calls "My List" the "Queue." But this developer issues many releases and I think we can expect that this app will only improve.
Get Upflix from App Store
What is your opinion about Upflix
Bitcoin
Ethereum
MetaMask (ETH)
Xrp
Polkadot
Binance coin
Stellar
Dogecoin
Tron
Elrond
Donate Bitcoin to this address
Scan the QR code or copy the address below into your wallet to send some Bitcoin
Donate Ethereum to this address
Scan the QR code or copy the address below into your wallet to send some Ethereum
Donate Xrp to this address
Scan the QR code or copy the address below into your wallet to send some Xrp
Donate Polkadot to this address
Scan the QR code or copy the address below into your wallet to send some Polkadot
Donate Binance coin to this address
Scan the QR code or copy the address below into your wallet to send some Binance coin
Donate Stellar to this address
Scan the QR code or copy the address below into your wallet to send some Stellar
Donate Dogecoin to this address
Scan the QR code or copy the address below into your wallet to send some Dogecoin
Donate Tron to this address
Scan the QR code or copy the address below into your wallet to send some Tron
Donate Elrond to this address
Scan the QR code or copy the address below into your wallet to send some Elrond