Tic Tac Toe game by Optime Software LLC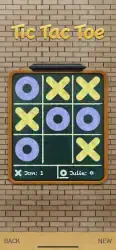 Game Description :
Put away your pencil and paper – now you can play Tic Tac Toe on your iPhone or iPod Touch for free.
Tic Tac Toe Free supports one player and two player gameplay, so you can play against another human or against your iPhone.
The AI for one player mode includes three difficulty levels, so you can play against a computer player that matches your skill level. A move randomization engine ensures that your iPhone won't keep making the same moves over and over again.
Our new turn-based network play feature allows you to play up to 16 simultaneous network games against your Game Center friends or random network opponents over Wi-Fi or 3G.
Game Features :
Tic Tac Toe Free offers a host of exciting features, including:
Turn-based network play over Wi-Fi or 3G
Great graphics and exciting sound effects
Configurable player names and score tracking
Undo function
Automatic save when you get a phone call or exit the application
Tic Tac Toe Free is supported by unobtrusive banner advertising. Tic Tac Toe Pro is the same great app as Tic Tac Toe Free without the ads
Additional Information :
Size 129.1 MB
Requires iOS 11.0 or later.
User Reviews :
Tic/Ta/Toe One of my favorites
I love this game. Unlike Spades that I didn't get a chance to review because there was no option. So, I deleted Spades & since your the owner I'm giving you this review.

Unlike spades this computer opponent actually seems competent. I can play the game and expect the computer to know how to make a move in response. Please fix Spades, Meghan cuts me her partner & then sometimes they all under bid. Lastly, I don't have control of the board. Everyone else can play a Spade first but me.
Way too easy
It was too easy the trick is to get in the corners and then you could get a double way win streak I put it on hard mode and it's still really really really really really really easy guy I always beat my friend Johnny because well he doesn't know the trick but still it's just too easy if you could just make it like extremely hard really hard level levels that would be awesome so I really thought it be easy well yeah please make it harder that's all I'm asking and people who are reading this review please do not play this game if you know the trick it is too easy it is a bad game and I really don't like it so if you know if you're good at it please don't play it please if you're really if you're like a four-year-old playing it then yeah you should play it so this is probably like the shortest review or either the longest I don't know what I'm talking about anyway way too easy there's a few glitches in the game so it would also be really useful if you could play with friends online that be so fun you could be better really better and if it was better then I probably be playing this game like every day people please please please please please please do not download this game way too easy unless you do you need your little sister a five year old like mine to learn how to play Tic Tac Toe please do not download this game
Something is Wrong!
Why would an app open one time & then only show the logo for the app & never open again? Sad! I like simple, straight forward games to help keep my mind alert. Nothing complicated or devious to drain money from the players. I am willing to pay a fee, one time, to use the app. We have reached a Sad state of Greed in this world. This could be a neat app but I understand the developer has made an advanced app, for which there is a monthly fee. That is hard on people who have a budget but Selfishness seems to rule. Look at what China has been & continues to do to their own people…. not to mention the damage to the rest of the world. Does every developer expect to be a multimillionaire? If so, they are sad because they will destroy themselves. That's what Selfishness does.
Can't click out of adds
First of all, it's nothing special, decking of all, there is so many adds which you can't click out of! So it just runs forever LITTERALLY so when I leave and come back, it comes back before I even start playing!

If I can't play than why download?

And I checked all over and there is no x! Even after 5 minutes, then I gave up. So fix your final fantasy adds will ya?
I love this game
I thank that this game is amazing because I can play with my brother and sister or by my self. So I don't have to play with someone I can gust play by me self. It even has a easy, medium, and hard so if you can do the one that is the most comfortable for you. I have never had a complaint with this game and I hopefully never will.
Get Tic Tac Toe from App Store
What is your opinion about Tic Tac Toe
Bitcoin
Ethereum
MetaMask (ETH)
Xrp
Polkadot
Binance coin
Stellar
Dogecoin
Tron
Elrond
Donate Bitcoin to this address
Scan the QR code or copy the address below into your wallet to send some Bitcoin
Donate Ethereum to this address
Scan the QR code or copy the address below into your wallet to send some Ethereum
Donate Xrp to this address
Scan the QR code or copy the address below into your wallet to send some Xrp
Donate Polkadot to this address
Scan the QR code or copy the address below into your wallet to send some Polkadot
Donate Binance coin to this address
Scan the QR code or copy the address below into your wallet to send some Binance coin
Donate Stellar to this address
Scan the QR code or copy the address below into your wallet to send some Stellar
Donate Dogecoin to this address
Scan the QR code or copy the address below into your wallet to send some Dogecoin
Donate Tron to this address
Scan the QR code or copy the address below into your wallet to send some Tron
Donate Elrond to this address
Scan the QR code or copy the address below into your wallet to send some Elrond