Fastic : Intermittent Fasting app by HealthVida GmbH & Co. KG.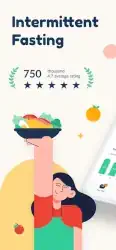 App description :
Say bye, bye to fad diets and start intermittent fasting with Fastic. WE'RE THE WORLD'S LARGEST FASTING COMMUNITY with over 25M users, so you'll find the motivation and support you're looking for. Look good, feel great and develop healthy habits with the expert-backed Fastic app.
App Features :
SO, HOW DOES IT REALLY WORK?
Intermittent fasting has been shown to lead to SUSTAINABLE weight loss. That means you'll get reconnected to your body for results that last. WHEN FASTING, your body enter ketosis, the body's "FAT BURNING" process. You'll have more energy during this time to do what you love, and lose stubborn fat at the same time!
IS INTERMITTENT FASTING HEALTHY?
Yes. The Nobel Prize-winning fasting method is safe and natural. Studies show that giving the body a short break from constant digestion gives vital organs a chance to rest, and even promotes CELL REGENERATION!
IS THE FASTIC APP SUITABLE FOR ME?
The app is great for beginners and fasting veterans alike. You won't need to change your diet or restrict any groups of food. It's super easy to integrate into your life!
WHY INTERMITTENT FASTING?
Burns body's fat reserves
Slows down aging process
Promotes regeneration and detoxification
Can prevent diabetes and other diseases
Increases metabolism
Improves brain functions
Boosts health and energy
Sheds fat naturally and effortlessly
Helps lose weight without dieting
Avoids yo-yo effect
Avoids calorie-counting
No Low-Carb Diet
Compatible with keto-Diet & Juice fasting
Compatible with your fitness workout
safe for your overall health
START INTERMITTENT FASTING WITH FASTIC
Fasting Timer
Body Status – Identifies and tracks key stages in your fasting journey
Step Counter & Activity-Tracker
Water Tracker – Logs your water intake and sends reminders
Continuous app development
Compatible with building muscle and weight training
Syncs with Health App
BECOME PART OF THE FASTIC-PLUS COMMUNITY AND REACH YOUR GOALS EVEN FASTER
Recipe Book – Explore over 400 simple, delicious recipes
In-House Academy – Supports your journey with education
Daily Challenges – Help stay on track with motivating challenges
Weekly Challenges – Offer a variety of fun tasks to build healthy habits
Fasting Buddies – Connects you with friends
Social Media Channel – Inspires you and keeps you in the loop
Expert guidance to reach your goals faster
Valuable insights to monitor your progress
Daily schedule tailored to your needs
LONG-TERM BENEFITS
Strengthen your immune system
Lose weight in the most natural and sustainable way
Consciously boost fat loss
Normalize your blood sugar level by stabilizing insulin levels
Detoxify your body through fasting-related cell-regenerating processes
Reduce or prevent allergies and inflammations
Get full access to all the features and your personalized fasting plan including nutrition guide in the Fastic Healthapp with an in-app purchase.
Premium memberships – Fastic PLUS:
1 Month membership
3 Months Membership
6 Months Membership
Yearly membership
Payment will be made at the time of purchase confirmation via your App Store account
The premium membership will be automatically extended if you do not switch off the automatic renewal at least 24 hours before the premium membership expires
Your account will be paid within 24 hours before the expiration of the premium membership your subscription package for renewal
You can manage your premium membership in your profile settings and turn auto-renewal on or off
You can not cancel a current premium membership in the already started term.
Possible free trial memberships expire when you order a paid premium membership
All personal information will be processed in accordance with the Fastic privacy policy
Terms & Conditions: fastic.com/terms
Privacy policy: fastic.com/privacy-policy
Additional Information :
Size 133.6 MB
Requires iOS 14.0 or later.
User Reviews :
I like it…but (Updated)
Update: I have to give credit where credit is due. Upon opening the app today, I saw it had been updated to both allow me to change which day or days I wish to not fast, and let me set up daily goals once again. This has made my experience so much better, and I am very happy. I would probably recommend this app now, especially if issues like this are sorted out this quickly. Of course, the update could have already been on its way too. But regardless, I am pleased with it.

I've enjoyed the app overall so far, but am annoyed by some things. One, the first day I set it up, I was able to set up some kind of daily goal of my own. After that first day, it completely disappeared and I could not find anything related to it again. Secondly, I wanted to have a free day on Sunday, but it was still tracking my fast for Saturday. So I thought well maybe I should move my free day to Saturday technically, and maybe that will solve the issue. Right? But then I found that I can't move my free day without resetting my account and losing all my progress. Who decided that was a good idea?? I paid money for this app too, because I really liked it at first. But seriously, it needs some work still. Update: I tried resetting my account in order to change which day is my free day…and it didn't give me an option to change that! So so dumb. I lost my progress for nothing. I'm really unhappy that I paid for this app now. Cannot recommend.
Love it! Helpful and Encouraging!
I've wanted to change my habit of over eating and develop self discipline. They say "when you control what you eat, you can control your world". The app without the Fastic plus has been amazing! There were times I wanted to give up and give in to the foods when my family would eat very late at night but it seems to know when you need encouragement. So far, I've been drinking more water, eating more veggies, and read valuable lessons that I have applied to my life. I have very little self control when it comes to food, especially meat. Veggies and I have become good friends now especially with my digestive system. I have more self discipline than before with food! I know if my family eats late, they always try to save me some for the next day during my eating period. A big plus was that I can have a fasting buddy! My boyfriend also has food controlling problems, he tends to eat very late at night and doesn't have a routine applied. It has helped him lose fat in some areas of his figure! And develop a great routine for him to eat. And for me too! So far I've lost 7 pounds in the last week. I'm not starving myself, I'm drink more water and I feel so much better than before! The different levels of fasting also help too. I started with 16/8 but when things got difficult I reduced it a beginner level fasting then build up to 16/8 and that's where I'll stay and won't go further. I'll consider Fastic Plus in the future
Developer Response,
We greatly value your feedback, thanks so much!
Get Fastic from App Store
What is your opinion about Fastic
Bitcoin
Ethereum
MetaMask (ETH)
Xrp
Polkadot
Binance coin
Stellar
Dogecoin
Tron
Elrond
Donate Bitcoin to this address
Scan the QR code or copy the address below into your wallet to send some Bitcoin
Donate Ethereum to this address
Scan the QR code or copy the address below into your wallet to send some Ethereum
Donate Xrp to this address
Scan the QR code or copy the address below into your wallet to send some Xrp
Donate Polkadot to this address
Scan the QR code or copy the address below into your wallet to send some Polkadot
Donate Binance coin to this address
Scan the QR code or copy the address below into your wallet to send some Binance coin
Donate Stellar to this address
Scan the QR code or copy the address below into your wallet to send some Stellar
Donate Dogecoin to this address
Scan the QR code or copy the address below into your wallet to send some Dogecoin
Donate Tron to this address
Scan the QR code or copy the address below into your wallet to send some Tron
Donate Elrond to this address
Scan the QR code or copy the address below into your wallet to send some Elrond