Twisty Arrow game by tastypill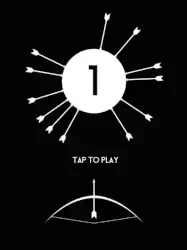 Game Description :
Twisty Arrow is a simple tapping strategy game fun for users of for all ages.
Shoot arrows at the spinning circle target but don't touch the other arrows. Use the right strategy to improve your accuracy and hit the bullseye on the circle as it twists every time. The more arrows you shoot, the harder it is to be accurate and hit the bullseye. Can you beat this impossible rotating wheel? What level can you get to? Download right now and spin the wheel to find out.
How to play
Tap your screen to shoot arrows at the spinning wheel
Hit the bulls eye with the arrows without touching other arrows
Each level requires a certain amount of arrows to hit the bulls eye to complete
Different levels spin, twist, and rotate in different directions and at different speeds
Game Features :
Quick reflex twitchy tap style gameplay
Over 100 levels to master with more updated weekly
The most addictive casual spinning circle game
Funky fun soundtrack to jam to
Additional Information :
Age Rating 12+
Size 129.5 MB
Requires iOS 12.0 or later.
User Reviews :
Ads drive you nuts
This game can be 100 times more popular if they didn't have so many ads. It is a very fun game, but there are times where you tap the screen once and have to wait 30 seconds for an ad, and then tap the screen once again and wait 30 seconds for another ad. Id pay a dollar for the game if they didn't have so many ads, but now I just need to take a stand against the company and refuse to pay them anything because they put so many ads it drives you nuts. Having said that, the game is very addicting and I'm on level 70, and have spent probably 2 hours alone just waiting for their ads to filter through
I love this game! But… 
Ok, so, I will admit it. I LOVE twisty arrow. I just got this game yesterday and I'm pass the thirty's. However, and no, I do not have anger issues but I do rage quit. I'm very sure I'm not the only one. Anyway, what I don't like about this game… ads! Nobody likes ads! I don't like them popping up every second when I press continue or skip. If you could fix this issue it would make me very happy. My cousin let me download this on her phone, and, well, let's say she just raged quit when she got to level 5 today. XD. So I got her to wear I was then, which was level 23. She probably deleted it by now, but, I don't care. So, like I was saying. If u can just limit the ads to like u only get an ad when ur on a level that ends with a five and you see the ad after you complete the level. Please, fix this, and it would make this game a lot more enjoyable. I might even consider writing a second review and giving it five stars instead of four like I did this review. But ONLY if you limit the ads. Thank you! Bye! Love ya'll
Awesome
I love this game it is the best game I've ever played and I can always play it every single day, I gave it a four star rating because it is super fun for adults and kids. One thing that would make the game way more fun is to include challenges. I am so thankful that you created this game because of course it creates a distraction for my children. In my opinion everyone should have this game. Thank you for whoever created it it is one of the best games I've ever played and I will never remove it from my phone. Every time I fail I can try again because it is just so much fun it will never get old. Thanks so much for creating this game. I really like it and everyone should have it thank you so much this is one of the best games ever.
WARNING!: Very Addicting
I'm at a tournament and we have hours between our duels. So this game popped up and I decide to tried it. Couldn't believe I could go through so many levels and not realize how much time passed by. If you have anger issues this game will either anger you more or force you to control your anger. I felt like my mind was sharpened, my reflexes swiftened, my eyes are more steady and my body ever more relaxed yet prepared. I finished from level 0 to 240 in 5 days even with all my school hours and sports. Very addicting so pace yourself!!! Best offline game there is
Get Twisty Arrow from App Store
What is your opinion about Twisty Arrow
Bitcoin
Ethereum
MetaMask (ETH)
Xrp
Polkadot
Binance coin
Stellar
Dogecoin
Tron
Elrond
Donate Bitcoin to this address
Scan the QR code or copy the address below into your wallet to send some Bitcoin
Donate Ethereum to this address
Scan the QR code or copy the address below into your wallet to send some Ethereum
Donate Xrp to this address
Scan the QR code or copy the address below into your wallet to send some Xrp
Donate Polkadot to this address
Scan the QR code or copy the address below into your wallet to send some Polkadot
Donate Binance coin to this address
Scan the QR code or copy the address below into your wallet to send some Binance coin
Donate Stellar to this address
Scan the QR code or copy the address below into your wallet to send some Stellar
Donate Dogecoin to this address
Scan the QR code or copy the address below into your wallet to send some Dogecoin
Donate Tron to this address
Scan the QR code or copy the address below into your wallet to send some Tron
Donate Elrond to this address
Scan the QR code or copy the address below into your wallet to send some Elrond