Moboreader – The Alpha King app by CHANGDU (HK) TECHNOLOGY LIMITED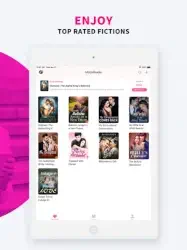 App Description :
Enjoy your favorite books on the go with a customizable reading experience and millions of best sellers, novels, science fiction, romance, fantasy, fanfiction and more.
App Features :
Many Many Books
Provides both paid and free ebooks including romance, werewolf/vampire, billionaire, marriage, action, adventure, fantasy, young adult fiction, fanfiction, LGBT, classic, xuanhuan, wuxia novel & more original work. New stories are updated daily!
Moboreader Original Series
Sweet Twins: Indulge in Daddy's Love
Take my breath away
My Wife is an Aloof Beauty
The Spoiled Girl
Deep Affection: Honey, Come Back To Me
Billionaire's Gift
Rebirth of martial god
Free Offer & Sale
Free books and special offers
Free trial reading chapters and episodes
Free Coins for you to buy paid ebooks and chapters.
Customizable Reading Features
Build up your own bookshelf and enrich your collections.
Real paper book simulation, text size adjustment, night theme and more for you to find the best reading style.
Read Books Offline
Save and preload your favorite stories and take them with you wherever you go, even when you're offline.
Import books from your phone and read EPUB files, text documents, UMD files and other 30 file formats of e-books with MoboReader.
Audiobooks
Listen to all your favorite ebooks with our easy-to-use audiobook player.
About Auto-Renewable Subscriptions
Auto-renewable subscriptions in the app include Check-in Coins Packs.
Coins Packs: $20, $30, $50 and $100.
Payment: The purchase will be charged to your iTunes account.
Renewal: When you subscribe to check-in coins packs, your subscription will renew automatically. You'll be charged at the start of each billing cycle until you cancel your subscription. Subscriptions are automatically charged each billing period, whether monthly or another period, and you may be charged no more than 24 hours before the beginning of each billing period.
Cancellation: You may cancel a subscription at any time more than 24 hours before your renewal date.
Privacy Policy: staticpage-en.cdreader.com/EN/AppPrivacyPolicy.html?client_proid=1001&mt=1
Subscription Terms and Conditions: promotion.cdreader.com/CheckinCard/agreement.html
Terms of Use: staticpage-en.cdreader.com/EN/termsofservice.html?client_proid=1001&mt=1
Any questions or advice? Please contact us:
Email: SupportEN1[at]moboreader.com
Facebook: www.facebook.com/ereader.ebook/
Additional Information :
Age Rating 17+
Size 64.8 MB
Requires iOS 12.0 or later.
User Reviews :
New App Layout
I am not liking the revised formatted look and the color scheme.

The previous layout was perfect in my opinion…it was very easy to read and icons, etc. were nicely placed with a clean appearance…easy on the eyes.

The recently reformatted layout (interface) is "busy", printed letters are not easy to read, the look is "hazy" in appearance, and my eyes are getting strained just trying to read or see the icons (heck, the "pointing" finger is very faint and barely visible).

In my opinion, this new reformat is geared more towards a young child instead of a grown adult. Not trying to disparage someone, but was it a young person who created this new layout…because it looks too much like other childesh apps. The crestor did not take into account that there a lot of older adults who are reading on this app and not all of us have the perfect eyesight to try to even squint to try to decipher what's on that particular section nor do we want to jump back and forth.

I loved this app a lot…before the recent reformatted revision. Definitely not as much of a fan now since it has been revised in sections!

If my eyes continue to be strained trying to read on this app, I may decide to quit altogether, because my eyesight is more important to me.

Please take into consideration of those who pay a lot to read on your app…there are a lot of us who are not liking the new change…it is definitely "not user friendly".
Why
Why a three(3) spelling and so many mistakes makes even a good book annoying and with so much of it, very frustrating. If you take so much money from a client, it should be at the very least worth it. I cannot afford these fees anymore and having to work so hard just for a few points to read such bad grammar, spelling etc is just not worth it when there's so many other choices. I'm not bashing anyone, quite the opposite actually. I love to support new writers, new business but this is not that new is it? Therefore my expectations is at a higher standard. Do better, stop ripping us off especially as an American who supports American but has extended my courtesy?? There are some very very great writers, Jessica Hall is one of the good ones and I wish I could continue with her especially but I will not because of all I said above. A bad written book should not be worth over $100. No book, unless antique is worth over $25. That's the most I usually spend on certain books. Worse is being charged for repetitive lines and chapters and foolish nonsense in between. I have two books I'm wrapping up on, then will delete app.

Thanks, because I did enjoy some of these stories enough to make me cry. I'm not a very happy person having to give up on some good story lines. What a shameful situation here and you will not change because you profit quite well but just remember, business is a funny thing when you have no clients. You sadden me to my heart
Get Moboreader from App Store
What is your opinion about Moboreader
Bitcoin
Ethereum
MetaMask (ETH)
Xrp
Polkadot
Binance coin
Stellar
Dogecoin
Tron
Elrond
Donate Bitcoin to this address
Scan the QR code or copy the address below into your wallet to send some Bitcoin
Donate Ethereum to this address
Scan the QR code or copy the address below into your wallet to send some Ethereum
Donate Xrp to this address
Scan the QR code or copy the address below into your wallet to send some Xrp
Donate Polkadot to this address
Scan the QR code or copy the address below into your wallet to send some Polkadot
Donate Binance coin to this address
Scan the QR code or copy the address below into your wallet to send some Binance coin
Donate Stellar to this address
Scan the QR code or copy the address below into your wallet to send some Stellar
Donate Dogecoin to this address
Scan the QR code or copy the address below into your wallet to send some Dogecoin
Donate Tron to this address
Scan the QR code or copy the address below into your wallet to send some Tron
Donate Elrond to this address
Scan the QR code or copy the address below into your wallet to send some Elrond