(App) Truebill – Budget & Bill Tracker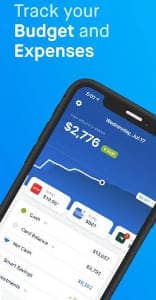 App Description :
Join over 2 million members who trust Truebill to save more, spend less, & see everything in our all-in-one personal finance app.
Forbes: "This App Will Save You Hundreds"
Fortune: "There's now a startup to help you cancel all those subscriptions"
NBC: "This startup is helping people find forgotten money"
CNBC: "How to Shave Hundreds Off Your Credit Card Bill"
Truebill is your automated financial assistant and budget tracker designed to put you back in control of your money. Truebill puts real money back into your pocket by identifying and cancelling unwanted subscriptions, lowering your bills, and getting you refunds on fees and other charges. We've saved our members over $100m to date!
App Features :
Monitor & cancel subscriptions
Get better rates on your bills
Put your savings on autopilot
Automatically categorize & budget
Get transaction monitoring & alerts
Track your net worth
Monitor your credit score
Access instant cash if you need it
Bank-level security & privacy
OUR REVIEWS SPEAK FOR THEMSELVES
Hands down, THE BEST FINANCIAL APP I DISCOVERED. In my first week, I opened up $187 in UNUSED recurring subscriptions. – Beccalauren08
10/10 recommend this app for anyone trying to budget and control your expenses all in one place! – Josgr17
In a matter of a week, they refunded my overdraft fees, lowered my phone bill, cancelled unnecessary subscriptions, and provided me with a budget. – Lifeis_Bliss
The financial insight provided by Truebill has helped me lower my debt by $4000 in less than half a year. Their recently added credit score feature has also helped me celebrate the repercussions of that success. Truebill has become a staple of my financial wellness. – Steven I.
In seconds I saved $660 for the year on my Direct TV bill. Saved $120 for the year on my Sirius XM bill. Saved $840 a year on car insurance. – Cisco12121212
If it wasn't for Truebill I wouldnt have known about a fraudulent charge on my account. I was able to take care of it the same day because of the notification that Truebill sent me. Even my own bank didn't catch this. – crownqlteue
Best decision I made when it came to my financial needs. I am able to see all my fees and charges and keep up with all my accounts with just one click! Even when I had issues, the team IMMEDIATELY reached out to me to assist me with my troubles and even continued to follow up just to make sure I was satisfied. – Angie
This app is literally everything. It lays all of your spending habits out plain as day so you know exactly where your money is going. Creates budgets and more. Love it! – Alexus C
Absolutely amazing. Their customer service is one of the best I've ever had experience with. – Rebecca V
Still reading? What are you waiting for? Download Truebill and start living your best financial life.
Support: support[at]truebill.com
Privacy Policy: www.truebill.com/privacy
Terms of Service: www.truebill.com/terms
Additional Information :
Size 114 MB
Requires iOS 11.0 or later.
User Revies :
Truebill is awesome!
I'm very into having apps and programs helping me with my banking. I've been using Quicken for personal and business since 1997. Truebill has been the easiest app to load all of my bank accounts and investments and it's keeping track of my bills for me.. something I (along with most people who pay their bills!) am always worried about- is it getting paid on time? Am I paying more than I was? Do I have enough to cover upcoming bills? WHAT ARE my upcoming bills?? Reconciling through Quicken has always been (and I probably always will) a necessity for me. But Truebill has kept me from opening Quicken for over a week! I am getting all the info I need right now! They found extra charges I probably never would have known about. Transactions come through in one place, including my investment accounts. Truebill questions transactions I never would have noticed! I've already gotten back over $200 due to discrepancies THEY found and notified me about! And their customer service is awesome too.. thank you Malcolm! 😊 I am loving Truebill! Whether you're into pouring hours of your time into your banking or you're on a busy schedule but you want to keep track, Truebill is an awesome choice! Oh- one more thing- I pay $99 a year for Quicken.. Truebill is FREE! How can you love money and NOT LOVE THAT!!! Thanks Truebill.. You and your team are awesome!

– Jessie K.
Perfect Financing App All-in-One
I got this app because I wanted to start tracking my spending. And let me tell you it does one hell of a job for that!! It sorts my spending in different categories and even compares my spending month to month. I've been trying to save up for a car (I'm a college student) so I really wanted to know where all my money has been going. This app makes it so simple and easy to track all of it in one place. It has a saving feature (you don't have to use it) that takes money out of my account and puts it aside so I can save up without having to lift a finger. It tells me the amount and what kind of bills I have coming up, so if I need to cancel anything I know about it long before hand. My favorite part is TrueProtect. This feature allows them to help negotiate lower rates for your bills, get refunds for internet outages, lower your energy costs and even cancel unwanted subscriptions. If you don't want to deal with those payments, they will even contact the company on your behalf! No more calling and waiting on hold for hours! On the home screen, the dashboard, it shows exactly how much money I have on hand, saved up, invested, my card balance and spending for the week/month/quarter whatever you choose. This really is an all in one when it comes to financing. This app is nothing like the rest!
Get Truebill from App Store
What is your opinion about Truebill
Bitcoin
Ethereum
MetaMask (ETH)
Xrp
Polkadot
Binance coin
Stellar
Dogecoin
Tron
Elrond
Donate Bitcoin to this address
Scan the QR code or copy the address below into your wallet to send some Bitcoin
Donate Ethereum to this address
Scan the QR code or copy the address below into your wallet to send some Ethereum
Donate Xrp to this address
Scan the QR code or copy the address below into your wallet to send some Xrp
Donate Polkadot to this address
Scan the QR code or copy the address below into your wallet to send some Polkadot
Donate Binance coin to this address
Scan the QR code or copy the address below into your wallet to send some Binance coin
Donate Stellar to this address
Scan the QR code or copy the address below into your wallet to send some Stellar
Donate Dogecoin to this address
Scan the QR code or copy the address below into your wallet to send some Dogecoin
Donate Tron to this address
Scan the QR code or copy the address below into your wallet to send some Tron
Donate Elrond to this address
Scan the QR code or copy the address below into your wallet to send some Elrond