(Game) Pikmin Bloom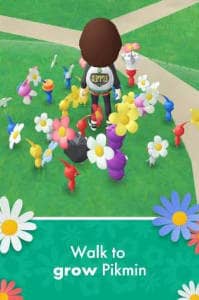 Game Description :
Grow your Pikmin, make flowers bloom, and keep track of your precious memories, all through the simple act of walking. Whether you're going for a short walk around the corner or commuting to work, today's the very first day of the rest of your Pikmin adventures! Gather your squad and embark on a journey of rediscovery where every step counts.
Game Features :
Walk to grow more Pikmin. Pikmin grow from seedlings with every step you take. Once they are big enough, pluck them out to have them trail along. The more you walk, the more Pikmin will join your squad!
Walk to make flowers bloom. Collect flower petals from your Pikmin's heads and plant them as you walk to leave trails of beautiful flowers in bloom everywhere you go.
Walk to log your memories. At the end of the day, check out your step count along with the path you walked, and revisit the pictures you took throughout the day. Don't forget to send your Pikmin out on expeditions to pick up the fruit and seedlings you passed on your way back home!
Lots of Pikmin to meet. There are seven types of Pikmin in total, and all of them have their own unique characteristics. For example, some can fly, and others are incredibly strong. When your friendship level reaches a certain threshold, your Pikmin may bring back a gift with an item that will help them become a Decor Pikmin.
Tackle challenges with Pikmin. Nearby mushrooms are a great way to get lots of fruit. When you come across mushrooms blocking your path, you can send your trusty Pikmin squad to charge forth and make way.
With the player's permission, Pikmin Bloom uses the Apple HealthKit to enable the player to earn walking distance when the app is closed.
Notes:
This app is free-to-play and offers in-game purchases. It is optimized for smartphones, not tablets.
Compatible with iPhone® 6s or higher devices with iOS Version 12 or later installed. (iPad not supported)
It is recommended to play while connected to a network (Wi-Fi, 3G, 4G, 5G, or LTE) in order to obtain accurate location information.
Compatibility is not guaranteed for devices without GPS capabilities or devices that are connected only to Wi-Fi networks.
Enabling Apple HealthKit permissions is necessary in order for Pikmin Bloom to accurately track your steps.
Compatibility information may be changed at any time.
Information current as of December 8, 2021.
Not compatible with jailbroken devices.
Compatibility is not guaranteed for all devices.
Continued use of GPS running in the background can dramatically reduce battery life.
Some functions require support for the following services:
ARKit – For optimal performance, it is recommended that you use a device with at least 2 GB of RAM. If you are experiencing frequent problems such as device crashes or delays while using the Pikmin Bloom app, please try the following troubleshooting steps.
Close all apps except the Pikmin Bloom app while you are playing.
Use the most recent operating system available for your device.
If the problem persists, please check the iOS troubleshooting guide. If you continue to need assistance, please contact us with details.
Note: Many devices that do not have a built-in data-network connection do not include a GPS sensor. In the event of mobile-data network congestion, such devices may not be able to maintain a sufficient GPS signal to play.
Additional Information :
Size 328.7 MB
Requires iOS 12.0 or later.
User Reviews :
Good game, but I found a bug
So, i played this game expecting it to be another idle stepcounter, but it's different. You pick up things from your Pikmin and use them to get more or change the flowers on your current ones. The game is great and i had a lot of fun with it so far, but…what prevents me from giving it five stars is the bug i encountered.

See, i wanted more Pikmin so i walked until two new ones i got were ready to pluck, but i wasn't leveling up as a friend who recommended the game to me warned about. Curious, i went to the level screen where i was given an overview of the level system and told i needed 500 total steps to do so. I had about 1000 at that point. I figured "okay, if i do 500 steps then i'll be back to normal, right?" No matter how many steps i took, that number never went any higher. It stayed stuck at 0.

I hope the devs see this; i'd really hate to need to restart and do things in a very specific order to proceed. I think i broke the sequence they wanted players to go through and that's why i'm getting this bug. Not even restarting the app or my phone worked. Though, if you want a relaxing game to have on in the background while you walk around, then by all means get this game. It's relaxing and fun, especially with AR mode. I just hope another bug patch is implemented to fix whatever sequence break i happened to glitch the game out with.
Fun stepcounter
I'm level 8 and intent to get farther, so far it's really just walk and I pull up Pikmin and collect some berries and stuff, it's cute, I don't feel useful in game yet but I think I'm around the corner, I play Pokémon go as well so it's kinda a nice one to have in the background to count and still progress good. You definitely need a phone that counts steps to play, as I'm seeing reviews saying they can't progress so it makes sense. I would rate it 5 stars but as others said, it's pay to play basically, you can't get expansion slots to anything without real money, and the coins you can earn are frankly ridiculous, and no real use for those coins. Currently I don't mind Pokémon Go's system to earn coins and get expansions with them, yes I still spend plenty of real cash but I like the option and I like to cut my cost by earning some, so in this one not having that just feels like a turn away from the right direction, cause it's a flat fee, I tend to throw a 20 at it cause it's a better deal on coins so I get more expansions.

Enough ranting about that, the game itself is why your reading thing? The game is fun if you like their other games, if you didn't like it, then you won't like this, it's that simple.

Tho unlike their other games, this one is a lot slower on screen, it's very focused on walking so even healthier I guess.
Get Pikmin Bloom from App Store
What is your opinion about Pikmin Bloom
Bitcoin
Ethereum
MetaMask (ETH)
Xrp
Polkadot
Binance coin
Stellar
Dogecoin
Tron
Elrond
Donate Bitcoin to this address
Scan the QR code or copy the address below into your wallet to send some Bitcoin
Donate Ethereum to this address
Scan the QR code or copy the address below into your wallet to send some Ethereum
Donate Xrp to this address
Scan the QR code or copy the address below into your wallet to send some Xrp
Donate Polkadot to this address
Scan the QR code or copy the address below into your wallet to send some Polkadot
Donate Binance coin to this address
Scan the QR code or copy the address below into your wallet to send some Binance coin
Donate Stellar to this address
Scan the QR code or copy the address below into your wallet to send some Stellar
Donate Dogecoin to this address
Scan the QR code or copy the address below into your wallet to send some Dogecoin
Donate Tron to this address
Scan the QR code or copy the address below into your wallet to send some Tron
Donate Elrond to this address
Scan the QR code or copy the address below into your wallet to send some Elrond