(Game) Zooba – Zoo Battle Royale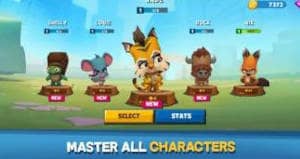 Game Description :
The animals are loose in Zooba!
Can you be the last one standing in a hilariously fun and free battle royale game like no other? Battle with the guards and up to 45 other players across fun game modes, and take your place as king of the zoo!
DISCOVER YOUR INNER BEAST
Play over 20 fun and unique characters, each with distinct strengths, weaknesses and special abilities.
EVOLVE AND CUSTOMIZE
Upgrade your characters, unlock dozens of items to fit your play style, and impress your competition with dozens of fun skins and hundreds of fun emotes. Game on!
BE THE STRONGEST, TOGETHER!
Invite your friends to play with you in multiplayer game modes. The more the merrier!
KING OF THE ZOO
Battle to the top of the food chain by climbing leaderboards, completing fun missions and collecting awesome rewards each season for free.
Jump right in and play this fun battle royale game for free!!
DISCLAIMER: No animals were harmed in the making of this game.
Game Features :
Choose from over 20 fun characters, from Nix the crafty fox to Pepper the doubtful giraffe, with more being added to the game all the time!
Battle against 45 other players across multiple game modes
Upgrade your character and items
Climb through the ranks to earn amazing free prizes
Zoo VIP filled with rewards
And much more!
FOLLOW US
Facebook Page: www.facebook.com/PlayZooba/
Facebook Group: www.facebook.com/groups/1074016059456748/
Twitter: twitter.com/ZooBattleArena
Instagram: www.instagram.com/playzooba/
YouTube: www.youtube.com/channel/UCDKMpQTjSojKn3nSmahUIWw/
Reddit: www.reddit.com/r/Zooba/
Privacy Policy:
wildlifestudios.com/policy-center/privacy-policy/
Terms of Service:
wildlifestudios.com/policy-center/terms-of-use/
Additional Information :
Size 252.8 MB
Requires iOS 10.0 or later.
User Reviews :
Best Mobile Game Ever!
This game is filled with fun and has much to work for. You'll do just fine as a free player, but many people say it's pay to win. This isn't true, you can work or pay. I love that each character has a different set of abilities. This is something many games don't have, instead it's usually just looks like a skin for example. Once you get to know the characters, you see their personalities and it makes the game much more funny and fun. The map is small and simple, but good. They could add a little more but I'm sure they will in a future update. The excitement of opening a crate is really fun to look forward to, and the game is filled with highs and lows. Sometimes you're disappointed that you got no character. Sometimes you're so happy with your account. This adds to the game's excitement and fun. I don't personally see balance updates needed for now, but in the future they might need some with new characters. Something to add and improve is a way to play against friends. The only way to do this now is by hoping to get in the same match. Adding that as a game mode would be awesome. The game feels so well put together, you should at least give it a try. Also, join clan True Hunters, we add to the fun by giving a new character bounty every so often. So what are you waiting for? Download Zooba today!
Developer Response ,
Thank you very much for your review! Glad to hear that you enjoy our game! We're always working to make the game better and we appreciate all feedback very much.
Game is broken in many pieces..
I love this game. I have been playing it nonstop since I downloaded it a couple weeks ago. Yet, something feels off about it. For example in duos you and your teammate do not get a placement together. If you die #7 and your duo goes on to win the game you will only get the trophies for a 7th place finish and not a first place finish. This format results in less team work and no incentive for a teammate to revive of downed player. It's every man for themself.

Additionally, the box format is very skewed. I haven't gotten a new player in 2 weeks thanks to only getting toolboxes. When I win I want a crate for a chance at a new character. I haven't gotten a crate in ages despite filling empty box spots right away.

Finally, I want to address the level system. For some reason when you are going up against a higher level player it says they have like 7 bars of health compared to it showing me I have 2. For example my Finn (shark character) was level 5.. when I saw a Finn level 6 in a game it showed he had 2 and a half bars of health. I had 2 bars. However now that my Finn is level 6 it still shows that I have 2 bars of health, so I am very confused how much health everyone actually has. If you are a higher level does it show you have more health to a level lower than you than it does higher than you? (Finn level 6 has 2 bars but Finn level 5 sees it as 2 1/2 but a level 7 character sees it as 2 bars)
Developer Response ,
Thank you for your review, and we're sorry for your bad experience. We always take your feedback into consideration as we want the game to be a fair and fun experience, and the development team is always working hard to improve Zooba. Keep an eye on our social networks on this link https://linktr.ee/ZooBattleArena, as we'll always tell there exciting news about in-game updates!
Get Zooba from App Store
What is your opinion about Zooba
Bitcoin
Ethereum
MetaMask (ETH)
Xrp
Polkadot
Binance coin
Stellar
Dogecoin
Tron
Elrond
Donate Bitcoin to this address
Scan the QR code or copy the address below into your wallet to send some Bitcoin
Donate Ethereum to this address
Scan the QR code or copy the address below into your wallet to send some Ethereum
Donate Xrp to this address
Scan the QR code or copy the address below into your wallet to send some Xrp
Donate Polkadot to this address
Scan the QR code or copy the address below into your wallet to send some Polkadot
Donate Binance coin to this address
Scan the QR code or copy the address below into your wallet to send some Binance coin
Donate Stellar to this address
Scan the QR code or copy the address below into your wallet to send some Stellar
Donate Dogecoin to this address
Scan the QR code or copy the address below into your wallet to send some Dogecoin
Donate Tron to this address
Scan the QR code or copy the address below into your wallet to send some Tron
Donate Elrond to this address
Scan the QR code or copy the address below into your wallet to send some Elrond